Yesterday, was another trainer party. Bad weather promised in Georgia (ah-hem…it barely rained until long after…)  I was the only chick in the room. But I love this rental house man… we could fit 20 more bikes in here.
I think I just had an idea… 🙂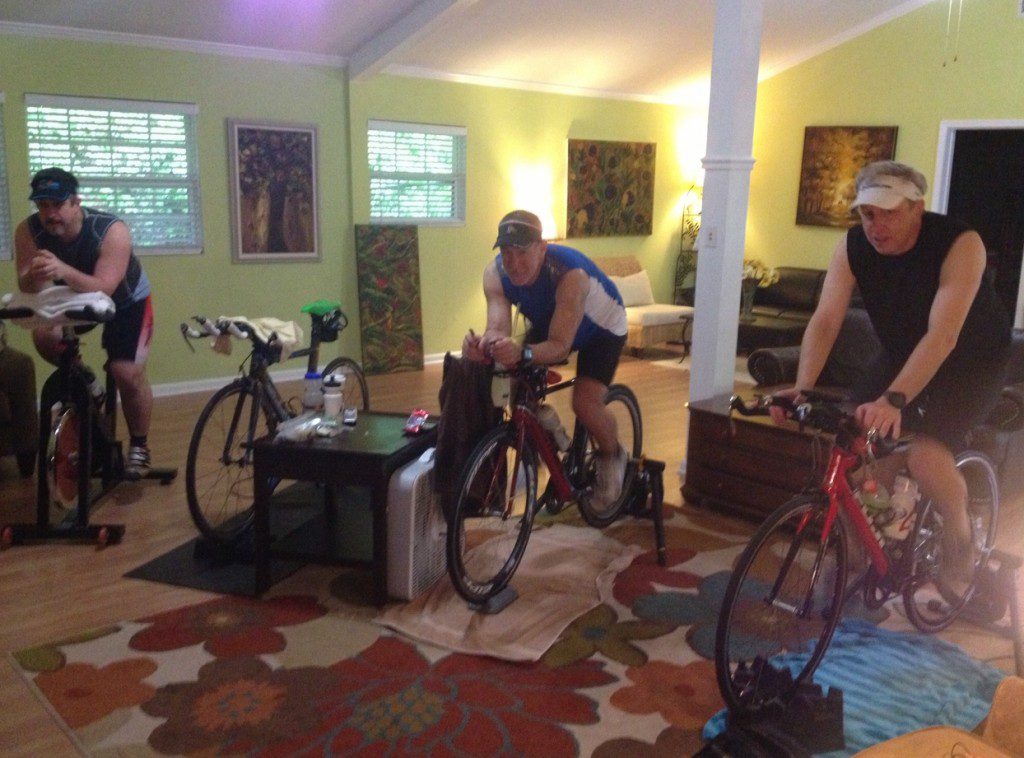 Here was yesterday:  one Expert, the Weatherman (who should have known that it wasn't going to rain, hello!?)… and my CDA friend, Columbus (who at some point during the ride actually said, "I can get ALL the maps on my Garmin now."  I thought,  Now that is going on the blog! Columbus has all the maps!)
So after spending 5.5 hours on the bike trainer, I was going to the bathroom before finishing up my last 30 minutes.
Coming back from the bathroom, my slick bike shoes met with the slick hardwood floors… and I ended up hitting the ground. Right on my rear. Hard.
Hard.
I hit so hard that it knocked the wind out of me. Columbus, who had finished his 4 hour trainer ride and was in the middle of a 2 hour treadmill run, dashed over to me. I rolled onto my stomach on the floor. I immediately thought, Well, I just broke my tailbone.…
I hit the floor SO hard.  So hard. I swear I shook the house. I didn't even have a chance to brace myself. Which may, in hindsight, been good because I might have broken a wrist or elbow or something.
So after laying on the floor for a bit… what did I do?  Well, I paced around —-then I got back on the bike, of course.  [I needed to know if I could bike….  And it was not great. But I could do it. Yay, number one.]
But today, I am in a lot of pain. Sitting at the desk is painful. Bending over is painful. Walking is painful. We won't talk about the potty.
So again.  Here I am. Swim Bike Klutz trying to do Ironman.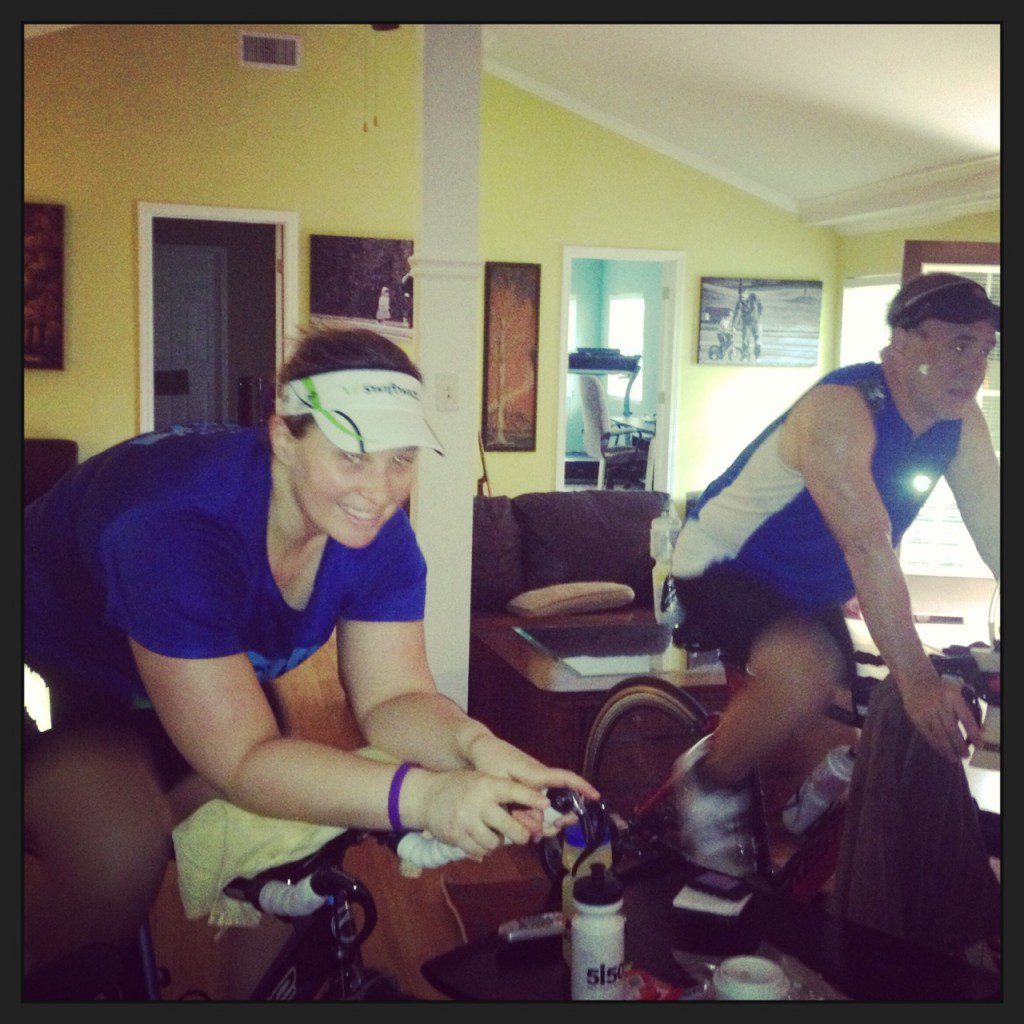 I am trying to figure out all the lessons I am learning through this process. Through the process of the past year and a half—breaking and spraining feet, broken ribs, job issues, family issues, the new hip pain, my stupid klutzy ways… now pain in the rear. Literally.
All of these lessons. Life lessons and perspective and keeping focused on what really matters.
Because you can bike forever and feel strong and fit… but then you walk and crack your rear on the floor. Almost 6 hour trainer ride notwithstanding.
And you can possibly break your butt, and not be able to bike or train or do anything but eat ice cream (which is all I want to do right now).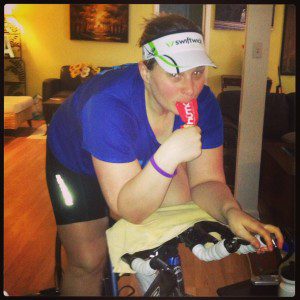 I'm just frustrated—nothing seems to be working out as I planned right now.  So many things are up in the air…. I feel like it's going to take a miracle to get me across that finish line at this rate.
But all I know is that I love my family. I am lucky to have the chance to even experience all of this. The good, the bad and the ridiculous.
So that's my story. And onward I go. #JustKeepMovingForward