Here's a guest post from a Swim Bike Dad, Paul… Enjoy! He blogs at www.paul-christie.co.uk, and calls this post: "From 'Sofa Takeaway Dad' to 'Cycling Dad' to a 'Swim Bike Dad'"
My name is Paul, I am 34 years old, husband, father and soon to be Iron distance triathlon completer. I wanted to share my story with you, as I am proof that anyone one can get of their bum and get fit!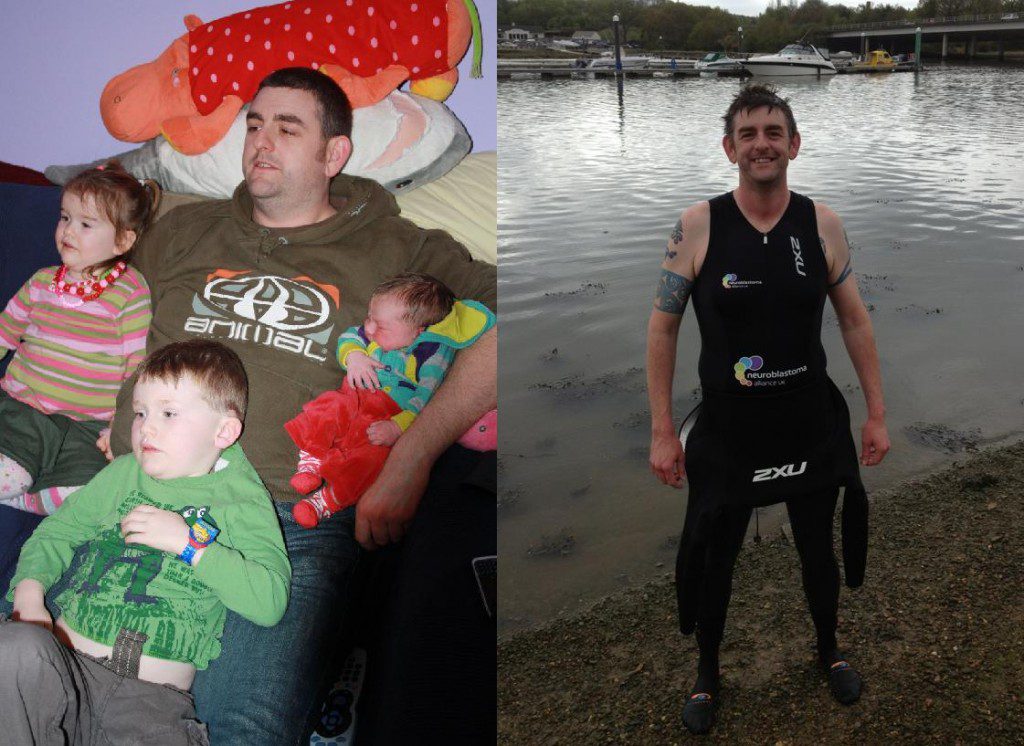 The above photo is the before and after shot, from how I used to live my life, 278 pounds, sofa sitting, take away eating not very fit Daddy and then three years later, triathlon loving, 200 pound Daddy.
It's taken a lot of work to get here, an understanding and patient wife, and amazing kiddies who not only understand that I need to go training, but also come along with me!
It started in 2009 with me buying a bike, and attempting to cycle the unimaginable distance of 4.5 miles to the train station to get to work, the idea was to do this once or twice a week to see if I could lose a few pounds. 6 months later I had signed up through work to cycle 340 miles across Europe over 4 days, and this is when the 'cycling bug' hit, and realised I was actually enjoying physical activity.
In 2011 I then started cycling a number of century sportives, Sarah would bring the kiddies to cheer me through the finish line and then collapse next to me at the end.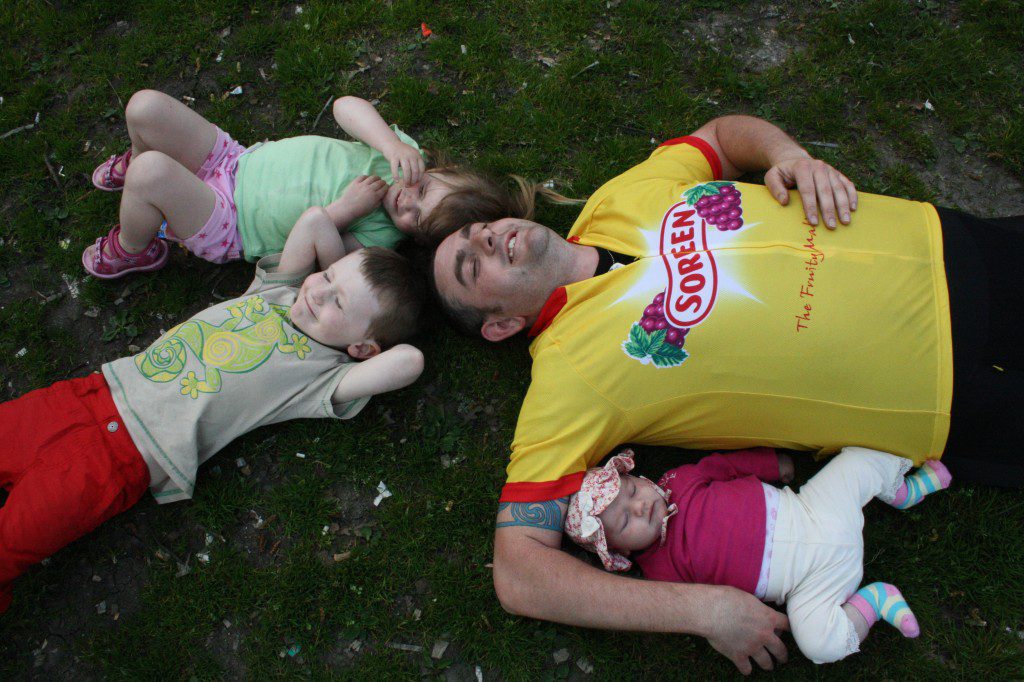 In 2012 I entered the world of Triathlons and started to swim and run, taking part in a local sprint distance and falling in love with the sport, I had to then put triathlon trianing on hold, as I got a place on the Ride Across Britain, 970 miles in nine days from Land's End to John O'Groats, so training was all about the bike.  This was an amazing lifetime's experience and the day after finshing, I was back in work and someone said to me "Enrty into the Challenge Henley Iron distance triathlon opens today, fancy doing it"?
Part of me thinks why oh why did I say yes, but another part of me says BRING IT ON! So on the 8th september I will be doing my first Iron Distance…
So, how can you work a 40 hour week, be a husband, daddy, and triathlete? A question I hear quite a bit and here's my answer – make as much of your day as you can!
I am pretty lucky and work 40 miles from home, so I use this to get my cycle training in, leaving early and either cycling 15, 24 or 40 miles to the office, working 8 hours and then cycling back the same distance in the evening, bathe the kiddies and put them to bed, sit down for dinner with my wife, then head out to the pool for a late swim. On the weekend I love to go out for a run with my son cycling along side usually between 4 and 10 miles, chatting and talking about everything from our belief's and school hot topics one minute to Skylanders the next.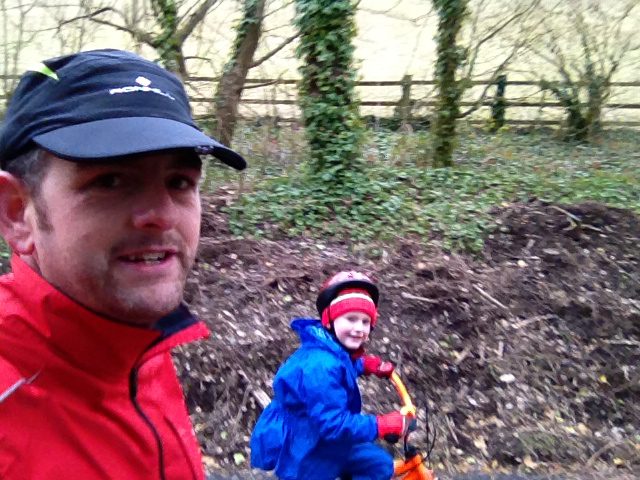 So, this year I have a training plan that builds up with the season, a sprint distance to complete in May and one in June, a half Ironman in august and a full one in September, perfect training, or so I thought until yesterday I had an email saying I had won entry into the Outlaw half iron distance triathlon on the 2nd June, oh crap I am now doing a half iron distance in 3 weeks, that is going to hurt, but I will no say no and even if it takes all day, I will finish it!