Hi folks! Virginia here! I am so thankful that the weather is turning nice. With all of the frustration surrounding my stupid IT band, kids sicknesses, my sicknesses, I have been feeling a yearning to find the joy in triathlon again. I mean, I never stopped loving it, but I just have been waxing and waning in my enthusiasm. I think, this week, I have found the joy again. Finding the time…well that is a different story…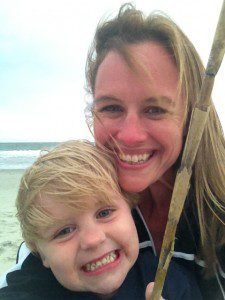 Last weekend was not a successful training weekend. We left right after work on Friday to head to Myrtle Beach for a soccer tournament for 2 of my boys. Saturday morning I managed to squeeze in a short run, but with my IT injury, I am trying to keep them short…so I only went 3 miles. We spent the rest of the day at the soccer field (9 am – 6 pm). After soccer we went to dinner to celebrate my NOW 8 year old's birthday, so there was no more training for me. Sunday was cloudy, windy, and yucky. I had planned a very early morning ocean swim (had to be at the soccer field by 8:00), but I didn't do it due to the weather. Honestly, I was just afraid to swim alone in those conditions. By the time the boys played soccer, we packed up stuff, and had lunch, we were after 3:00 leaving town and didn't get home until 7:00……at which time we frantically unpacked and finished school projects. EXHAUSTING….and no good workouts….3 weeks before Ironman Florida 70.3…..OPPS! But, on the bright side, the beach was pretty!
So fast forward to this week and a bit of success….
Last year I started riding some with a great and very experienced triathlete, Suzanne. She has introduced me to other triathletes, so sometimes I get the honor of cycling with them. That hasn't happened as much through the winter, so now things are finally picking back up. I will say, I stink at cycling compared to these folks. STINK. I know I am slow, even when I cycle alone, but these people highlight my slowness. Strangely enough, I don't mind. I LOVE riding with them. EVERY ride is a struggle…and I love it.
Tuesday morning at 5:15 am I met the group to cycle through Fort Jackson. I thought I was meeting Suzanne and Judy (an awesome triathlete, too). Instead we were meeting two others too….super triathletes. I felt intimidated, but had a blast. It MADE my day at work to start off with such a great group. This morning I met Suzanne and Judy for a crazy brick. We cycled for about an hour, and then we swam in a lake near our house. So, that doesn't sounds so crazy….but it was. It was really dark when we hit the cold water. I just couldn't believe I was swimming in the dark before work. BUT…it was great. This was probably my favorite morning workout ever. Though the swim was short, the few minutes in the lake were 100% invigorating. It just really reignited the love. Oh, and I learned a great trick….you can use PAM to put on a wetsuit…instead of body glide! Who knew??….well, everyone apparently…but not me!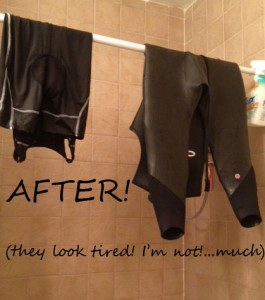 This weekend is my first sprint of the season. I am very excited, but I am also trying to figure out how and when to fit in a long bike ride. My 70.3 is only 17 days away! EEEEKKKK!!! I am beyond nervous. I am also trying to figure out when to do a mini-brick with my boys. They have a triathlon locally next weekend (11th) and then their IronKids in 16 days. It's hard to find time for their training since they are so busy with soccer. Life it too packed!
I realize how very lucky I am. This is just the best kind of busy. I honestly cannot wait for the day when my sons are ready to join me in ALL of this training, not just kid training. What a great family adventure that will be!