Hey everyone—the Expert here. I wanted to write about the crazy ride I had on Sunday.
Our mutual friend, the Weatherman, emailed me at 6:30 in the morning and asked if he and I were still going to ride. I went outside, and I texted him back that I would skip it.  Because it was pouring down rain. He agreed, so he headed off to spin.
My wife was out riding a century, so we had scheduled a babysitter.  The babysitter showed up around 8:15, and I said, "Well, I might as well commit to doing this ride. It was planned."
I threw my stuff in the car, ignoring the rain, thinking that showing up and trying to ride was a good effort and I should do it. And after 3 weeks of not riding outside because of this ridiculous weather in Atlanta, I was determined to get a ride in.  I drove out to the Silver Comet Trail, which in case you were wondering, is NOT cursed as my my wife thinks—-well, actually, after today—-maybe she is right.
I pulled up to the trail and it was still pouring, so I sat in the car and played on my phone for a bit until it let up. The weather map looked good, so I figured I would go for it.  I had  a great 25 mile "out" ride.  Enjoying myself. Weather was nice. A tad drizzly, but altogether, nice.
At Mile 25, I go to turn around, and the bottom fell out.  Rain and thunder and lightning. I rode for 2 miles in the pouring rain and got to an overpass, and the lightning started. I waited it out for a bit, then went on.  I had about 3-4 miles until the next substantial stop/shelter. I went another mile, then another overpass, and I waited with an older couple under it. I chat with them, wait for 10 minutes, and they pushed on —so I went with them.
I didn't make it maybe a mile down the road, and I get a flat tire.  Right when the lightning picked up again.  And I had no shelter.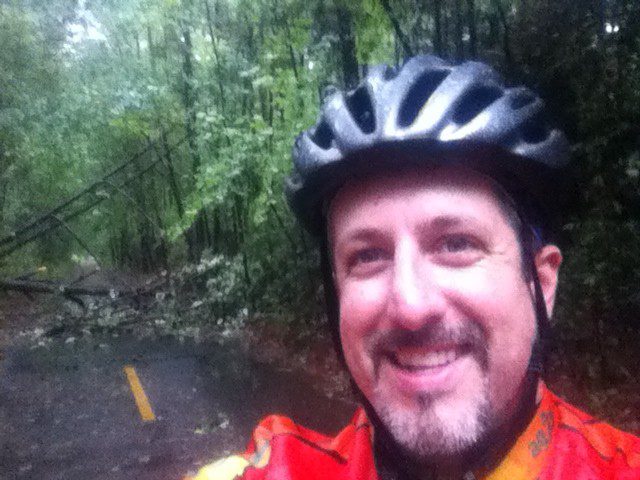 I was under a tree and near a metal crosswalk, and changing a tube as quickly as I have ever done so.  Praying that I didn't get struck by lightning even though my wife has an incredibly large insurance policy on me. And would probably be better off! Hehehehhehe.
I got the tube changed and rode the two miles back to the rest stop, where there's a bathroom, and I huddled in the bathroom along with 7 others and chat with them for forty-five minutes.
As a group of us rode back, there were trees down and blocking the path. Probably 20 trees and tons of debris.
At times, I had to throw my bike over a tree and climb over it.  Other times, I had to hike with my bike down embankments to get around the blocked path.  It was a blast and dangerous and I will be a little (a lot) more careful next time.