I fell on Sunday and cracked my ass. Sorry for saying ass. But "cracking my butt" doesn't have the same ring of truth. Or harshness.  I apologize. Don't lecture me.  I am going to say it ALOT (a lot) in this post.
So yes, Sunday I fell. And I fell hard.
And it hurt.  I suffered through Sunday night. I waited through Monday (skipped workout). And yesterday (swam 3000 – nothing else) and then worked a 10 hour day at the desk (ouch).  I woke up today, expecting to feel better.  Wasn't the case.  I'm in an ass-ton of pain.  I'm going to keep typing "ass" because it makes me feel better. Sorry.
Luckily, I was scheduled to see Dr. Miracle Man Hands.  Before I went to see him, I thought I could get in 2 hours of my ass on the trainer.
30 minutes later, I was scrunchy-cry face in pain.  Aero position hurt because it stretched the ass; upright hurt because it compressed the ass. (Okay, fine.. I will stop saying ass now.)
So I got off the bike.  Hopped on the treadmill—knowing I couldn't run—but thinking I could huff a good, fast-paced hour walk.
Nope.  That hurt too. And I don't mean lazy, "aw man, that hurts." I mean sharp, owie, I quit Ironman training kind of pain.
After all that has happened,  I began thinking, "Well, now would be the time to quit."  I have just been hurting for days.  And I'm tired. And I can't train properly—can't run, can't bike—who can actually complete an Ironman just swimming?
This is ludicrous.
So I called the Emory ortho—Dr. Fletcher's office—and they could see me at 1:30.  So I had Dr. Miracle Man Hands at 11:30, and then orthopedic doc at 1:30. I was armed and ready.  [I managed to eat a hamburger and fries in between.  Ack!!! Let's not talk about how terrible my nutrition has been since this happened.  Let's just say that ONE-derland has evaporated again.  Ah-hem. ]
I see my favorite Dr. MMH, and I immediately drop to the table and say, "My ass is broken." (Okay, one more time.)
He laughs. "Let me check."
He pokes around.
"Your ass is not broken. I am certain. You have jammed your SI Joint. And it's inflamed. And it will hurt for a bit. But you are okay. Get your x-rays, and text me and tell me that I am right."
He adjusts me. I couldn't bend over without crying before I walked in.  I could bend over and only wimper when I left.
On to Dr. Fletcher.  I knew he would x-ray me.  And I would get hard core answers (and more x-ray pictures for my collection and insanely stupid motivational posters).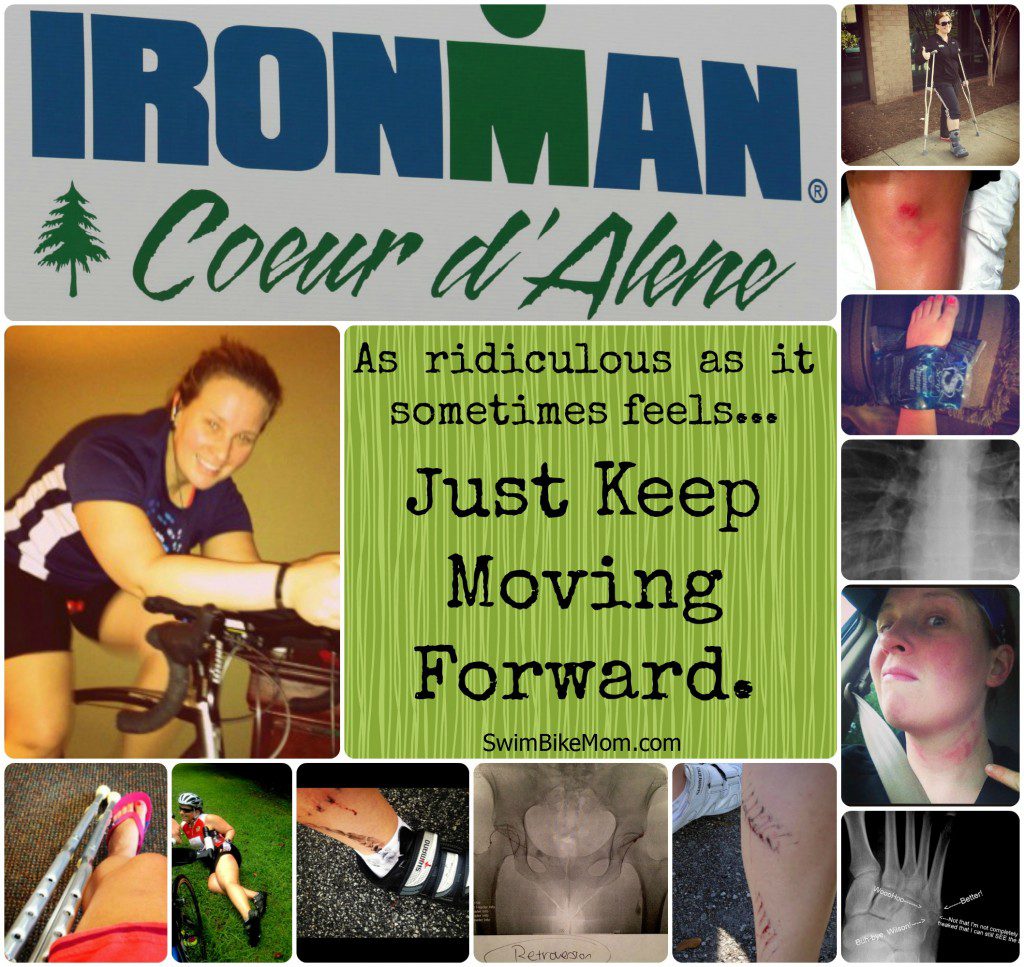 X-rays? Nope.
"You are bruised.  You might have a broken tailbone, but there's nothing we can do for that anyway.  We aren't going to x-ray. Do what you can handle, workout-wise.  And in a week if you are in pain, we'll shoot you up with a shot. You are okay."
So I have no x-rays to show. I have no concrete anything.  I just have me.  A pain in my own ass. And a glimmer of Ironman Coeur d'Alene—that feels like it's slipping like sand through my fingers.
Not to be dramatic.  But really…
Then again… I have a friend who said, "You are getting all the crap over BEFORE race day. You're going to shine on race day."
Maybe. So we'll just go with that story for now. Because I can expect to miss another 4-6 runs and bike workouts… and maybe more.
But what can I do?  As Coach Monster says, "It is what it is. Move on, let's do what we can. You have an enormous base.  You can do this."
For starters, I can put down this 2nd glass of wine and chocolate…well…maybe tomorrow.
For tonight, I am allowing myself to act as insane as I feel… maybe feel sorry for myself (poor me! Ironman! poor me!).. and tomorrow, I will pick up and move on and realize that there's more to this life than Ironman. I will do my best, and that's that.  That's all any of us can do.
So for now… cheers. To my ass!  🙂