At Mile 61 on the Tony Serrano Century ride, I squealed to a stop…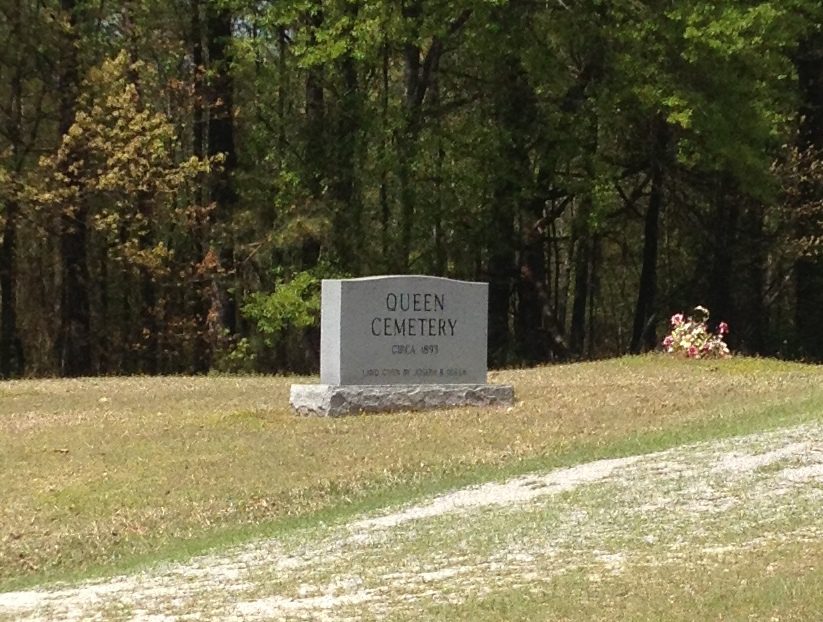 Was it real? This place?
The Queen Cemetery.
A real place… not just a place in my cycling mind!  Because, well, the Queen felt as if she needed to be put to rest after 61, 81, and 100 miles… WHEW!
…Still… what a great day for a ride!  Perfect San Diego-esque weather.  Breezy, clear skies, lots of Southern charm and pollen.
As we pedaled through town at the start of the ride, one of the observers said the funniest thing EVER.
"Spandex," he muttered at the hundreds of riders, "Alllllll Spandex."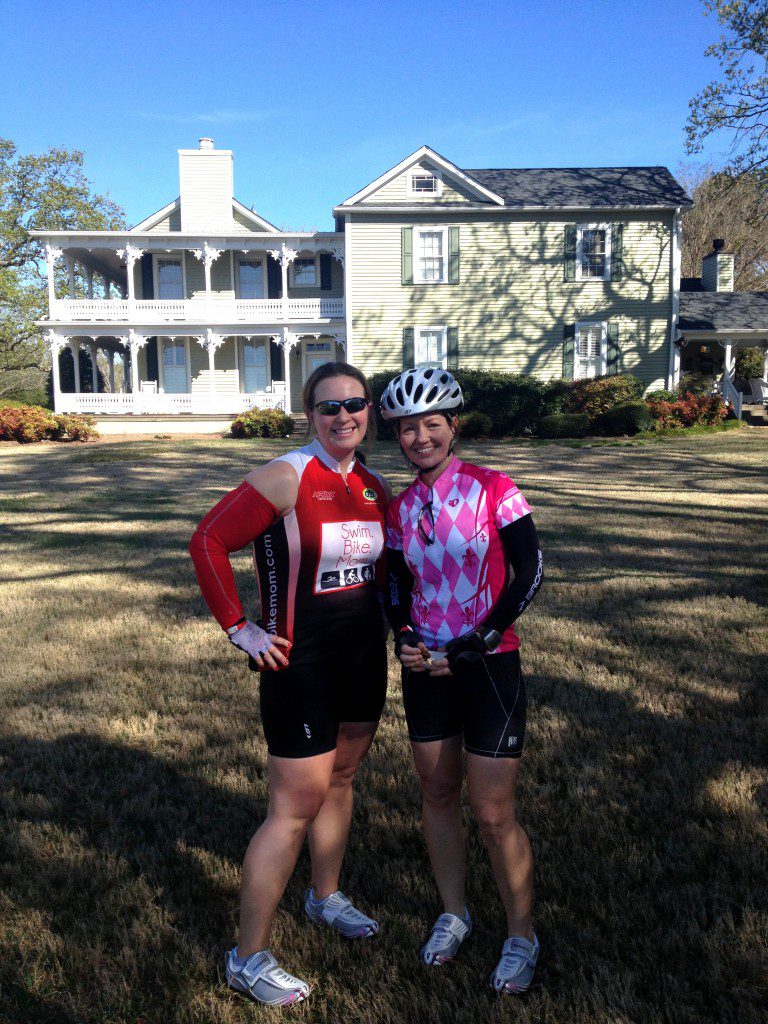 Yoda and I had a good laugh, and we proceeded a ways to the first rest stop.  Wellllll… yes, there was lots of Spandex, it's true.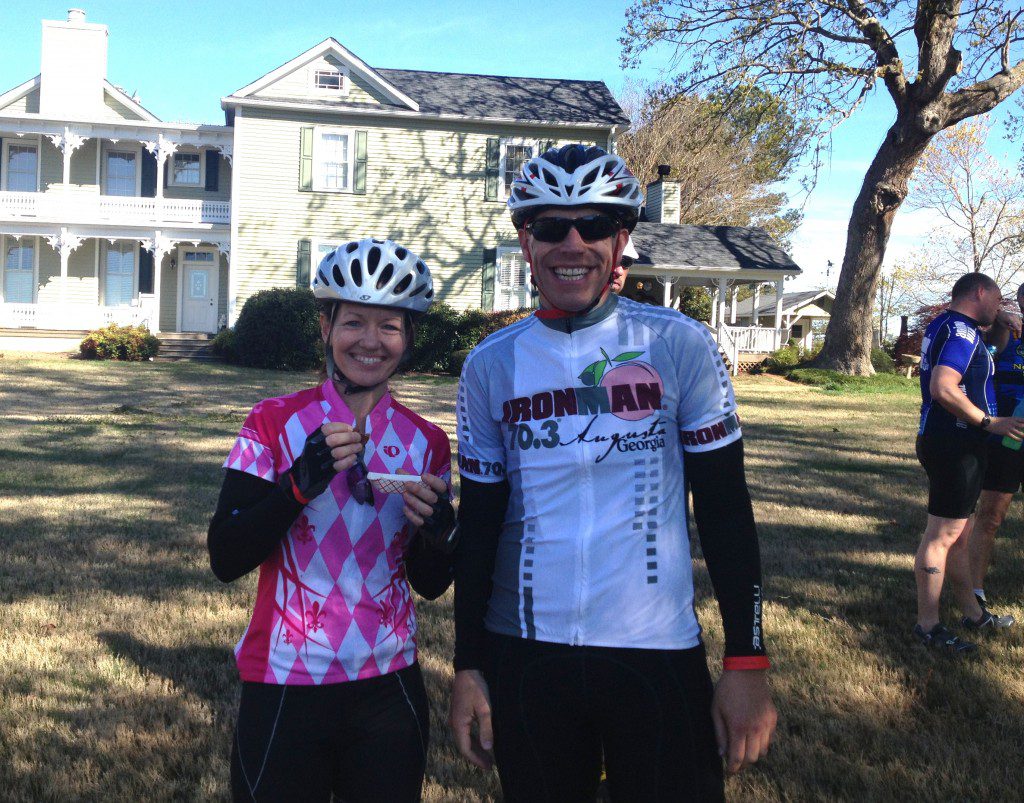 The goodies on this ride, were seriously the best ever.  Pumpkin cookies. Peanut butter and dates. Grape leaves. Homemade pickles (!). Pasta. Amazing. Soo good  (there went my planned Ironman training nutrition plan… snacks!)
Met a few SBM friends.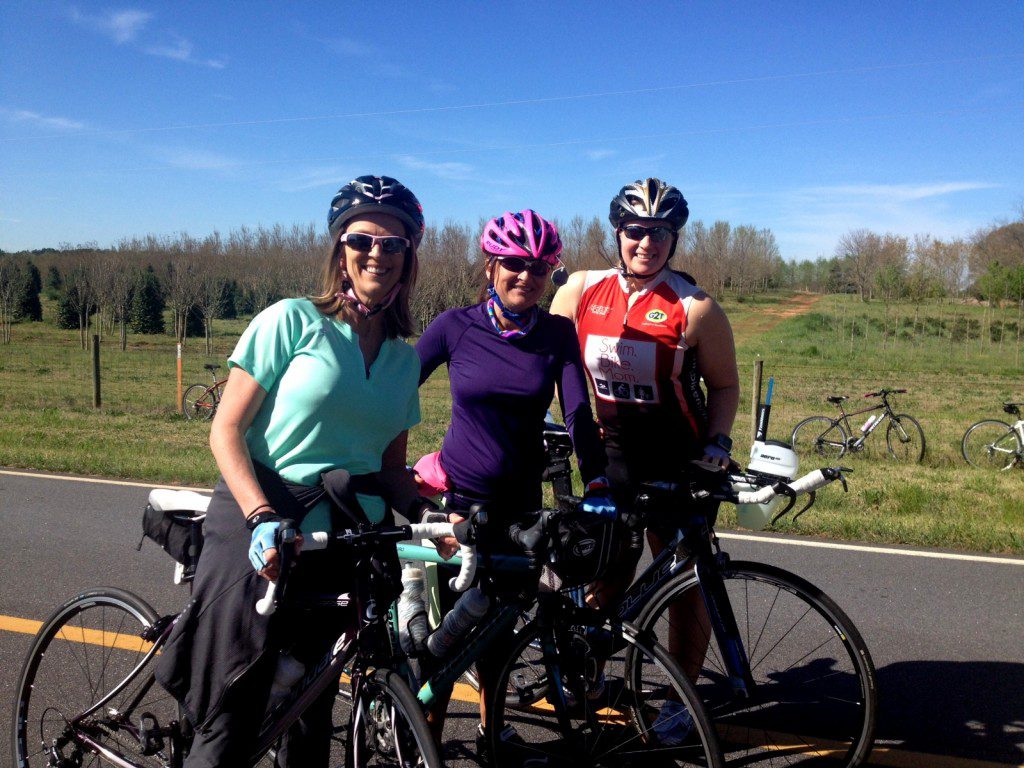 And we proceeded to head out of the first rest stop, Yoda and I tried many times to get a good photo opportunity… and we were giggling because this guy on his cell phone kept photo-bombing us. I had to share.  Too funny.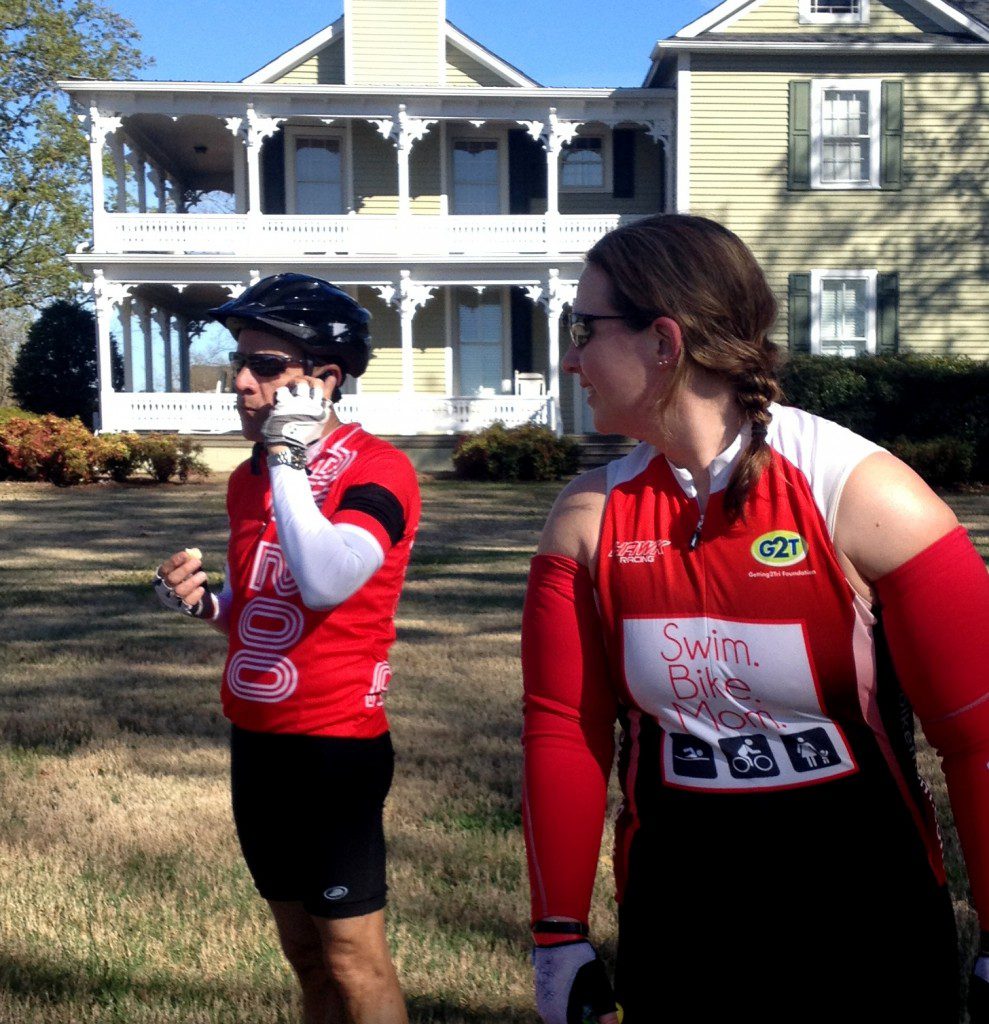 Finaly, I just let him be in the picture.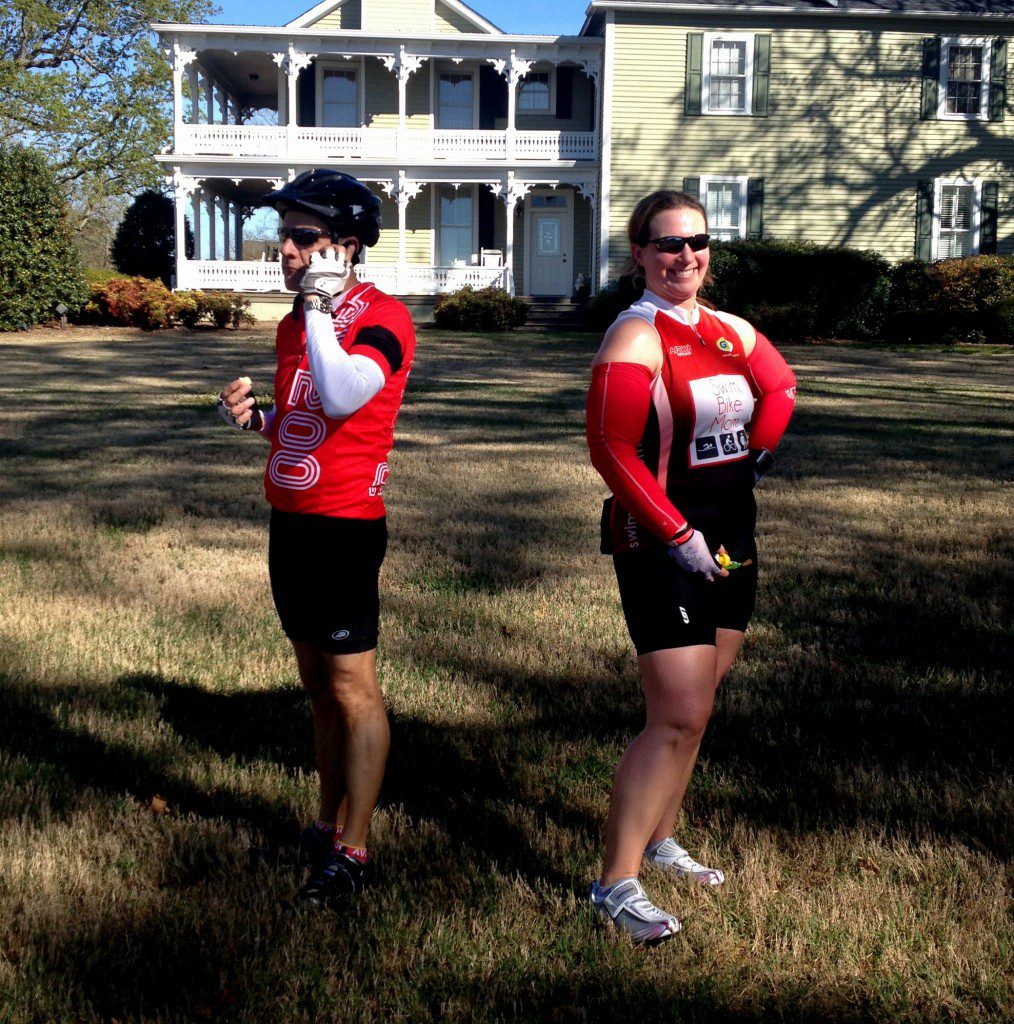 Heh heh.
Then Yoda spoke to some of her friends … we chatted a little, then she mentioned me doing Coeur d'Alene in a handful of weeks.
And I am 92% sure that a couple of guys standing nearby made fun of me…Actually… I saw them mock me. It was crazy.  But then I thought… maybe I'm 92% overly sensitive. Maybe they didn't make fun of me. (Doubtful. They clearly did.) Maybe I shouldn't care. And I try not to care. I tried. But I did kind of care.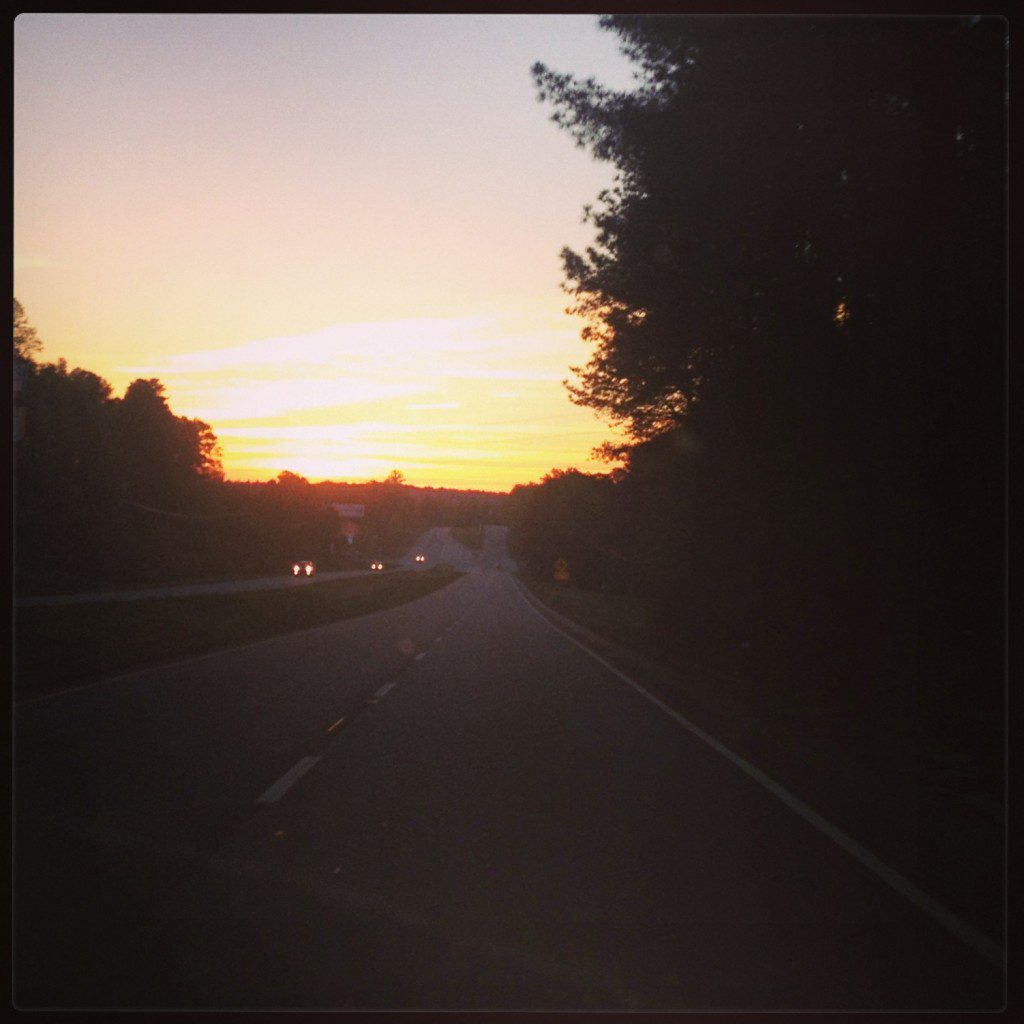 I was told recently by a dear friend, "Mere– you put yourself out there. You blog about everything. You need to learn to take the criticism."   I am trying.  But it's hard.  It's easier when someone is typing their mean things; it's harder when they are standing five feet away.
As we rode, I explained to Yoda… I train hard, and I am in the middle of all this triathlon stuff… so when someone reminds me that I don't actually "look" like I fit into the cycling or triathlon group—-when someone triggers that self-doubt in my mind—-it's saddening to me.  I am out there riding 100 miles… and I let someone (who I think turned off at the 65 mile loop)… I let them get to me.  I am at the point in my training and my life… that I think I fit in, that I feel that I fit into triathlon. But sometimes I'm reminded (by myself, by others) that I don't fit… or I am reminded just how far I have to go.  Which makes me mad at myself… because the truth of the matter is, I am earning my way.  Ride by ride. Day by day.  So in the end, this ride today also reminded me how far I have come.
100 miles.  There is NO version of myself from three years ago that could have conceived of riding 100 miles.  Me. 100 miles. Me. Ironman. Me. Triathlete.
So I moved on, today. I forgot about it. And I enjoyed the ride. Immensely!!!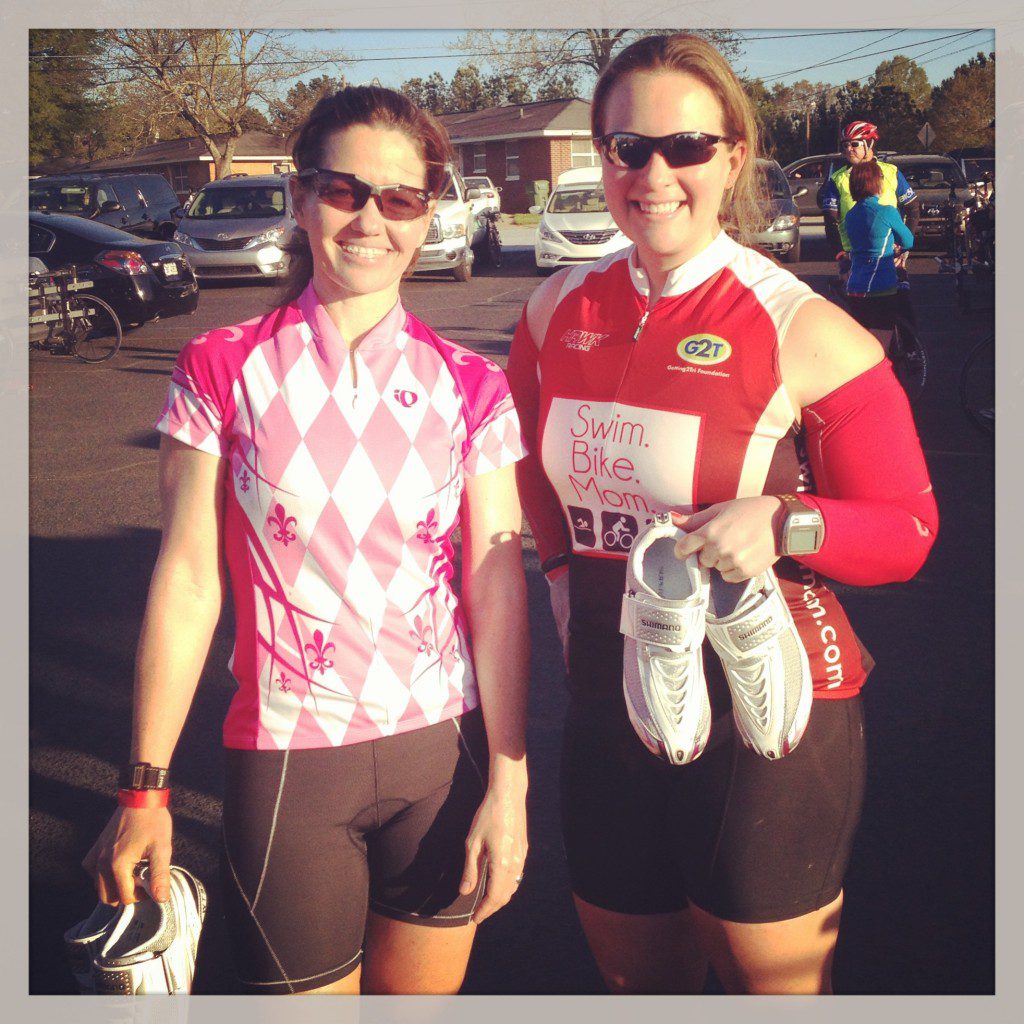 Yoda is a great riding buddy.  Seriously, she is the best.  I love riding with her! And I guess she likes riding with me.  Don't ask her, though. Oh, and check out our shoes. Those are twinsies, baby!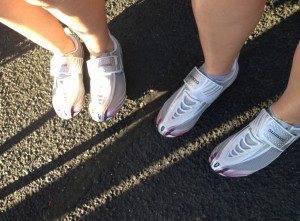 I was prepared for my nutritional Ironman trial….  and I did pretty well. I did eat lots of the snacks at the rest stop… (bad)… but I also ate methodically, and felt really great the whole ride.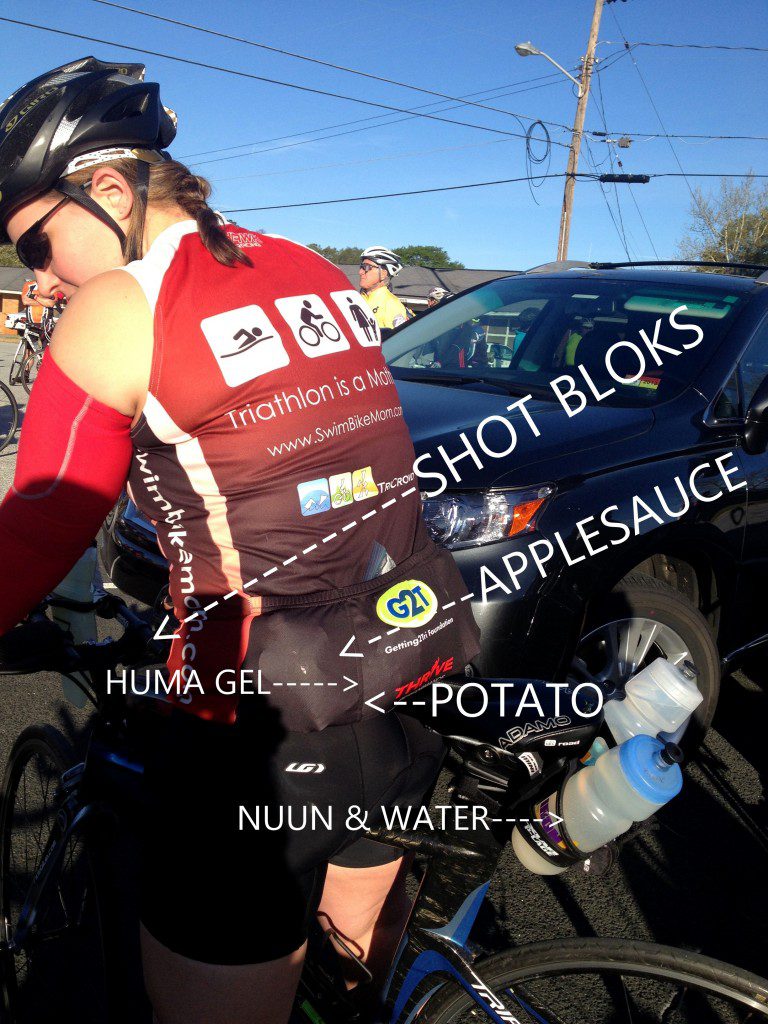 Carrying the potato was a little tedious. But strange how delicious a heavily salted potato can be on Mile 70.  Weird. But I have given up trying to understand this sport.
Many thanks to the dear Saint Expert for manning the kids all day long while Mommy Rides a Bike. Thank you, dear.  Thank you.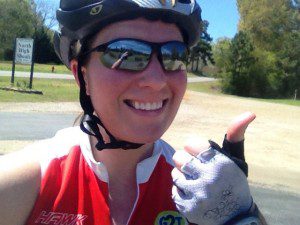 I still can't run… but today, the hip feels great. I will swim and elliptical tomorrow… and the countdown continues.  And I am hopeful that the Century ride was just what I needed to push me into the tough, Ironman frame of mind.
No matter what I look like.