Sponsored post. All opinions are my own. FTC Disclosure here.
I have found my new favorite gel product.  [Insert cheers here!]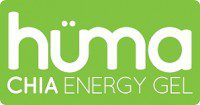 I have been a long-time user of the GU brand gel products.
I have tolerated the GU-ey texture for over two years.  Recently, I have actually started gagging at taste of my long-time favorite GU, Strawberry Banana.  Plus, I have a corn allergy, so the maltodextrin in typical gel products eventually doesn't help my respiratory system—after long rides or on runs, I have found I start to wheeze. Lovely. But I have not really made the adjustment, because the other gel products have the same deals.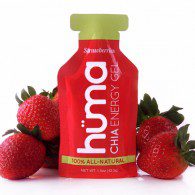 But. Nothing like a 6 hour bike ride to make you re-evaluate the nutrition that used to be good.
So, the folks at Hüma Gel contacted me and sent me a few of their gels to try.
Before they sent the gels, I asked, "What's in them? I have a corn allergy. I can't do wheat, or soy or pork… not that you would put pork in a gel… mmm bacon…. but anyway…"
So what's IN Hüma Gel?
Pureed fruit. Sea Salt. Water. Ground Chia seeds. Brown Rice Syrup. Evaporated Cane Juice. Citric Acid.  And that's it. All of these things I can do. Yay!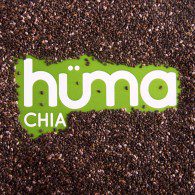 So what does it taste like?
I tried the Strawberry and Apple Cinnamon, which are the two flavors available now. New flavors coming very soon.  They are actually delicious.  The ground Chia seeds give the gel a little more texture (like a jelly) instead of a gel-ly, if that makes sense. I was almost like a jam, and it went down so much easier than the traditional gels.
Not only that, but I felt a great energy boost… and mind you, this is without caffeine.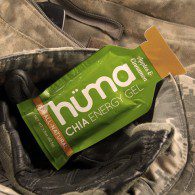 How did my gut feel?
My gut? As in my stomach (not my flab!).  After almost 5 hours into a long mile bike ride, I had eaten several handfuls of almonds, dried fruit, one pack of Shot Bloks, and a heavy breakfast of quinoa—so I decided to give the real test—and then, after 5 hours, I introduced the Hüma Gels into my system.
And I had three.  One every thirty minutes until the end of my ride.
No stomach rumblings, grumblings or GI issues. I felt good too. They definitley gave me a boost.
The next day, I had a gel between my swim and bike workout. Same little boost.

Where did the name "Hüma " come from?
Hüma is based on the Tarahumara Indians of Mexico, which many of you know from the book, Born to Run.

Cha-cha-cha CHIA!?

Chia seeds have a long history as an endurance fuel. Ancient Aztec tradition held that an ounce of chia seeds could sustain a warrior for 24 hours.  (And we triathletes are WARRIORS!)Today, chia is considered a superfood.  Go here to read more.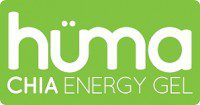 Questions? Still unsure?
Read more about Huma Gels here, order a sample pack to try for yourself here, or whole boxes available too. 
SBM FTC Disclosure here.