Many of you know my friend, Mike a/k/a" McBlessings", the founder and president of the Getting2Tri Foundation. 
Just today, I teased McBlessings that I was going to change his nickname to "McEyeCandy"—-because oh lawdy, the ladies just love him. But so sorry girls, the man is taken… and by an awesome lady and sweet friend, too.
Anyway, not only is McBlessings a dear friend… but he was also in Boston on Monday during the horrific events of the marathon…
… You won't believe the "near misses" he and his loved ones experienced. I asked him if I could share. Here's McBlessings in his own words.
 * * *
"Friends:
I wanted to express my thanks to everyone who reached out and checked in on me after hearing of the tragic events at this weekend's Boston Marathon.  I was serving as a Guide for an amputee runner in the marathon who was competing in the mobility impaired category.  My athlete, Richard, and I were having a fairly good day up until the 13-mile marker.  Richard then started getting some painful hamstring cramps in his "sound" limb so we had to walk a good portion between miles 14 and 21.  At [Mile] 21, I had him take off his prosthetic running leg because he had some burning sensation in his amputated limb.  We "re-set" the prosthesis, ate some salty pretzels for the cramps and prepared for the last five miles ahead.  All of this took about 20 minutes.  Richard felt great as we heading into the last hour of our run.
I wanted Richard to conserve his energy because I knew how badly he wanted to run the last mile of the course.  We had talked about the pride he would have running down Boylston Street to the cheers of hundreds of people along the final stretch of the marathon's finish line.
Unfortunately, like approximately 5,000 other runners, our day abruptly ended when the blasts occurred.
We were approximately 4-5 blocks from the finish line.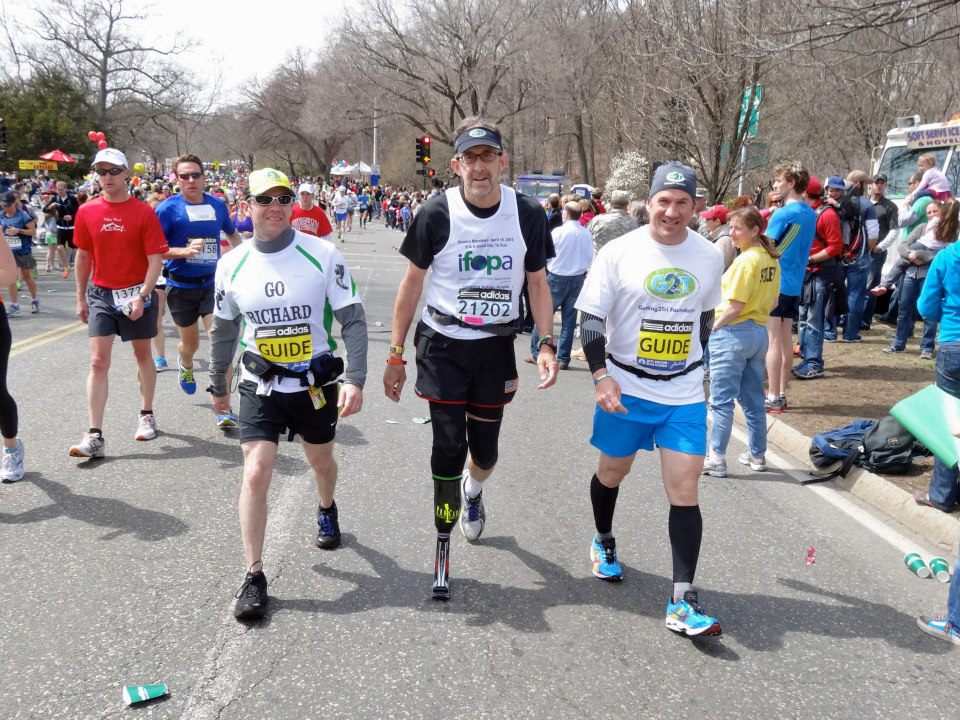 My sister, who was also running in the marathon, finished just eight minutes before the blast and luckily, she and her husband had cleared out of the finish line area only minutes before certain harm.  Her husband had been sitting in the reviewing stands directly across the street from where the blasts occurred.
And Janelle, my girlfriend, was heading to the finish line to wait for me as I had just a couple miles to go, but decided to recharge her battery in the hotel room of one of her college roommates who happen to also be in Boston to watch her husband race.
Arguably you can do the math and determine where all of us might have been had we do a few simple actions differently.  I have since concluded that these were a series of "near misses."
Richard and I are making plans to return to Boston in 2014.  Like so many runners, nothing like the actions of a cowardly terrorist puts a burning desire in us to return to complete some unfinished business.
Please keep the families of the victims and the city of Boston in your prayers.  I am always reminded in the aftermath of such tragedy that God has a plan for all of us.  And while I grieve for the victims, a couple who I know personally, I am thankful that God did not call my family members or me "home" just yet. 
Lastly, I mentioned to a few of you that the actions of many especially the first responders not only quickly restored order but ultimately saved lives.  I know I take for granted every day I come into [work in Atlanta at] Turner's Techwood campus or CNN Center that the Security associates are here to protect us.
A bombing at the Boston Marathon was the furthest thing on my mind and I feel the same way when I drive through Turner's gates.  If you work in a corporate office that has similar security guards, please take a moment to tell these individuals "thanks" for keeping you safe.
* * *
For more information on the Getting2Tri Foundation, go to:
www.Getting2Tri.org.