Happy 35th anniversary to my Mom and Dad!
My dad had the sweetest status update on Facebook for my mom.  I wanted to share it, because it really moved me. I hope he doesn't mind.
And really, does a wedding picture get any better than this?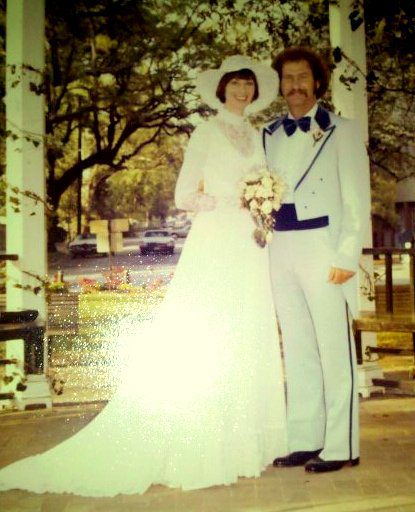 For those of us who are in the loving chains of marriage, I find it endearing when two people who have been together for 35 years still love each other… even if they are "old shoes."
Here's what my dad wrote about my mom.
Thirty-five years ago I married the love of my life. Carla was so beautiful that day and I am so blessed to that she chose me to spend her life with. Our wedding vows were for "better or worse" and believe me I caused a lot of the worse in our lives — for some reason she stayed by me and caused me to become a better person. You cannot be around a good person for long and some of the good not rub off on you. Sometimes the blessings in our lives are so obvious that we fail to see them because we are standing in the way shining the light on ourselves. We know each other so well that we kid about being a pair of old shoes–well worn, comfortable, dependable, reliable–but most of all warm, kind and loving to each other. I have learned the secret of a successful marriage is to love your spouse more than you do yourself. Thank you Baby for loving me–I would be lost without you–and after thirty-five years you are still and always will be the LOVE OF MY LIFE.
My parents in 2011 survived their house being taken down by fire… go here to read about it, and the subsequent post.
And yet, even in light of something so tragic, the two "old shoes" kept still walking along… moving forward.  Happy Anniversary, Mom and Dad. I love you both so much.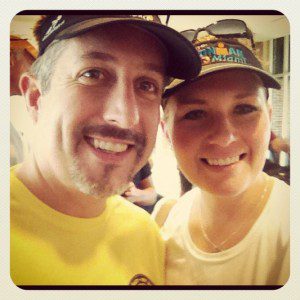 As for me and the Expert… nothing says L-O-V-E quite like Ironman training.  The Expert has been very supportive of my journey… though at times, he just gets tired of hearing about the training and being the one hauling the kids around.  Understandably so.
But I can say one thing… he's doing a really amazing job of "loving me more than he loves himself" right now.
And when I read that status update with my dad… it made me realize how the Expert is doing a self-sacrificing job of loving me Ironman-worthy right now… in spite of the selfish way I am pursuing this goal.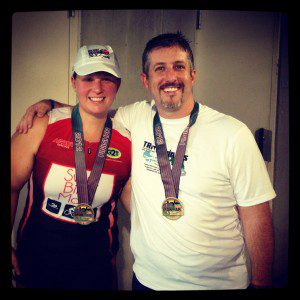 I may say the goal is for my family… for the kids…and I do believe that I am doing this so my kids will, eventually, have a better mom and life.  I want my family to be proud of me.
But at it's core, Ironman is a very selfish pursuit.  I am doing this for  me… to test my boundaries, to see what I am made of. Me. Me. I. I.  Selfish.
But I am lucky, blessed and loved enough to be able to pursue it… to have someone who loves me enough to sacrifice himself so I can achieve this lofty goal… Another "old shoe" helping me along.  [So I guess when the Expert, my parents and I are all in Couer d'Alene together… we'll be TWO pairs of old shoes.]
Boy, my posts are getting awfully sappy lately. Another side effect of training like this.
Happy Monday, friends.