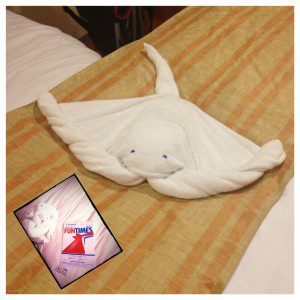 Yesterday I returned from a 5 day cruise with the family. This was the first cruise we have ever taken with out kids. My hubby and I have taken a few together, but we've always gone solo. So…last year we took a cruise out of Charleston, SC (only 2 hours from home), and decided to repeat it with the kids this year. It is a very family-friendly cruise. Monday morning we headed out for our adventure. We had one major snafu from the beginning….sick little guy. Our three year old started getting a big sick on Easter and was pretty yucky by cruise morning. Right before we left I ran him down to the doctor's care, they diagnosed a sinus infection, and we got the antibiotics and headed out. NOT a great way to start. Fortunately, he was only REALLY sick for one day, though he was a bit under-the-weather and not quite himself for the whole trip.
The biggest challenge I had for myself was to eat healthy and workout. Ummmm…..opps! Honestly, I tried on both accounts. I didn't eat POORLY, but I certainly ate MORE than I usually eat. I tried to stick to the items on the menu that were designated with the "heart" as healthy (I DID stick to those), and I ate tons of fruit, but I just ate too often. Also…I didn't drink much. The 4 kids made sure of that. SO…MAJOR calorie save there. Workout though….very different issue. The first day I did a great workout. I did a good (and boring) run around the "track" on the top of the ship, rode the stationary bike in the gym, and did lots of weights. THEN….I NEVER DID ANOTHER WORKOUT! NOT ONE! To be fair…it was hard to find the time! The middle two days we had excursions….and the last day….well, I just have no excuse other than that we were tired and it was cold and rainy. OPPS! So, now it is BACK TO REALITY!
I will say, we had a great time as a family. Sometimes I have to put the triathlete to the side a bit and just have fun with the kids. Today I will pick up the triathlete, apologize to her, and take her out for some work. I am feeling the pressure of it all. Yesterday I got an email with the athlete info for my Ironman 70.3 in May. The COUNTDOWN IS ON! I am working on my plan for the week, planning my cleanse, and ready to get back in the saddle and kick some booty!