With 80 days left until Ironman Coeur d'Alene,
I am dedicating each ten day block of training to important people in my life.
Starting with Day 100, ten days of training were for my Dad.
Starting with Day 90, the training was for my Mom.
These next ten days of my training are dedicated to a Monster.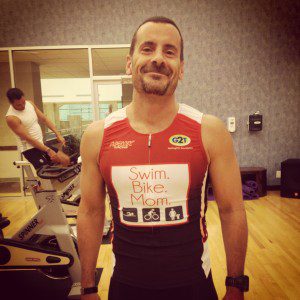 A Monster coach. A Monster friend. A Monster inspiration.
A Monster permission-giver. A Monster life-changer.
When my triathlon journey started back in August 2010,
Coach Monster was at the heart of it.
  It all started with that patented "
Spark
" from his spinning class… and slowly, I began to change.  By his amazing Spinning class, he started me on my triathlon journey—without even knowing he did.
Fast forward a year later—still long before he was my coach—and he said: "You can do a triathlon."
I looked at him like he had three monster heads. You can do a triathlon.

His words bounced around in my head like a pingpong ball. You can do a triathlon. Ping! You can do a triathlon. Pong!
Those words… they became a strange permission for me… to believe in myself.  By giving me this permission to do a triathlon… he gave me permission to make my life better. Somehow, I had been waiting on someone to tell me:  You don't have to feel this way. You don't have to feel so alone, isloated, fat, angry, hungry and sad.
While Coach Monster did not say those exact words, when I heard "You can do a triathlon" —-I heard words of hope. I don't have to feel this way anymore.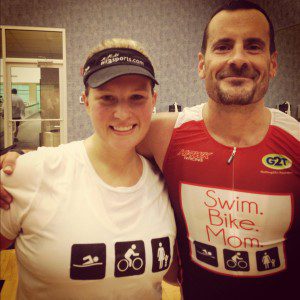 In October 2010, I did my first sprint tri.  Then, I brazenly hoped to get to an Olympic distance race. So I emailed Coach Monster in January 2011 and asked him to take me on as an athlete, to coach me to St. Anthony's Olympic distance triathlon in May 2011.
He agreed, and I had no idea what I was in for. (I have a feeling he had no idea either).
Workout by workout, over the course of four months, he changed my beliefs, my fears, my fear of spandex, and the mirror I looked into.
I almost made him retire from coaching with
my first open water swim
 in April 2011.
I will never forget one particular day—–having a breakfast meeting with Coach Monster four days before
St. Anthony's
.  I was scared of my race, but he made me feel secure.
At the end of the meeting, he gave me a generic coach go-get-em squeeze, said "good luck" and said,
"This is not the end. This is just the beginning.
You'll be doing a half-Iron before you know it."
I must have nodded funny, because he asked me, "What? What's the look for?"
I shrugged. But he saw the glimmer in my eyes.
He said, "Wait a minute. What do you want to do next?"
I couldn't really say it out loud. For I hadn't proven myself at all. I hadn't even done St. Anthony's yet.
But Coach Monster had asked, so I told him. "I have already signed up for a half Ironman."
And my surprise, he never smirked, laughed or paused.
He simply said, "When were you going to tell me??"
Four days later, I finished St. Anthony's.
Six months later, I put the 70.3 sticker on my car.
A year later, I hit 70.3 again.
And now… Coeur d'Alene… in 80 days?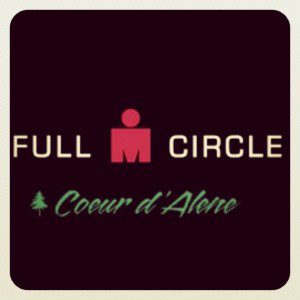 Oh, the Monster gave me that strange permission for Ironman Coeur d'Alene as well. It was a simple phone call during an hour-long commute home.
"I signed up to volunteer for Ironman Florida in November (2012)… meaning, I guess I'll sign up for the race in 2013," I told him.
"Why Florida?" he asked.
"Oh, I don't know. It's close to home. It's flat. It's 16 months from now."
He was quiet. Then he asked, "Why not Coeur d'Alene?"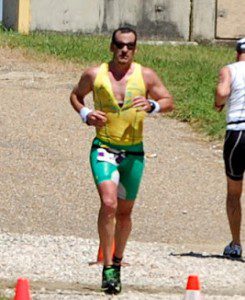 "Coeur d'Alene?" I shrieked.  "As in Idaho? As in 10 months from now? As in one of the hardest bike courses known to man?"
I listened carefully for the return laughter. But he was not laughing.
He cleared his throat. "It's a beautiful course. About 20 folks from our gym are doing it. I might sign up for it again. You should think about it."
I was still mad-giggling. "Oh whatever. No. No. No way," I said. And we moved on to talk about other things.
By the time I pulled up to the house, I was itching all over. Crawling out of my skin. His words Ping! Pong! Ping Pong! Couer d'Alene!
Later that night, I opened up my web browser. I clicked on a special website. I filled out some forms. I entered some credit card information. I clicked, Submit. [Then I threw up a little.]

(An SBM, a Monster and a Bob Roll).
I registered for an Ironman.  And that Ironman is now 80 days away.
He's been my coach for over two years now, and he has kicked my butt with each workout, and challenged me more than I thought possible. I would have never thought I would (ever) run 14 miles. But workout by workout… he pushes me further.
And I go further. I'm like the big 'ole engine who tries to be a speed train. I chug along.
I know that with Coach Monster in my corner, I will cross that finish line in Coeur d'Alene. He's the glue that holds my triathlon brain putty together.  And I am indebted to him. For not just getting me to races—but for saving my life. Making me believe that I could be better. And because of him, I am better.
It's fitting that he gets the dedication with my longest and toughest training block to date,  which includes my first Century ride on April 13th.
Gerry,
Over the next ten days, I will carry you in my heart during: 
15,000+ meters of swimming,
220+ miles of biking,
and 35+ miles of running.
Thanks for lighting the Spark inside of me.
I am forever grateful.
Meredith