Well, on Tuesday, I  did, in fact, tear into some fried chicken and macaroni & cheese.  Yes, I threw *most* of it into the trash, and *most* of it did not get eaten.
However, I am pretty sure that I had enough in that few bites of chicken and one giant mouthful of macaroni to teach me yet another valuable lesson about food.  And like most lessons in life, I had to learn the hard way.
Very early on Wednesday morning, I woke up with my stomach turning.  Oh no.
Thirty-minutes later, I was in cold sweats on the bathroom floor… and the process of food poisoning had grabbed me and was destroying me from both ends (sorry).
Hours and hours of just disgustingness as my body tried to get rid of whatever was wrong.
I tried to get out of bed and the room would spin.
I stayed in bed until almost four in the afternoon.  Then I got up, packed two boxes of shoes for our move (which is tomorrow ah-hem), and got back on the bed. I bathed some kids at some point and sat on the couch for yet another viewing of the best movie ever—Wreck-It Ralph—and then I went back to bed.
After literally almost 24 hours of laying and hating myself for all the disgusting things that were happening to my body, I woke up this morning feeling great and rested.  And because I didn't eat anything all day yesterday and my body got rid of everything else… I was down a few pounds too.  Ha ha.
You really are what you eat… you eat crap… and well…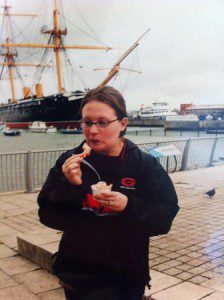 Check out this horror of a picture.  The Expert unearthed it during packing today.
Our trip to London in 2002.  Me…always with some sort of food product.
So tomorrow we'll move, and then the progress towards Ironman continues. Settling the kids in a new school on Monday, picking up on my workouts Saturday, trying to figure out which corner of the house to make the bike trainer's home…
The only thing… I have NO idea where I'm going to ride each weekend!  By the way, many of you were asking—we are moving to Sandy Springs, GA.  Sunday I have a 65 miler, but I don't know WHERE to go! Yes, there is Silver Comet trail. But I kind of swore that place off since the two bike crashes and two low-speed-tipovers I've had have taken place there.
So if any of you can post links to your favorite riding routes in the Sandy Springs, Alpharetta, Atlanta areas… I would be most thankful.  I need long rides 50+ miles with some climbs if possible.  And if any of you are riding on Sunday and will let a girl tag along…  let me know.
 * * *
 *Don't forget to get your Swim Bike Mom, Dad & Kid  tech shirts
and SBM Triathlon Gear…
only available through the end of March!