Here's a second guest post from Swim Bike Single Mom, Sarah, from Chasing Down a Dream…. In her previous post, she talked about how she, as a single mom, gets her tri-ing done… here, she weighs in on the guilt factor…something that we all, with kiddos, know very well.
I feel guilty all of the time. I know that you all feel guilty too, but maybe not so much all of the time. I feel guilty almost all of the time when I'm training. You may recall that I'm a single mom and I share custody of my kiddo. This means that he's in my care half of the time. So during that half of the time, I feel guilty when I check into the gym, get set up on my trainer and the like. I feel guilty because I think of all of the things that we could be doing. Maybe we should be playing a game, making a craft, cooking something yummy and the list goes on. I think of all of the moms who devote all of their time to doing those things and so many more with their kiddos. So of course then my brain gets going and I start thinking…. maybe I am a bad mom. As I start to condemn myself for the Martha Stewart esque Mom that I could be if I didn't spend 8-10 hours a week training, I have glimpses …
Then I start to think, well you know, maybe I'm not such a bad Mom after all and maybe I shouldn't feel guilty. There are lessons here in each of these experiences and my child is learning these lessons at a very young age.
So proud
1) Support the people you love. We tell each other all of the time how much we love each other and that we're proud of one another. I believe that this is so important. Don't hold back and think that people know that you're proud of them. It's so important to hear it out loud. Sometimes we think that someone is proud of us but we've never heard it and or felt it in real life. It's a very simple thing to say and it truly makes the world of difference.
Helping me get my medal on
2) Come out and show your love on the race course. This goes along with number one, but man is this one also important. At a little race I don't necessarily need a whole herd of supporters on the course. But I can tell you from experience that when you're coming in off the bike leg and you get to hear things like "wooo hoo go and get em and great job sarah, now finish this," it really does give you a surge of energy and an uplift in spirit. If you've ever been to a half iron or a full iron, the level of love and support that you see on the course is really something to behold. Family members, spouses, siblings stopping to hug, kiss and high five. That kind of love reminds you in your heart just how important you are and how cool you are for putting it all out there. So if you get a chance, go out and support your loved ones at a race.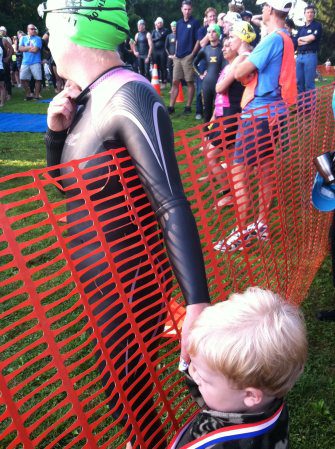 In transition… athletes only, but hand holding over the fence.
3) Stand with your people and make them less afraid. When ever my kiddo does come to a race with me, which is few and far between, he always stands with me and holds my hand until the last possible second. Sometimes it's for him, but more often than not he's also helping me. When he holds my hand right up until it's time to get in the water, I have a steady distraction and I don't let nerves get the best of me. He knows how much his little hand means to me because I've told him so. So hold your people's hands. Prop them up and they'll do better on the race course. You may not be out completing the race with them, but you're making a difference and you're with them in spirit.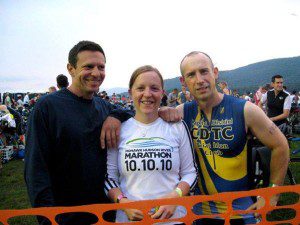 Life is better with friends!
4) Work family life balance. Balance. It's all about balance. As you may remember from my previous post I schedule a lot of my training around when I have my son with me. I save the long work outs for the days where he's not with me, I get up early and I run at lunch, etc. I have done long rides on the trainer watching kids movies as a family movie night. There is a way to get it all in if you balance and manage and he's learning this too. If we do x, y and z, then we can do this. It's a non-stop balancing act, but it can be done.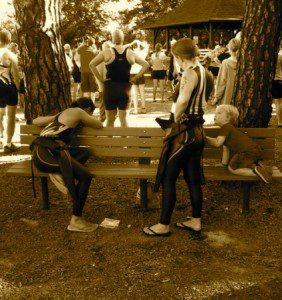 A pre-swim pep talk from the kiddo
5) You can do anything that you want if you work for it and you believe. I don't really have to expound upon this, but I hope that in some ways I'm helping to mold a go getter in life. You don't have to be the fastest or the strongest in order to do something. You just have to keep at it and believe that you can do it. It's possible.
So, when I look at these lessons and when I hear a little voice ask if he can please come to one of my races, I don't feel all that guilty. I see a little boy who's involved in an active lifestyle at a young age. The lessons that he's learning are life lessons rather than just how to train for a triathlon. And together, we're an incredible life team. So, no, not guilty and not a bad mom. Triathlon is just my hobby. Lots of mom's have their own hobbies, mine is just different than theirs.
How about you? Are you also feeling guilty? How do you teach lessons, achieve balance?