Sponsored post. All opinions are my own. FTC Disclosure here.
I would like to say that I had one of my greatest running breakthroughs wearing these shoes…
And well, I sort of did.
You can read the full post here, but really, here's what happened the first day I wore the Saucony Virratas.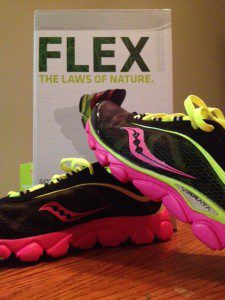 I am training for an Ironman, as you guys know (ad nauseum, I know, I know)… and I was scared to try anything new–especially shoe-wise. But when I received the Saucony review option, I took it. Come on, the shoes are purty.
These are 0mm (or "zero drop") shoes… meaning, they "have a level profile and have little or no 'drop' from where the heel sits in a shoe and where the forefoot sits in a shoe. In other words, the shoes are designed without a built-up heel or a steep slope from the heel to the forefoot and instead allows a runner's foot to sit relatively parallel to the ground." (Source)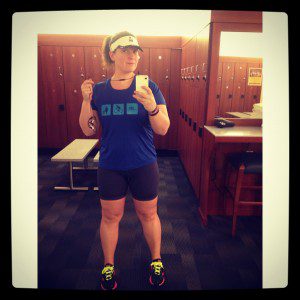 And while gals of my size may not always do great in 0mm shoes, I thought I'd try them out for just the two miles before spin last Friday.
The first thing I noticed was how ridiculously lightweight the shoes are.  At a mere 6 OUNCES… wowzers.
And truly, I loved them. I'm not sure I could run more than 3-4 miles in them, just because of my weight and the need for cushion… but I felt great.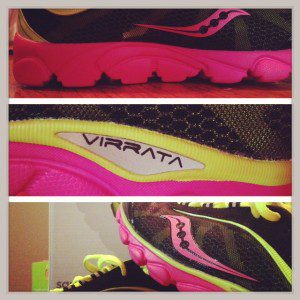 Advantages?
1) Foot turnover:
I counted, and my foot turnover was actually 178-180, which was much faster than I usually do.  I usually am stuck in no-man's foot turnover land of 155-160
2) Speed:
Also, I ran the first mile at a 11:00 pace, then the second at a 9:30 pace. Also faster than normal.
3) Proprioception
What?  My chiropractor/ART specialist Dr. Miracle Man Hands likes minimalist shoes for gals like me because it helps with our sense of space and locomotion. He likes for me to wear these shoes for walking and general footwear, because it helps to improve my balance and strengthen my feet and ankles. Good for a Swim Bike Klutz to get around in. So I've also been wearing these to work on casual day, and back and forth to the gym.
I liked running in the Virratas because I felt like I could "feel" how I was running for the first time…ever… I do not have a large history of running, not a lot of muscle memory surrounding it. So it was interesting to feel my feet… if that makes sense at all.  And the Virrata has a decent amount of cushioning where I didn't feel like my bodyweight was crushing my feet either.
As I look back on the "great" runs I've had over the past two years, I can attribute the good ones to days when I just ran…no matter how slow I was going… I just was.  I just ran.   And something about wearing the Virratas made me feel as if I was just running.
The next few days after wearing the shoes, I could feel new parts of my feet, ankles, and calves that I apparently hadn't been using much… so while I won't be making the entire switch over to minimalist, I AM going to incorporate them into the first mile or two of each long run, to strengthen my feet and ankles AND to improve my cadence and form.
SBM Grade? A nice solid A.  Not an A+ because I can't run screaming and throwing away all my old shoes; but not an A- because I can't see anything "wrong" with this shoes, either.  Very lightweight, very "fast," very comfortable…oh, and CUTE as can be.  A training tool. A strengthening agent. And a darn solid shoe.  Therefore…a nice solid A.
The Details from Saucony on Virrata:
Stripped down to strong. The Virrata is Saucony's lightest and most flexible training shoe and allows your foot to move naturally. It's really…really… really light…ah-hem….how about 6 OUNCES. Still, while feather-light…it's ultra flexible shoe and a decent amount of cushioning.  It's a zero-drop which lets your feet move naturally, but still have plenty of protection from the road.  The breathable mesh upper makes the shoe incredible lightweight and quick-drying to run in wet weather conditions.
Buy the Virrata here.
FitFluential LLC compensated me for this Campaign. All opinions are my own.