Another post from guest Swim Bike Dad blogger, Phil…
Last Saturday was both awesome and awful at the same time.   Well, it was mostly awesome…with just a splash of awful thrown in to keep it real and keep me from fully climbing atop my "high horse".  Humility is a be-otch but we all need it.
Fellow Buccanneer, Glen, and I rode in the St. Patrick's Day Ride put on my the Memphis Hightailers Bicycle Club.  It's the club's first group ride of the year and my first time on the road since September (as evidenced by my gut in this picture.  Being out of practice, I convinced Glen that the 25-mile course was more my speed than the longer distances offered.  The scenery was beautiful with the rolling hills and hardly any traffic to speak of.  It was a great ride all-in-all.
I saw this gal walking her bike before the ride and thought she was just too well-coordinated with her bike to not share.  If they had been handing out awards for this, I think she would have won.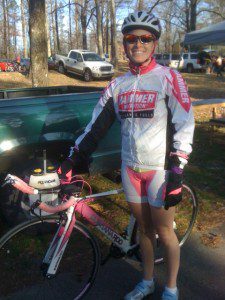 Michelle and her Pink Lady.  (This is what a cyclist looks like)
So what was so awful?  Read on.
After the ride, Glen and I packed it up and went our separate ways.  One of his grandsons was having a birthday party and my wife had our day completely mapped out (she's a major planner).  I threw a monkey wrench into her plan when I diverted us to Tractor Supply so the kids could see the baby chicks and I could plant the seed of having chickens into Kellye's head.  The kids loved it, of course!
Chickens…….CHECK…awesome.
Then, the plan was to take the kids to a doctor's office, where they had a giant, walk-thru, inflatable colon!!!  You guessed it.  It was a GI doc's office.
Yeah, that's me coming out of the colon.  Make up your own joke.
Giant colon……CHECK…sort of awesome.

Next, the Memphis Hightailers were putting on their First Annual Bike Swap.  It was an indoor event with dealers and private sellers, everything from new $6k bikes down to obscure old parts.  I think they have a winner here!  I found a guy with about 50 frame-mount hand-pumps: $4 each or 3 for $10.  Of course I picked up 3.  What a deal!  We also got a basket that just sits on the handlebars for $3.00.  This swap is NOT to be missed.  The Heineken was good, too!
Bike swap…..CHECK…awesome.

Next…something for Momma…teppanyaki at Osaka.  This was probably the best teppanyaki I've ever had.  I got the lobster with scallops and it was AWESOME!  The Heineken Dark Lager was good, too!
Dinner……CHECK…AWESOME!
Later that night, after all quieted down…after T1 and T2 were asleep, I decided to do a little Googling.  There was an itch in the back of my brain that I couldn't scratch.  Something was BAD-WRONG with my ride that morning.  I completely rocketed on the down-hills and passed everyone I saw.  Aerobars are amazing!  Being able to tuck into a head-down position is one of the best feelings in the world.  I felt like a bullet, screaming down the hills.
But…let's talk about the climbs.
The climbs weren't any fun.  Well, maybe a little fun at first.  For the first few climbs I could laugh them off and say to myself, "This isn't so bad" and "There probably aren't that many hills on this ride."  However, toward the end it was no longer a joke.  On top of that, Glen passed me on every single ascent.  Now, in aero, I passed him on every single descent.  This meant that I was good for about 50% of any given hill.  Also, to add insult to injury, I must have been too vocal regarding my dissatisfaction of the hills as at one point Glen offered to call me a waaaa-mbulance.  Ugh….this was not good!  If Glen gets aerobars, I'll never see him again.  He'll be but a blur until we meet back up at the finish.
Climbs…….CHECK…awful
I had to figure out what was wrong with my situation.  So, I Googled how I could increase my climbing power on the bike.  I was very quickly educated on the topic of power-to-weight ratio.  Great!  I'll find a way to increase my power, right?  New gear group?  Okay!  NOT!!!   The factor that I actually have control over is not power, but my weight.  Translation:  I'm too fat.  Translation:  Cut back on the Heineken.  Translation:  Incorporate some weight training into my plan.
The bulge shall be battled.
OH!  IT'S ON!!!