This is the end of my recovery week. The workouts were significantly less, yes… but I ended up not resting very well and eating less than desirable.  So I'm not sure how "recovered" I am. I feel pretty worn down, emotionally and physically, but I know that's part of Ironman training.  Plus, life drama never seems to cease.
I am about to head out for an 8 miler in my new 'hood… so that should be fun.  The weather here in ATL has been yucky for weeks, so I am itching to get outside and show my new neighbors all the junk I run in my trunk.
So triathlon is about growth, right?
I had a nice (yet subtle) growth experience during a 1000 meter swim time trial yesterday.  I showed up at the pool, and was about to ask the Weatherman if I could share a lane with him… when Coach Monster said, "Heck no—-get in this lane with me." (Oh, the horror. Last time I was anywhere near him in the pool, he was IN my lane, making me do speed skater underwater drills….)
Anyway, 1000 meters. Record for time.
Back in 2011, my 1000 meters for time was 22:30… which is about a 2:10/100m.
Yesterday, I put down 1000 meters in 19:10… or 1:45/100m.
That's :25 improvement per 100 meters…which over the course of a race is a significant amount of time.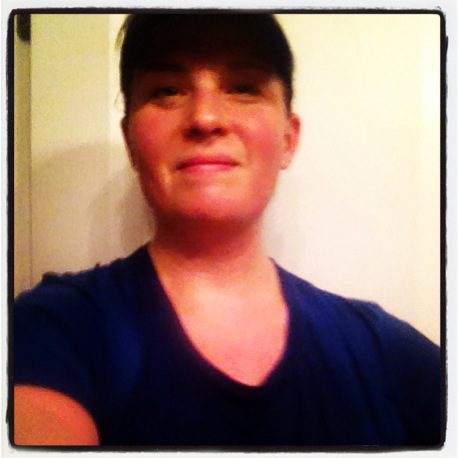 So in my recovery week, I am learning that I am improving… slowly and steadily over time. I encourage all of you to log your workouts (I know as triathletes, most of us DO, because we are psycho…sorry, but it's true) 🙂 … Anyway, record your growth and go back, now and again to review where you've come from… You might be pleasantly surprised.
The upcoming week is going to be full of new "firsts," including an 85 mile ride and another 13 mile run.  12 weeks left until Coeur d'Alene!
Now for a word on Andy Potts …and Chris Lieto…and Matty Reed…
I have such great SBM friends!!! A few of them were at Oceanside 70.3 expo/registration yesterday, and snagged some awesome pics of my favorite triathletes with Triathlon for the Every Woman. 
Gotta love it!
And here's a pic of SBM friend Robyn… with new baby, Ruby, in her sling. The love and dedication to the SBM Andy Potts harmless stalking cause is amazing.  You know I love you guys!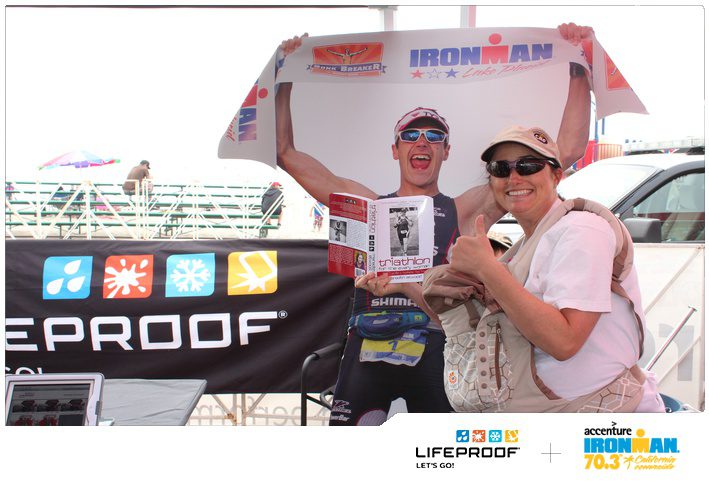 Happy Easter weekend, friends.  And don't forget that TOMORROW (EASTER SUNDAY!) is the LAST DAY to order any of the 2013 Swim Bike Mom, Dad or Kid tech gear or tri kits.
Go here to get yours before they are gone.
* * *
Are you registered? Only about 40 spots left.
Go to: www.SwimBikemom.com/Seminar to register.