Alright, we are taking orders for the 2013 tech shirts and tees!  Available for order for two weeks only!
Lots and lots of options, as you will see.  There are tech shirts (long-sleeve and short) for Swim Bike Moms, Dads, and anyone else who wants one. You get your choice of type, color AND mantra for your shirts.  And of course, there's stuff for parents of tri-ing kids and the kids.
Sizing XS-4XL
And for you?  FREE SHIPPING on everything in the STORE.
Your Choice of  Shirts:
Short-sleeve tech (royal blue, baby blue, light pink)(men's & women's sizing)
Long-sleeve tech (white, royal blue)(unisex sizing only)
V-neck, sleeveless tech (royal blue, hot pink)(women's only)
Cotton tee (hot pink, royal blue, baby blue, yellow)(unisex and youth sizing)
Your Choice of Mantra:
Just Keep Moving Forward
Moms Tri Best
Dads Tri Harder
Triathlon is a Mother
Swim Bike Run Fun! (Kids & Adult tee only)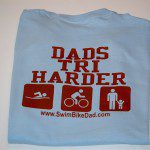 Go to Swim Bike Sell to pick your shirts and place your orders!
Also, there are all sorts of new and used triathlon clothing in the Swim Bike Sell store, so check that out too.  And as always —everything ships FREE.
And finally, don't forget that we will SELL your gently used triathlon stuff too.  Go here to learn more.
Hope you all like it!  Please note that there is about a 4-6 week delivery time for all shirts, as we are doing a special order so you can get each shirt just how you want it.
Visors are available now for immediate shipment, though.
Tri Kits and Cycling Gear will be available in the next 2-3 weeks for order, for a May delivery.