On our first mission to an Olympic distance race, back in 2011, the Expert and I would ride a relatively flat trail outside of Atlanta, the Silver Comet trail. Many eventful things have happened on this trail during the past two+ years of training: Andy's first bike wreck, the broken rib episode, my re-addiction to Diet Coke thanks to Yoda and Iron Diva, some insect stings, some muddy buns, and some very, very cold, rainy, wind and hot, long rides.
There is a stretch of the trail, about 8 miles heading back to the parking lot, that the Expert calls "Quitter's Alley."
Quitter's Alley was nicknamed this for a few reasons.
First, because the first time he, the Expert, was back on his road bike (after about a 10 year hiatus ), he threw a complete fit and we had a huge fight at Quitter's Alley.
"I can't believe you are making me do this crap!" he screamed at me.  "I quit!"
"Well, you are a quitter!" I hollered back.
"Oh, that's a good one!" he hissed, "Did you go to law school for that?"
Turns out the Expert had bonked. He was mad. He quit. Right on the side of the trail, a place with a little ditch, a mild incline, and a little stream.
The next event was a mere week later.  This time it was me. The Expert had his fuel and his mojo, and I was the one who threw my bike down on the side of the trail, right into the running water in the mini-ditch.
"Look at those tears, running down Quitter's Alley," he laughed at me.
"Shut up! Shut up! SHUT UP!" I shouted.
"You're gonna let Quitter's Alley win?"
It wasn't funny (for either of us, on either day), but as we got stronger and faster, Quitter's Alley became funny.  Quitter's Alley now shows up on most any ride, no matter where it is.  All we need is: 1) a hard day, and 2) a moving stream, ditch or indention in the road.  It's a portable Quitter's Alley.
Yesterday, was not funny.  I had a hard ride, I found Quitter's Alley and I laid down in it. I let Quitter's Alley win.
After yesterday's post about me quitting triathlon, I turned off my computer and my phone. I was at Monkey Joe's (one of those indoor bouncy-play centers) with the kids when I wrote that post, and my laptop battery died right around the time of "publish."
So I turned it off, and didn't recharge it.
Then I put my phone in my work bag, and left it there for the rest of the night (but not before texting with Yoda, Sweet Red, and my mother—confirming that I was "mostly okay.")
I put everything away, mostly because I didn't want to read any mean things, and I wasn't prepared for seeing pitchforks: "YOU QUITTER! You're QUITTING??? I started this triathlon mess BECAUSE OF YOU!!!!"  [Oooops.]
I was overwhelmed and tired.
And I won't lie… the subsequent jump off the wagon and face-first into some cheesy, margarita Mexican dinner (mmmmmmm…..) with the kiddos and the Saint Expert… it was delicious.  After some solid kid snuggles and with a full belly of bad food, I proceeded to feel sorry for myself.
About 8:30, right before I knocked out to bed, I reached out to one of my best friends, to check on her.
I knew that her dad was not doing well.  But I was not prepared for the news…that she had said her last goodbyes, and they were all preparing for the end.
The end.
The end of a life.
And it all came clear to me.  How many lessons must I learn before I figure it out?  How many?
Each day is a blessing.  Each day that I can train for an Ironman, I should be thankful.
#Truth.
I love this sport.  This sport has changed my life. There is a point to it, there is beauty in the training, in the struggle, in the pain. In the trips down Quitter's Alley.
But Quitter's Alley is not my home.  I have signed up for this race, because I am alive. I am a different person since finding triathlon… and I owe it to myself to find out what this person is made of.
Thank you all for your support. Thank you. Thank you.
Today, I read through each and every email, comment on Twitter, Facebook, and the post from yesterday.  Thank you all so much for all your words of encouragement, wisdom and thoughts.  I am overwhelmed with gratitude, humility and faith in finishing this Ironman… a few words I couldn't say yesterday at this time.  And I owe you all a great big thank you.
Just a few comments to close out:
1)  I am not quitting. Not today. Quitter's Alley doesn't get to claim me.
2) My Ironman is in 132 days. 4 months and 12 days…
3) Super thanks to a SBM dude friend, Bradly, who posted the Rocky Balboa picture on the Facebook page.  Flowers and princesses, I may not understand. But Rocky Balboa, I do. Word.
4) Saint Expert gets a lot of the credit for keeping me out of Quitter's Alley permanently. He was an incredible support over the weekend. No only with his awesome Swim Bike Dad-ly ways, for the loads of laundry and floors cleaned while I was spending hours training…but also for being a strong wall for me to lean up against yesterday. Love.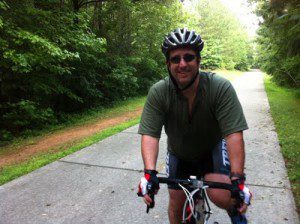 4) And finally…my coach is a wonderful coach. He has a method that many may not agree with—but he's never failed me. And he's not unmoveable. Obviously, a break-down like yesterday is reason for a re-eval, which he put into motion immediately. But I cannot imagine crossing the finish line with another coach. So thank you all for the offers and advice regarding my coaching, coachability and training plan… but I'm sticking with the coach who has already made the impossible….possible…
And when Coach M called me for the second time this morning, and said, "How are you doing today?"
I was able to smile—my hair wet from the swim I just completed–and then say, "I'll call you later. I'm actually on the treadmill right now."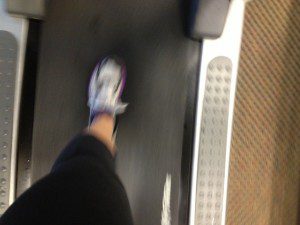 And I could feel the smile on his face, shining through the phone… And I know I'm going to be just fine. Maybe not perfect, but fine.
Despite my pain last night, I had packed a gym bag for this morning. And I woke up at 5:30, and I did it all over again…
Why?
Because I knew that today, I would be able to swim, bike and run.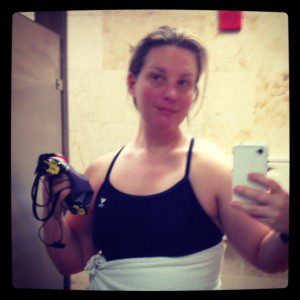 And therefore, I would.