Guess what? My name is Virginia, and I ran a marathon (with a few moments … or more… of walking and limping thrown in). A few weeks ago I posted about being injured and scared. I was so lucky to get so much support from you guys and the assurance that I would make it through…. And I  DID!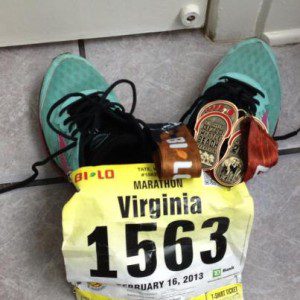 But…it wasn't easy. I did well for the first bit, but around mile 17 or so, I started to hurt. HURT. At mile 20 my stomach became unhappy (picture running for a potty instead of running down the road). At mile 22 I ran into a friend who was also having problems. I stopped and walked with him for a while…almost a mile. At mile 23 I began running and suffering. I started the race at 8:30 pace and was likely a 13:30 pace for the last 3 miles. My average was 10:50 (OUCH)! Towards the end I saw my husband on the side cheering me on (he did the half). He said, "Great job. Only two more turns." I almost punched him….I thought I had one more turn. I had expected to cry like a baby at the finish because I cried at the end of my first half. All I did was bend over in pain. It was THE HARDEST thing I've ever done. But guess what….. I AM A MARATHONER! I might be slow, but I AM A MARATHONER! I'm super proud. AND…when we went out to eat after the marathon I had a super high calorie margarita…and didn't feel guilty. Amazing what 26.2 miles will do!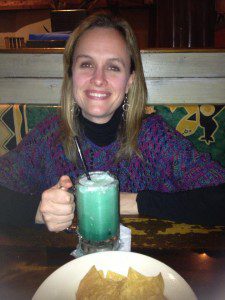 Guess what else? At home, I'm just mom. Don't get me wrong, my kids are proud. They all asked about it. My 7 year old thinks it is super "cool," but as soon as my 2 year old saw me, he only wanted to convince me that he could keep the scarf that he was wearing (belonging to my dad). So, while I feel really different, I'm just mom. Here's another super cool thing….right now my kids are out swimming laps with my husband. When we got back from Myrtle Beach, they instantly went back to the Swim Bike Kids that they are. Since it's cold today (no running or biking), they want to swim. I LOVE THEM. So, while a marathoning mom didn't change their lives, our activity as a family already has. I'm super proud.
Now I'm counting down to Ironman Florida 70.3. WOOT! WOOT! Bring it on! (Oh, and I will be joining the marathon club as a FASTER marathoner in the future…I promise).