Fridays are always my favorite day of the workout week, because:
1) it's Friday (duh);
2) I wake up at a ridiculous hour and have a long drive of peace and quiet before arriving at the gym;
3) it's the Coach Monster spin class, which is more pain on a stationary bike than you can imagine (it rocks); and
4) Friday is the one day of the week I eat out for breakfast–Einstein's Bagels (I get the egg white on thin wheat with asparagus and mushrooms, 270 calories and super yums with a giant coffee). It's a Friday treat.
Anyway, for almost two years, I would just go to spin class. But now, in Ironman training, I will do all sorts of schenanigans—swim first, run after, strength training, core—whatever.  It's never "just" the spin class anymore. And that's cool.
And today the Monster had me doing a crazy workout today.  Run first.  Spin.  Then run again.  Alrighty then.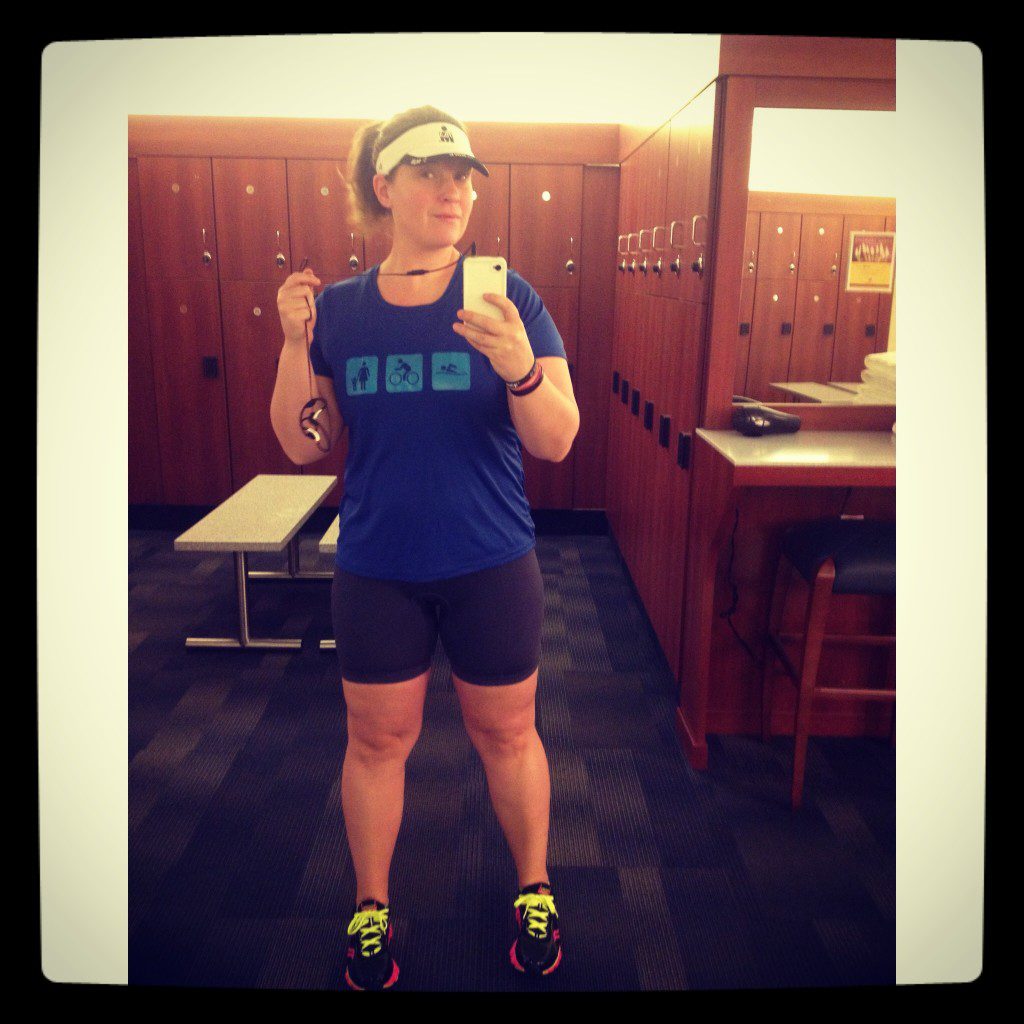 Saucony recently sent me these fancy Viratta shoes to try (in photo; full review to come soon).
And while gals of my size may not always do great in zero-drop minimalist shoes, I thought I'd try them out for just the two miles before spin.  And I loved them. I'm not sure I could run more than 3-4 miles in them, just because of my weight and the need for cushion… but I felt great. I counted, and my foot turnover was actually 178-180, which was much faster than I usually do.  I usually am stuck in no-man's foot turnover land of 155-160…  Also, I ran the first mile at a 11:00 pace, then the second at a 9:30 pace. Also faster than normal.
So, as I walked into spin, Coach M asked, "How was the run?"
And he noticed my new shoes.  So we talked about the smarts of incorporating the minimalist shoes into my training (go slowly, only on short runs, best on treadmill for someone of my size).
Then I told him that it was nice to run in the shoes because I felt like I could "feel" how I was running for the first time… I do not have a large history of running, not a lot of muscle memory surrounding it. So it was interesting to feel my feet… if that makes sense at all.
Anyway, this post is actually NOT about the shoes or the transition to minimalist shoes…
… rather, it's about one phrase that Coach M said to me.
After class, I put on my regular stability running shoes and headed back to the treadmill.  As I walked past Coach M, he said to go easy on the run… and to not force anything. He says that often, but I must have looked at him weird. So he went on…
"Run easy. Don't force it. Let it come out of you. Let the run come out of you."
I had never thought of it that way. Yes, I've heard of all the mind-body-running, running by "feel," running with soul, Born to Run—I've read all the books, and it never resounded with me personally.
Today it did.  So as I suffered through a final three miles after a hard spin class, I tried to let the run out, to just be… and it was a tiny little revelation for yet another day of moving towards Ironman.
As I look back on the "great" runs I've had over the past two years, I can attribute the good ones to days when I just ran…no matter how slow I was going… I just was.  I just ran.