A few hours ago, I emailed Coach Monster and told him, "I quit."  And not the workout, not the weekend's workouts… but triathlon.
I just experienced an Ironman training week. And I didn't like it.  And it's not even close to "as bad as it will get."
Running: 32 Miles
Swimming: 12,000 meters
Biking: 100 miles
Sunday was a half marathon.
Monday was a 3600 meter swim.
Tuesday was a 25 mile bike plus strength.
Wednesday was another 3800 meter swim, plus 5 mile run.
Thursday was recovery (thank God).
Friday was a Monster spin class plus 3 mile run (plus a core workout where he (the Monster) proceeded to beat me in the abs with a foam roller while I did v-ups.  That was not on the planned schedule.)
Saturday was a 3800 meter swim plus 9 mile run.
Today was supposed to be 65 miles on the bike.
Yesterday, in light of the big workout scheduled, the Saint Expert was taking the kids to Stone Mountain for the day, so I was "free" to make the workout happen.  Saint Expert.  I will call him that until this training is done…  [Raising children takes a village?  No, Ironman training takes a village.]
So, I had a great swim.  Shared a lane with a super fast guy, who also created a huge wake, so it was like open water practice.  I drank a Core Power protein drink on the way home, and got ready for my hilly run, leaving from the house.
We (fortunately, or unfortunately—-depending on the day) live in a hilly area.
My outside bikes rides are hilly–boasting as much as 2000-3000 feet of elevation gain in a given 40 miler (depending on the route).  Runs are hilly, but not completely unbearable.   I know I need to be working hills with Rev3 Knoxville Half coming up in May, and of course, the big dog—Ironman Couer d'Alene—which is a hill climber's dream.
So I took off running yesterday, and decided to go a new route.  Apparently, this route was uphill…and uphill only (e.g., "uphill both ways" in the South).
But I was really proud of myself.  I watched the miles tick off…. 1, 2, 3… I was getting tired, but my pace was staying good around 11:45, my heartrate in Zone 2.  Then, I kept running on a gradual incline… 4, 5…stopped for a quick potty break at 5.5, then resumed with a big hill around 6.
Only 3 more miles to go… awesome!
And like I had never run before in my life—-I realized that I had made a rookie mistake.  No fuel. I was having such a great run, I forgot my fueling regime.  I usually have some sort of fuel (GU, ShotBlok, or the like every 30-45 minutes). But at 7.5 on the nose, I bonked. My right hamstring cramped up, and I was toast.  I ended up sitting on a curb for awhile, playing on Instagram, and then I hobbled the remaining 2 miles home.
Rats.
After a boiling hot bath, I felt okay.  Tired, but okay.  I looked on the bright side—it was a strong and great 7.5 miles in the hills.  If I had fueled well, perhaps I wouldn't have bonked.  Maybe I would have —but overall, I was okay with the run.  It was 9 miles—a few walked— at two hours.
The plan was to go to bed at 9:30 and feel rested for the long ride.  But I got caught up in the "Sex and the City" movie (as if I had never even seen it… ha…), and I ended up in bed at 11:15.  Still, slept until 7, which wasn't too bad.
Rise and Shine!! Time to ride!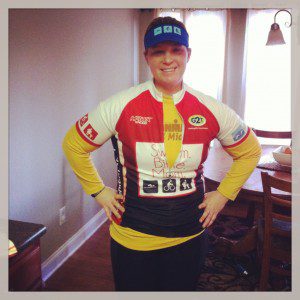 After another power breakfast, I met the Weatherman at Harbins Park.  It was thirty-seven degrees, and I was bundled up.  Not too terribly cold, considering, but the wind… the wind was absolutely horrendous. The Weatherman headed home after 30 miles, which left me with 35 miles to conquer on my own. I was already tired. After the training week I'd had— my legs felt like mush, and I was so wind-beaten.
Instead of doing the 30 mile loop again, I changed it up, and found a hilly (but reasonably less-so) five mile loop to repeat a few times. The downside of this "easier" loop was the wind. It was fierce. I was almost blown off my bike 5 times.  At one point, around Mile 48, I burst into hysterical tears—and thought W.T.F. am I doing?  It was so bitter and windy.  I was pedaling furiously, and going nowhere in the headwinds.  8, 9, 10 miles an hour.
I stopped and called the Expert at Mile 52.
"Tell me that this is worth it.  I don't think I can do this.  The Ironman race."
"You just bought plane tickets," he said. "You have to do this. Finish it up. Or head back to the car. But be safe."
"Okay. I will."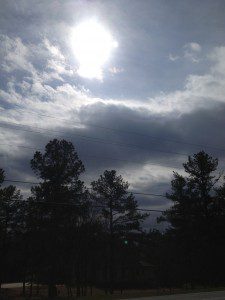 I gave in.  And I rode four miles back to the park.
I let the tears roll down my cheeks during the homestretch, the wind was beating the hell out of me–combined with my tears—I was a slobbery, sweating, crying mess. I didn't have the miles left in my body (or soul) to make it to 65.   This was the hardest, worst bike ride ever.
I pedaled and cried right past a woman doing yard work, who shouted out, "Are you okay?"
I nodded.
Of course, I am okay.  I'm on a bicycle. I have on earmuffs. I'm wearing spandex and crying. My waistband on my pants are SO tight.  I'm wind-burned and we won't even talk about the shape of the Queen after these last four hours.  Yeah, I'm freaking great.  Let's have tea.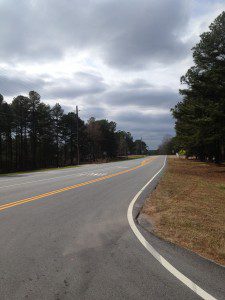 "Thanks, but I'm okay," I shouted back to her, smiling weakly. (It's not in a Southerner's nature to respond to a courtesy with only a nod.)
During the ride back, I considered how I would tell Coach Monster that I quit.  Not quit the ride… but that I couldn't figure out how to make this body, this woman get to Ironman.  That I quit triathlon.  I mean, I almost told him I quit last year, but I came back around.
So I was pretty sure this time… if I was telling the Monster…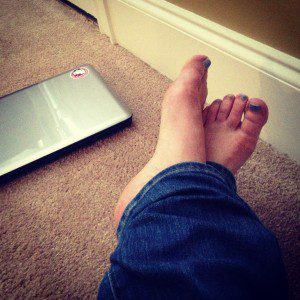 Couer d'Alene. Ironman. Triathlon. No. 
I wasn't sure how to tell him that triathlon was over for me, so I just wrote to him:
"I'm not sure who I think I am, or what delusions I've been living under. Ironman? For me? In this body?  No. It's too much. Thanks for changing my life. But I'm done.  "
….to be continued?