Hi SBM fans! Virginia here. First, let's all give a shout out to the SBM on her half marathon this weekend. Woot! Woot!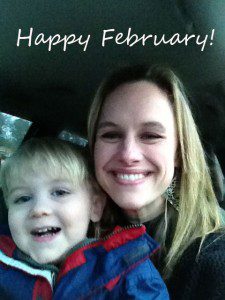 I hope that some of you are feeling this too: It can't be February already. I'm not ready, but I'm SO ready for Spring. In 2 weeks I have my first marathon in Myrtle Beach, SC. Training had been going well until recently when I started having IT band issues. Now things are unsure. I'm nervous. I'm going to do it anyway, but I am worried I will have to walk part or will be unable to finish. I'm trying HARD to banish such thoughts from my head. I did have a pain-free 13 mile run Saturday and a pain-free 34 ½ mile bike yesterday. So…we shall see.
AND…Ironman 70.3 Florida is in three months. EEEEKKK!!! Three months. My IronKids are totally ready…but their mom is a bit nervous. No, terrified is more accurate. My training has been run focused lately (because of the marathon), so I really have to get more time in on the bike. I've also got to get more family biking time in with my boys. Craziness.
Now that we are getting closer to Spring, I have been really thinking about which races to do (in addition to Ironman 70.3 Florida). If I were a rich mommy, I'd do every sprint and Olympic that I could….but I'm not….so I can't. Also, I'm trying to balance my calendar with the boys and their soccer schedule. They are fully into soccer season, which eats up most weekends. Mommyhood balance is tough! I wish they would just become full time triathletes and give up the soccer shenanigans!  Just kidding….I don't wish that….except I do…but really I don't.
SO, I guess the point of this post is to say that I am getting Spring fever, starting to get race nerves, and trying to figure out how to balance it all. My boring life (so says my teen) is entirely too un-boring. Who would have ever thought?