Without naming any names (The Expert and Sweet Red), I have inherited a new nickname.  And it's ridiculous.
It's Oprah.
I wasn't even going to tell ya'll because I'm hiding my face in my hands right now (okay, not right now, because I am typing…but….)  Anyway, I am a lot of things—but Oprah Winfrey isn't one of them.
Now, don't get me wrong, Oprah and I have many things in common: our battles with weight, big ole lovely arms, and an affinity for over-priced shoes.  Well, I used to be that way. Now, I just wear flats. ("Next stop: Easy Spirit!  I hear they're having a sale!!! Welcome to triathlon–where your feet and hips suddenly become more important than sassy shoes.)
Someday, I hope to carry a wagon full of fat across a stage—or at least roll that wagon right into the law office. That would be amazing. Can you imagine? Anyway. Oprah.
Ha. Well, I'm a sad excuse for Oprah.  I get embarrassed when I am in public and someone runs up to me and says, "Swim Bike Mom, eeeek" or what have you.  Granted, I love it—it makes me feel great, of course—but I feel like a fraud.  I mean, I'm just me… I am not someone like Oprah.
Therefore, when the Expert and Sweet Red started calling me Oprah—and I reciprocated by calling them Stedman and Gayle— I figured we might as well carry out this ridiculousness into a Favorite Things post. Say it ain't so.  Oh, but it is.
Now some of you may have already seen my favorite things website list hosted by my triathlon fave, All3Sports.com.  This is not the post where you get a car! you get a car! you get a car!  Sorry…But here's the point of this post (if you have hung in here long enough and didn't leave at the mention of my silly nickname).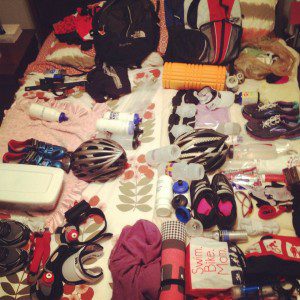 My Oprah-ish Favorite Things list has a dual purpose.
1) To tell you guys about the triathlon gear and stuffs that I love. Because I am a gear junkie and want you to know about cool things I love.
BUT also…
2) Just in case any of my "favorites" are watching, reading or laughing–or, if any of you loyal SBMs or friends know of some good contacts and want to pass along–and are interested in sponsoring Swim Bike Mom's mission, direction and focus, I would love to discuss with you. SBM has a great momentum—and I am truly excited about the direction we are heading. And yes, I say "we"—because there are more people than just "me" involved now.  Please contact me directly with inquiries, questions, press kit, etc.
Drum roll please…
I bring you the triathlon  (and some other) things I love.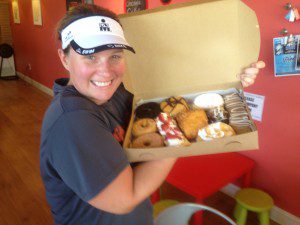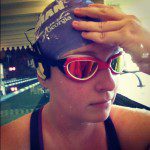 TYR Sport
I use TYR for most things in the water: Special Ops Polarized Goggles, TYR Solid Diamondback Swim Suit, and Pull Buoy.
This is the swimsuit I love. Love love. I obviously don't look like the lass in the picture, but what I love about this suit is the material and the straps—thin, but supportive.
 [Note: I have received absolutely nothing for mentioning any of the these products in this post.]