Everyone knows that I am working on my weight (always), but since December 28th, I have been really working on it.  Hardcore, excellent nutrition, tracking in LoseIt.com and being supported by the almost-100 members in the Swim Bike Mom Loses It Group (if you want to come join us, please do. All you need is a free LoseIt account, then do a search for the Group under communities….great little network).
I am being 100% transparent on my journey to Ironman Coeur d'Alene.  I want to be honest about my struggles, and I hope that it will tell a true story of a successful Ironman finish come June 23, 2013.
I just entered a DietBet weightloss game, and I had to submit a photo in my skivvies (I didn't realize until later that I could wear shorts… d'oh…and they don't publish it OR share your weight…), but anyway… I showed the picture to the Expert and said, "I am going to put this photo on my blog."
He said, "Well, if you want everyone seeing your stuff. I give up."  (He's so accustomed to me — ha ha).
I thought about it for a minute.  And then I said, "Well, what do I care?"
He shrugged, knowing, my thoughts on Swim Bike Mom and all of this.  ("If it helps ONE person move forward, make a change, I don't care what it does to embarrass me. Don't care. At all. At all.)
No, I'm not a glutton for ridicule, for people turning their eyes away… for my mom thinking, "Oh dear now look at what she's done."  But rather, I feel a sense of joy when I can share my successes… and my embarrassments… because I have chosen to be honest… and I don't think this picture is inconsistent with my prior behaviors.
Am I proud of this picture?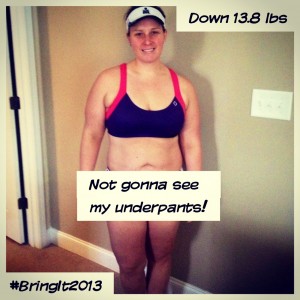 Funny. Actually… I am proud of it…chunky belly and all.
Why in the world…?
Because this is a picture of progress.  It's definitely not a picture of perfection.
But 20 pounds ago, this would have been much worse.  After I gave birth to my second child, it would have been in the Guinness Book of Records for one of the most horrible things ever seen…
But this, yes… this picture is progress.  So I am sharing it.  Flabby belly, armpit chunks. But I also see strong shoulders, and bike-short tan lines… and the beginning of some good quads.
I may not love the picture…but that picture is not this picture: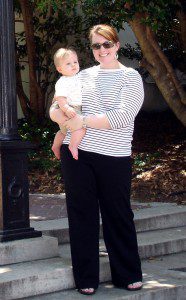 (This was actually the "skinniest" picture of me from 2008.
I'm guessing I was about 235 here. This was before my Spark.)
And I'm also not here: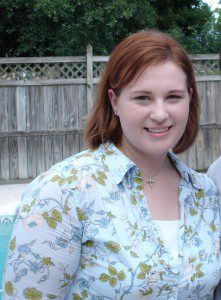 (This picture was actually in 2004… pre-kids…. so super shame on me.)
I share my TODAY sports bra picture with the hope that I have a better picture to post someday… I share it with the spirit of "we are all doing this!"–because so many in the Lose It group are doing AMAZING… we're ALL trying to be better athletes, people… and to be healthy.
So that's me. Today.  Down 14 pounds. Still fighting the 200's, but darn on my way to 199. And better yet, on the way to my goal weight of 163 by Coeur d'Alene.
Today, I swam 2.2 miles and I ran 7.  I am working hard. I am fueling well.  This body may not be perfect… but I am determined that this body (and perhaps, less of it)… will carry me 140.6 miles.