Virginia is a working mom with a tri-ing husband AND tri-ing kids. She has come on-board as the voice of the family-focused division—-Swim Bike Kid.  I like Virginia for her enthusiasm, heart and drive.  And you're going to love her too.   She blogs at Tri Mommy Tri.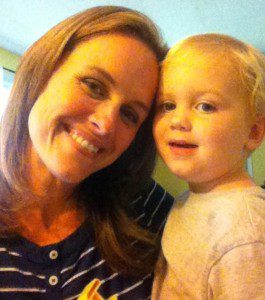 Occupation: High School Program director & teacher (and full-time working mom)
Kiddos: FOUR of 'em:  girl age 16, boys 9, 7, & 2 ½.
Background:
"As I child I was fairly active. I grew up ice skating and loved it, but I thought of myself as "that kind" of athlete, not an endurance athlete. In fact, I have asthma, so I always thought that I "couldn't" run. Like most women, as I got older and started having kids, I found myself more and more tired and carrying more and more weight. After my third child, I started running. I joined a running group and ran a few 10Ks. Though I didn't get "skinny," I felt better about myself running. My "oooops" baby came along a bit later, and I really gained a lot of weight. At the same time my job responsibilities were increasing and I thought I had no time for exercise. I had plenty of time for ice cream though. Occasionally I would run, but it wasn't very regular.
In October of 2011, I had enough. I started dieting, running, and going to spin class. My husband suggested triathlons, and I thought he was crazy. THEN….ONE DAY….I decided to do it. I haven't looked back.
As I got into triathlons, my sons did too. My two middle boys, ages 9 & 7 now, became fascinated. Both are pretty big athletes (soccer), and my oldest boy runs with a school running club (the youngest will next year when he is old enough).
This year they both got road bikes for Christmas from Santa. They will become Iron Kids in May when I compete in the Ironman Florida 70.3 and they compete in Ironman Florida Iron Kids. My husband has joined the journey as well. Yes, our family has 4 USAT members….so four copies of USAT magazine.
We are all IN LOVE! Triathlon has given me confidence, purpose, and pride (oh, and weight loss). I am proud to be the mom that my kids are proud of. I am proud they are triathletes because I am a triathlete. It is contagious!"
You can contact Virginia via the SBK Facebook Page: www.Facebook.com/SwimBikeKid