My typical day consists of waking up waaaay before the sun is up, heading to the gym, and then arriving at work with my giant lunchbox of food and wet hair.  I spend almost thirty minutes each night preparing healthy food to take with me to work.  Some nights, I just don't have the time to pack.  Or I can't bear to do it.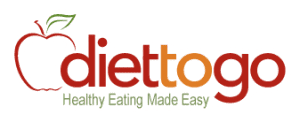 Then here comes Diet-to-Go, and I am thrilled. For a long time, I have been wanting fresh, healthy meals delivered.  How many times have I said, "Oh what I would do for a diet delivery?"  Something I can grab on my way out the door. Something that follows along with my current nutrition plan  – where meals from Diet-to-Go can be used or substituted into the plan that is working for me now?
Diet-to-Go is not a "diet," per se.  You can use the meals as a full-fledged meal plan OR you can also incorporate some of the delicious meals into the nutritional plan you have now. Which is exactly what I had the opportunity to try.
And guess what?
The food is healthy and fresh, and you will recognize all the ingredients on the label (unlike most delivery meals).
How Much?
For as little as $80 a week, you can have 10 complete, healthy meals delivered to your door. There is NO contract. No gimmick pricing. No cancellation fees. 100% satisfaction guarantee.
According to a University of Washington study (published in Academy of Nutrition and Dietetics), high-quality, healthy foods average about $18.16 per 1,000 calories…. just for the ingredients.  With Diet-to-Go, you are getting a value of $17.02 per 1,000 calories – and everything you need is included – no prep, no cooking, no spices, etc.
If you are interested in just a few meals a week, or to have all of your meals from Diet-to-Go, – you can. And you will save.
What Kinds of Meals?

Diet-to-Go offers fresh meals.  Not prepackaged, chemically-driven-sit-on-your-shelf-for-up-to-two-years meals. Fresh meals. There are three menus:  low-fat, vegetarian, and low-carb, and over 20 plans to choose from.  And here's the good part:  Any meal can be substituted for dislikes or allergies.  (I am an allergy ball… this was big news for me.)
Click here to check out the menus and plans.
Video Reviews
With a little help from the swim bike kiddos.
Bistro Chicken Salad
The Deal for SBM Friends

SBM friends get 25% off any
Diet-to-Go 
meal diet delivery plan now (valid January 1-January 8th) – use code "
newyear2013
" at checkout.
The Facebook Giveaway
Starting January 1, Diet-to-Go is giving away 1,000 (what? yes, ONE THOUSAND) meals via Facebook. Go here to 1,000 meal giveaway to check it out.
FitFluential LLC compensated me for this Campaign.
All opinions are my own.