I know hundreds of you have read Triathlon for the Every Woman… so I am hosting a little giveaway for those of you who have shown your support.
If you have written a review on Amazon, then all you have to do is post the link to your review in the contest and you are automatically entered for a $50 gift card to my fav tri store ever: All3Sports!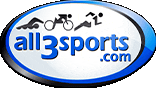 1) Write a *REVIEW on Amazon here (click on 'create your own review');
2) Then go here to enter to giveaway by posting the link to the review you wrote (contest is also on Facebook), or fill out the form below!
(Mobile-friendly link: http://bit.ly/Uaaqbz)
a Rafflecopter giveaway
*Please note that this contest is
not
to induce GOOD reviews of the book… it's to get more people to write honest reviews of the book that I know hundreds of you have read. [I hope that if you hated the book that you might forego writing a bad review… but it takes all kinds to make the skin tough.  Bring it on. :)]