In the spirit of New Years smashed together with a little of Oprah's favorite things style, here's a list of things that this Swim Bike Mom loves, helpful hints, and links to some of the good stuff on the blog… that will help propel you into the New Year! (Or at least give you something to laugh about).
Here's a quick summary of Swim Bike Mom… in haiku.  And if you don't do haiku, here's the About SBM page.
The Lose It app and website….Keep track of what your put in your mouth in 2013 with this handy app for your phone and online portal. This is a seriously good tool.  When I don't lie about the food I enter into it.
Know what to put in your mouth with Optimal Nutrition for Life's Metabolic Boost (3 week program) and Burn (9 more weeks) for only $12 and $19, respectively.  Go here to download either plan… regular, vegetarian and gluten-free options.
Get mentally tough and inspired by this post.
Plank early and often.
And treadmill duels with your spouse.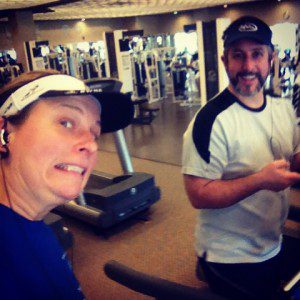 Learn how to survive triathlon and injury.  Check out posts starting from here…February 27, 2012 through May 30, 2012 of this year.
Get inspired with some great stories from other Swim Bike Moms (and a few dudes, too).  Got a story to share?  Click on "Contact Me" above and tell me about it.
Free beginner triathlon eBook here.

Get some help with your running technique in the New Year – it's a helpful tip, and I'm better each run for seeking some coaching on my form. Still not great. But better.
Learn to brush off the negativity… repeat after me….
Awesome triathlon gear, as always, available All3Sports.com.  Use SBM promo code "SBMALL3" for 15% off!
(Shameless self-promotion). The Book.  If you are starting out in triathlon, thinking about tri-ing, or are just looking to read about someone who is more messed up than you… start with Triathlon for the Every Woman.



Learn how to give back and meet some fabulous heroes through the Getting 2 Tri Foundation. 
Be Kind to yourself as you start your New Year.
Watch the Swim Bike Mom road to first 70.3 video here.
If you don't have a monkey hat, get one.  Or get a triathlon friend with a monkey hat. You'll be surprised how much better you feel.

How do you ride your bike in the hills?  Oh yes, there's a post for that too.
Buy and sell triathlon gear (new and used) via Swim Bike Sell.  Need some money for the New Year?  Check us out at Swim Bike Sell and also, on Facebook.
Just a little interview with Craig Alexander. OMG. Yes, it was awesome!

Swim Bike Mom is everywhere that social media goes (obsessed!)… Facebook, Twitter, Instagram, You Tube, Pinterest, Daily Mile.  Just click on the little icons on the header and get more SBM than anyone needs.
You aren't the only one to have an open water panic attack.  It happens. Just pick up and move on.
Learn to balance your family and triathlon. Get The Book for a full survival guide… or start here with this popular post from 2012.


Find some great inspirational blog friends here: the SBM Blog List.
The Finis SwimP3 is the most awesome piece of gear I have tried this year.  I mean, listening to music while swimming? Yes, please. (They should be sponsoring me for all the hype I am drumming up about this… but alas, no calls yet….)
Do you know about Bia-Sport yet?
You think YOU weigh a lot?  Ha.  Not even close.  I have no shame.
You really can tell an entire race tale in photos only.
Marriage is tough. Yours isn't the only one that's been through it. Just keep moving forward. In life and in marriage.
The Athena and Clyde triathlon classes are going UP in weight in 2013. 
Wetsuit shopping is always humiliating.
Check out the Augusta 70.3 Race Report from September.
Triathletes are babies.

Yes, I actually DO have a real job… and it's not Swim Bike Mom.  I am a lawyer at a firm with really great people… but such was not always the case… even still, the question of doing what you love… it still haunts me.
Do you know about ART Therapy and the great Atlanta area, Dr. Miracle Man Hands?
Here's a new page about my Road to Ironman… 9 words at a time.

To all the SBM friends who have joined us in 2012, thanks for coming along for the ride.  For the die-hards who have been around since the beginning, thank you for continuing to read and put up with me.
Here's to an AMAZING 2013 full of big dreams and bigger successes!
Just keep moving forward!
Meredith