Today has been about as weird as can be.  Especially before 10:00 in the morning.
First, the girl Swim Bike Kid woke up at 4:45, which never is a good start.  I put her in the bed with the Expert and decided to go to the gym to swim earlier than necessary.  Only, I didn't feel like fighting traffic later that morning for work… so I went to another branch of LifeTime Fitness, a newer club–one I haven't been to before–which is close to my office.  I am not suer why I decided to do this. Maybe because I know LifeTime accepts members from all clubs across the country.  Maybe because my normal near-work gym had Masters class this morning, and I didn't feel like begging the Swim Gods to let the Mere Swim Mortal into the lap lane.
Anyway, I showed up to fancy new LifeTime wearing my ugly sweatpants and my "I Do Tricks for Treats" shirt.  I handed over my gold membership card. 
Apparently, gold was not the currency for this LifeTime. It was a diamond level club (for the love….), and I was "only" a member of a "gold" level club.  But being the wonderful Mega Gym that LifeTime is… they "let me use the diamond level club just this once" (for the love…)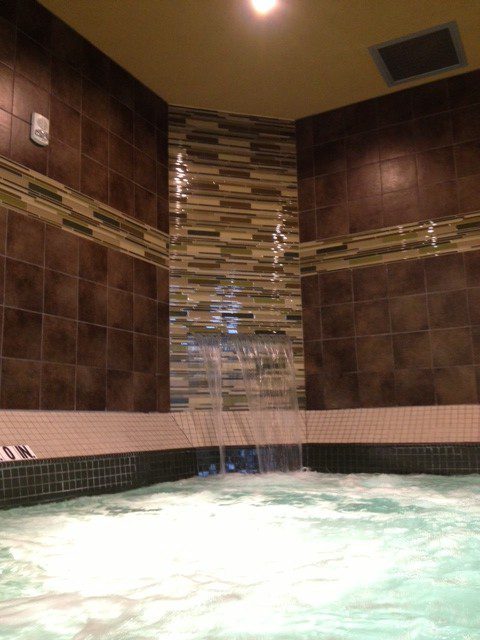 But seriously. This is the hot tub?!  #IsThisWhatTheRealHousewivesOfAtlantaFeelLike? (You should have seen how much free lotion and conditioner I used. #StayClassy.)
My "only gold" LifeTime card did not work for the "diamond level" lockers.  So I had to hang up my work shirt and pants by the pool.  I looked over at my pants during the swim, thinking the entire time:  Those pants look huge! Swim FASTER!
Anyway, so I got into the pool, which coincidentally looked the same as my usual LifeTime pool, except our LifeTime pool always seems a little green… and this one was sparkling blue. Like—oh you know it—diamonds.  I thought maybe the blue water would make me faster. Turns out, not the case.
I swam 3400 meters (2.1 miles…in a pool for the love…), and it took me forever.  Mostly because the Monster put in about 800 meters of kicks.  I wish someone would tell me how to kick across the pool quickly.  Slow kicker.
During the swim, I watched people come in the pool—do their hour or so workouts—and get out.  I was in the pool a loooooong time. And I realized that I would be in the pool a very long time for the next six months, training for Ironman Coeur d'Alene. I like to swim, sort of, so I am making peace with prune fingers. I am making peace with the long, lonely bike and run workouts ahead of me.  Just yesterday, I had a brick of 21 miles on the bike, and a 3 mile run.  On a Tuesday. Nevermind, the 10 mile run that's scheduled for this weekend, the terrible 8 mile run I had on Sunday… and the hour swim plus three-hour bike scheduled for this Sunday.
So I swam and I felt peaceful.  My nutrition has been okay.  Not super on-target for the past two days, but good for the 5 days leading up to the "bad" two days. I am boosting today, and feeling better already. ("Boosting" is what Sweet Red and I call the Metabolic Boost Plan. When we are "on plan," we are "boosting."  When we are off plan, we are usually at the Mexican restaurant….ah-hem.)
When I get out of the shower, I have some crazy red marks on my neck.  The "diamond" level ladies in the locker room were judging me.  I wanted to scream, "It's not a hickey" because…. well, it wasn't, and also because that's exactly what it looked like.
So I went to the diamond club, got a hickey (it's NOT a hickey…I can only figure it has something to do with chafing from the swim? An allergic reaction? Who knows), and paid $1 more than usual for the exact same smoothie from my normal LifeTime.  And as I am sitting in the parking lot, enjoying my diamond level smoothie, I get an email:
"As a fan, I just wanted you to know that I would still enjoy your journey and your blog if you were to decide that you needed to take care of some other things besides the full [Ironman] right now."
I re-read that sentence.  What?
It went on… "Sometimes I think that we just switch from beating ourselves up in one way to beating ourselves up in another way in the name of self-improvement or proving something."
Well, that's when I got kind of…well…mad.
But then came this sentence: "You're pretty great right where you are. Just saying." 
Oh.  Okay, so this email was coming from a nice place. Email sometimes doesn't translate well at first glance, I guess. But then I started asking myself questions. Like… what am I conveying via this blog that seems that I am doing Ironman Coeur d'Alene as a weird way of beating myself up?  Am I really beating myself up?
I looked  over a chat with Coach Monster from Sunday.  I had told him that I am just struggling with my food intake, and losing weight.  Struggling. And I told him "there's a skinny girl inside of me, I just know it."
To which he responded:
I wish I could feel that way.  But I don't.  And maybe I am beating myself up about so many things… but I think maybe that's how I work? I know Ironman is going to be a tall order for me.  But isn't Ironman a tall order for…everyone?  It's against human nature and the laws of gravity or Newton's law or something to keep moving for 10, 12, 17 hours.
I signed up for that distance of 140.6 miles for many reasons. I chose Coeur d'Alene for many reasons.  All of which are my reasons.  Triathlon is an immensely public sport …for such a private journey.  And I'm putting allllllll of my business out into the blogosphere, so I can expect to get lots of different perspectives, from many different people.  And it's all very interesting to me.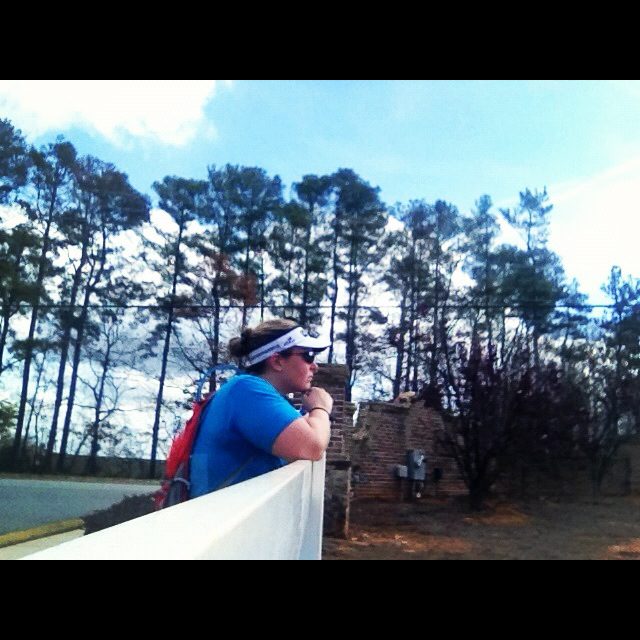 So because of the email this morning and some concerns from my grandmother about having a heart attack while doing these triathlons, I thought I would write about why Ironman, why now and why Coeur d'Alene.
1) About 24 people from my gym are doing this very race. I thought it would be fun to be with the cool people. Ha.  Okay, I thought the accountability and comraderie would be nice. Coach M is doing the race. I thought it would be nice to know that he will be on the race venue to pummel me if I DNF due to slacking.
2) I also know that Coeur d'Alene, second only to perhaps Lake Placid, is arguably (meaning I don't want to get in an argument about this factoid) the most challenging race in the U.S. Ironman circuit.  It's a cyclist's race, and well, that's probably the thing I enjoy the most. So go big!!! Why not? And with toughness comes the reward—it's reportedly one of the most beautiful race venues, too. 
3) My kids are young.  Meaning they are not completely immersed in after-school activities and other things quite yet. The time to do the long training feels right now for our family.  Both of my parents are coming to the race, along with the kids and the Expert.  I won't always have all my family around. I want to do this while we can all be together.
4) I want to see what I'm made of. Pure and simple.  Push, put in the hours, and cross the finish. After my first Olympic distance race, I went to half Iron six months later. And that seemed impossible. Impossible at the time.  I crossed the finish of St. Anthony's and thought, That was impossible. But then I trained with Coach Monster… and finished 70.3 Miami first in 2011, a mere six months after thinking Olympic was impossible.  Then I finished Augusta just a few months ago (almost 45 minutes faster than Miami).  Now, I would like to get faster at my half Iron times (which is why I'm signed up for Rev3 Knoxville in May… hoping to come in under 6 hours there)… but I also know that it's not rocket science to see the progression here. I want to do Ironman next.  I want to experience yet another thing that once felt impossible—-become possible.
5) I want to force myself to overcome my food addiction.  I want to beat that issue… once and for all.  And laying out a goal like Ironman is like childbirth…. the baby is coming, like it or not… so you better darn get the nursery ready.  And that's what I'm doing.  Right now, I'm working on the foundation, the walls and the structure of my little baby Ironman nursery.  I hope to paint the nursery a pretty 165 pounds on race day.  But I'll settle for 175.  Healthy and focused.
6) Finally, I would like the sticker, the visor and the tattoo.  And for Ellen to let me come on her show so I can do a dance. That is all.
SO today, as I walked out of the diamond LifeTime and read that email… as I waddled into my brown office wearing my not-Hickey (er, my focused Ironman mark!)… I was presented with the opportunity to think about why I am pushing myself to do an Ironman in six months. 
And I am glad that I had the opporunity to sit down and blog about it… 
Because it made me realize that I am really chasing the Ironman dream for the right reasons…. the perfect reasons for me.
==============
(Don't forget to go here to enter the SBM Giveaway…


You could win the Finis SwimP3, All3Sports.com gift card, Fuel Belt and more! :))
Brought to you by:
www.SwimBikeSell.com