*THE GIVEAWAY IS NOW CLOSED… go here to find out who won!
I told you guys that I was feeling kinda generous last week. And guess what? I still am! 🙂
Swim Bike Mom is giving away 5 7 great prizes for the holidays…. to 5 7 lucky ducky SBM friends.  All you have to do in return… is share a little Swim Bike Mom love.  There are many ways to enter the giveaway (and if you share with friends, you get more entries too… it's fun like that).
As a reminder, here are the great prizes:
1) Finis SwimP3… It's really made those long swims just so much more bearable! I am in LOVE with this piece of tri gear. Love love love.
2) One box of Peanut Butter and Chocolate GU. Hello, delicious.
3)  SpiBelt (picture shows pink, but it's actually red, so the dudes can enjoy as well)!

4) One of my favorite pieces of gear. The classically fabulous Fuel Belt.
5) $50 gift certificate from my favorite tri partners at All3Sports.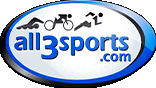 6) ***Just added: two copies of my new book,Triathlon for the Every Woman.
To have your entries "in" to the giveaway, all you have to do is make sure that you:
a)  Like Swim Bike Mom on Facebook
b)  Like Swim Bike Sell on Facebook
c)  Like Metabolic Boost & Burn on Facebook
Three quick "likes" and you've got entries to win the stuff.

How do your entries count? Easy. Just use the form below, or go here: http://on.fb.me/QCGGq6.
link: http://bit.ly/TDZYuT.
Now, if you want to get extra entries into the giveaway, you can follow Swim Bike Mom on Pinterest, Twitter… and if you Tweet and Share on Facebook about the giveaway – you get 10 more entries into the giveaway (and you can tweet and share everyday for more entries). See? Easy. Fun.  (And if you share with your friends… you get lotsa entries. Woot).
Check out the rules on the form below.  Contest ends December 17, 2012 at 12:00am EST.
Thanks for all the love for the last two years… let's make 2013 even more awesome.
a Rafflecopter giveaway
Got tri gear to sell? Want gently-used tri gear for your upcoming season?
Have you checked out Swim Bike Sell yet?