———-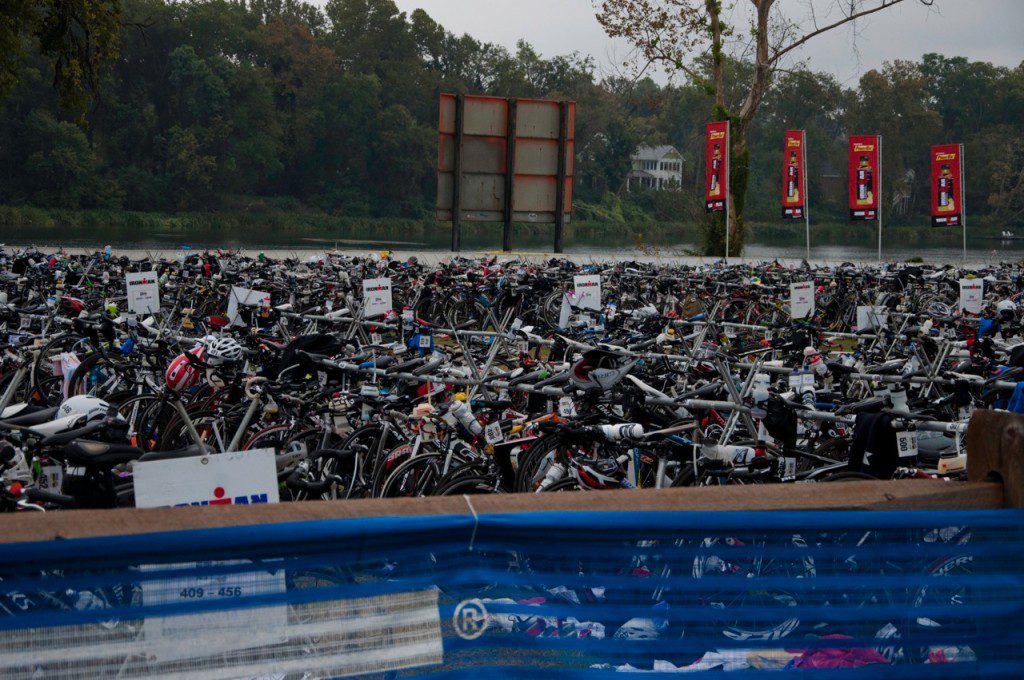 The Race
Ironman Augusta 70.3
Sunday, September 30, 2012
Augusta, Georgia
Swim: 1.2 Miles  (29:15)
Bike: 56 Miles  (3:08:26)
Run: 13.1 Miles (2:49:23)
Total Time:  6:36:44
Division Place: 127 of 198
Overall: 2364 of 3335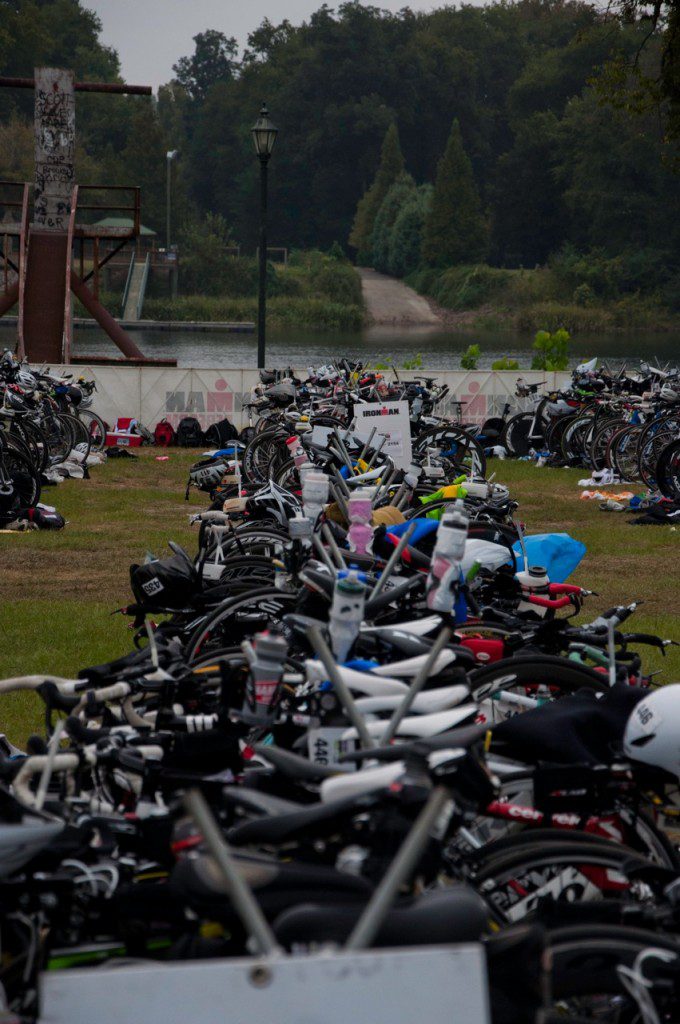 Pre-Race
The alarm went off at 4:30. I said, "Oh it's about that time."
The Expert grunted, "Yup."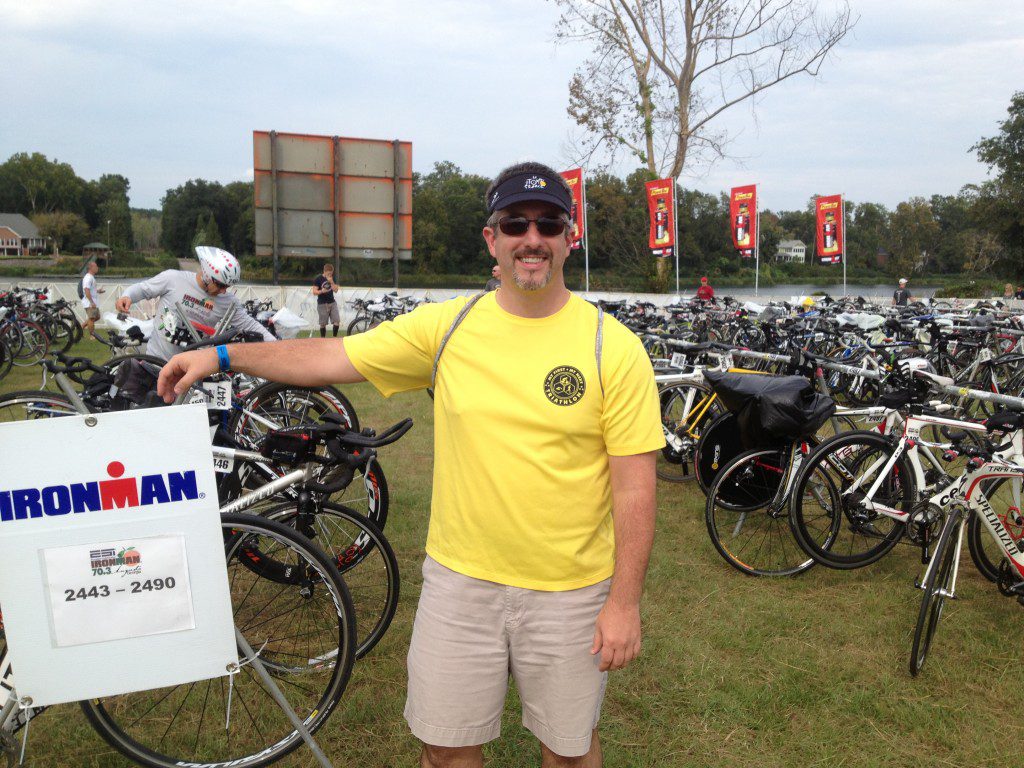 We pounded down some coffee, applied Aquaphor from head to toe, put on the tri gear and headed down to the car.  I stuffed a peanut butter sandwich on gluten-free bread in my mouth as we walked down the stairs.  This was my first meal of the day. With a wave start at 8:56, I would eat again before the race. The Expert and I met my parents down at the car, along with Columbus, and …we headed out.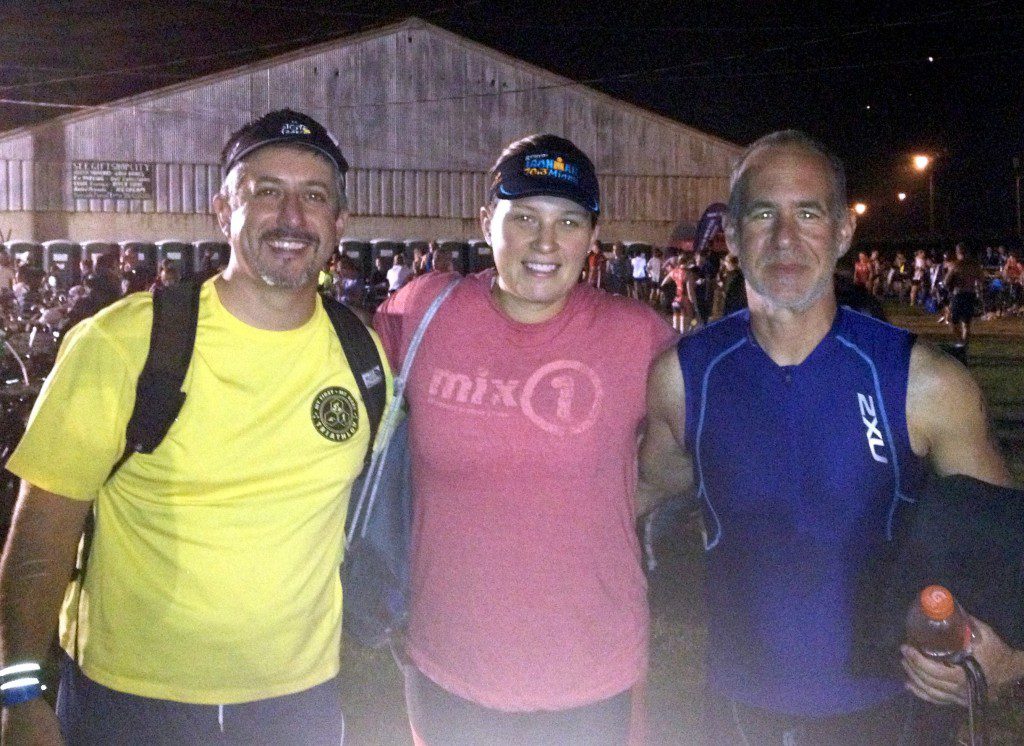 My folks dropped the Expert, Columbus and me about a half mile from transition.  [Tip for future Augusta racers, this is ideal – having someone to drop you. Do not try and walk from the host hotel to transition – it's way far.  Or, there are shuttles from the race hotel to transition – AND back to the swim start, also. Just don't walk. Find another way.]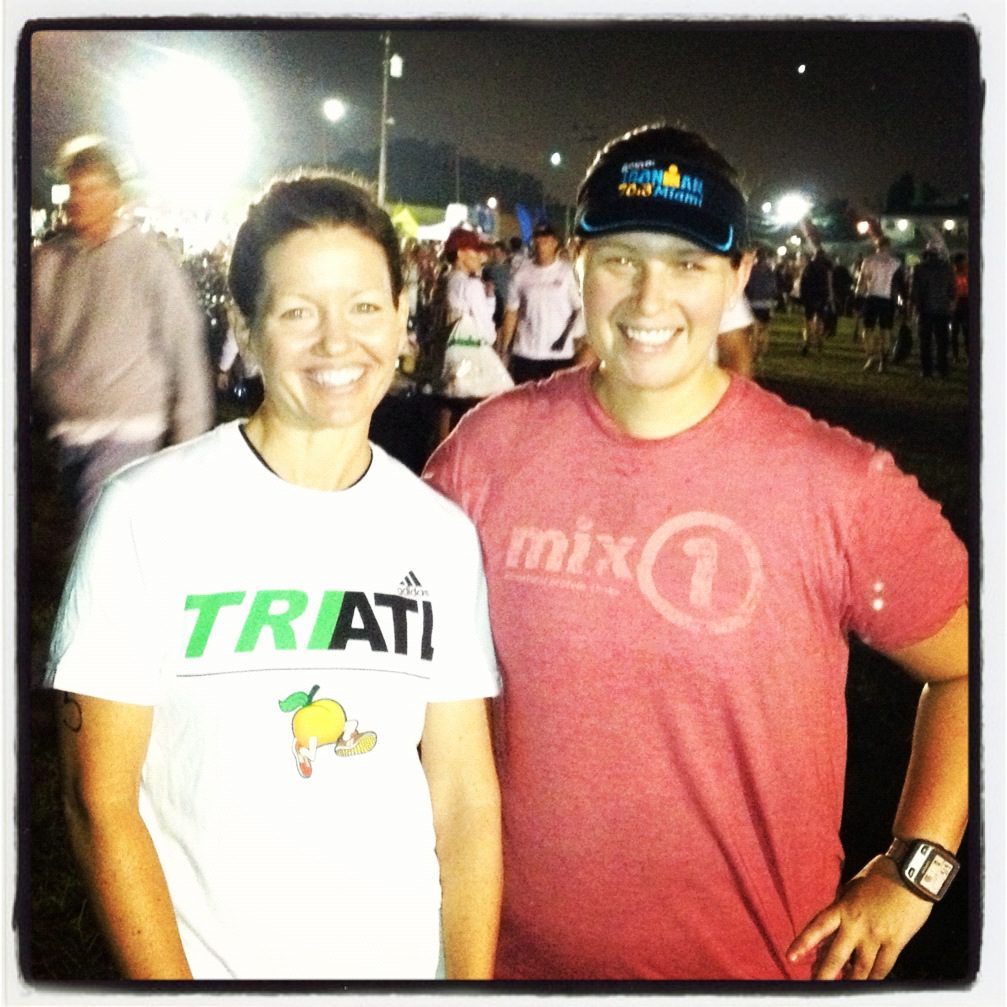 As we rolled into transition, everyone was buzzing. I always freeze in front of my bike, paralyzed, like I have never seen a transition area. Sweat beaded up on my back and rolled down. I was burning up. I never get nervous about racing until: 1) unpacking my tri bag, and 2) when I am standing in line at the swim start. This time was no exception. The Expert was back at my transition space long before I was done with unpacking. Either that, or I chit chat too much. Could be that.  Oh, is this your first half? You can do it! Yeah!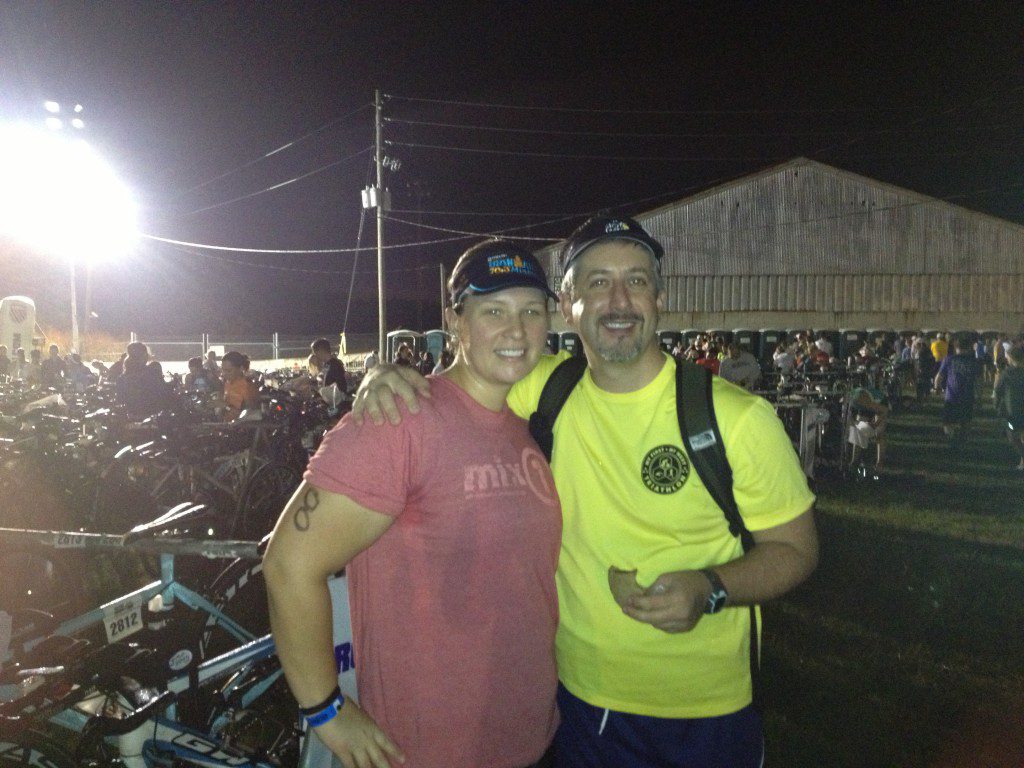 I had a Diet Coke bottle in my rear bike bottle cage, which was a hit.  [Yes, I had every intention of having a Diet Coke on the bike, but it rattled in the cage on the bike exit, so I tossed it. Boo.]
I spotted Yoda in transition. We adopted her into our family, along with Columbus, for the pre-race, bringing them both back to Mom and Dad and putting them in the backseat like children in our triathlon caravan.  The six of us drove to the swim start and unloaded our wetsuits and walked down to the riverfront, in search of the Porta Potties.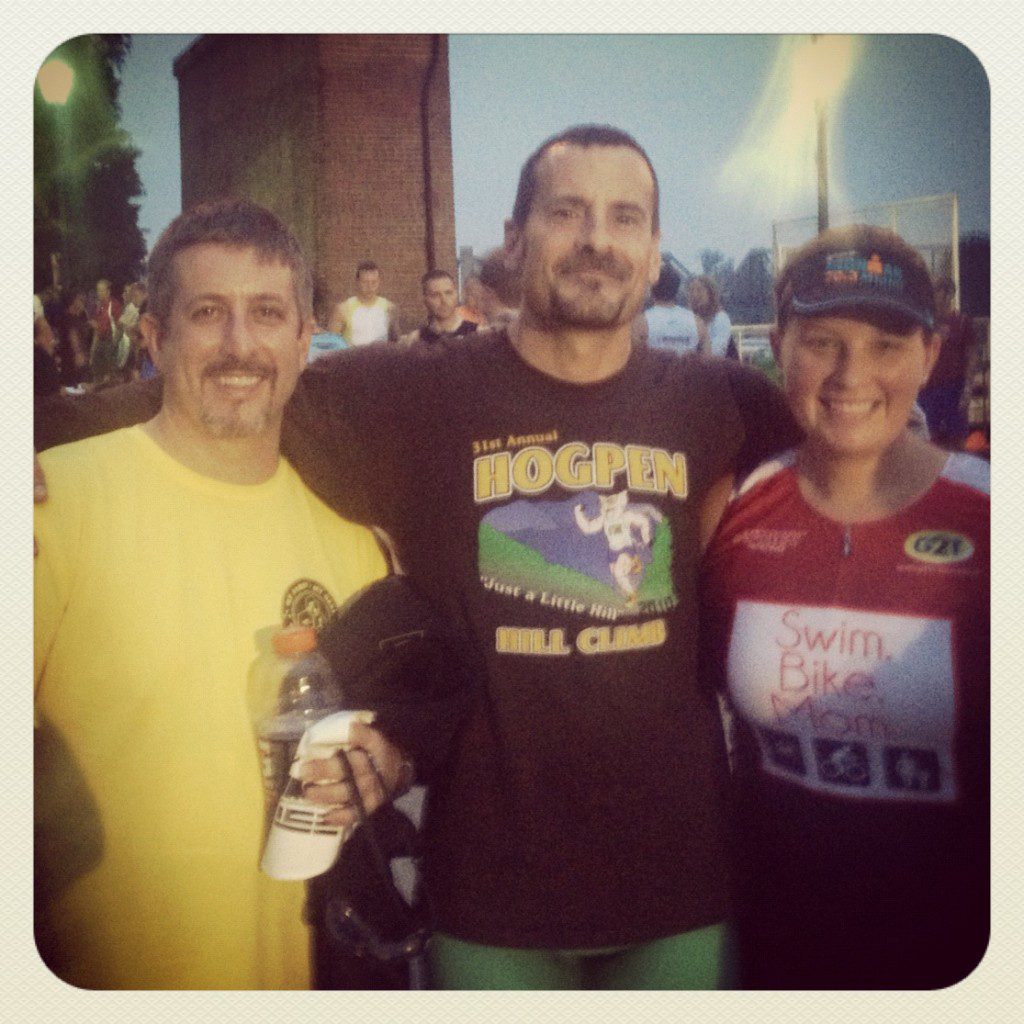 After we hit the pre-race potties, I saw Coach Monster coming towards us. He was full of energy and excitement, offering to break the Expert's arm for me, so I would get a guaranteed win over the Expert. I love that my coach would break my spouse's arm to get the win– that's commitment. The Tonya Harding of triathlon. Okay, I kid, I kid.
We all talked, group pictured and made jokes before heading back towards the start.
Columbus' and Yoda's swim waves were heading out first – I had almost an hour until my swim start. The Expert and I waited and met many SBM friends who came up and said hello – which was awesome. Most recognized the Expert first, before they recognized me… which he loved, by the way.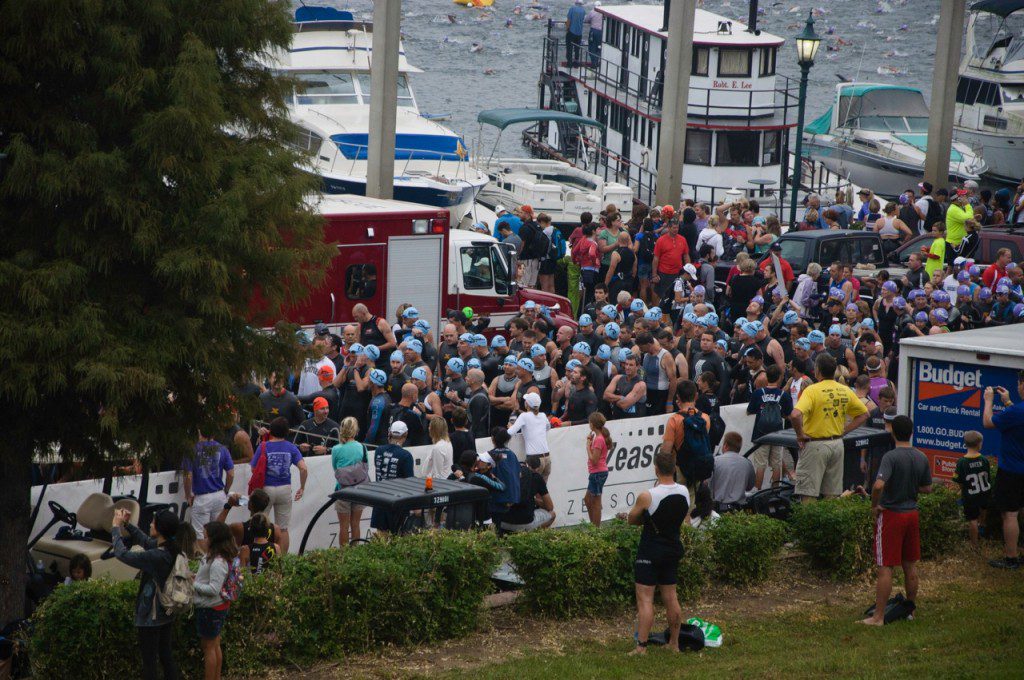 I zipped the Expert into his wetsuit, wished him good luck, and pretty soon, I was alone.  Well, alone in a crowd of like, 2,500 people.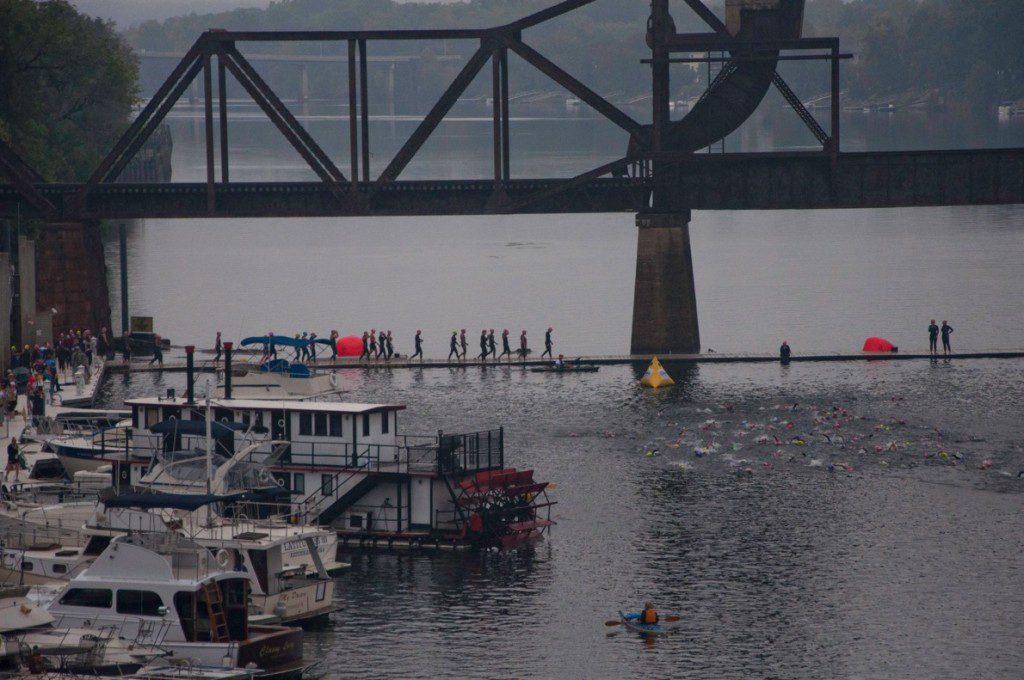 I mozied up the big hill to give my parents once last hug before the race.
My cousin, Chris, from Memphis was there too – his wife, Kathy, and friend Tripp, were racing. This was the first time I'd seen Chris since 1984 and this: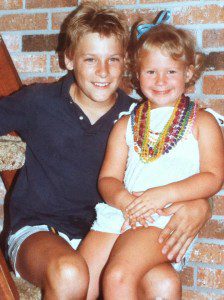 I saw Kimberly and Elizabeth with their families.  And Sweet Red (the friend formerly known as Ralph) with her family.  And before we knew it… it was that time.  We walked down the hill, fell in line with our wave group, and took deep breaths.
Elizabeth was in my wave, with Sweet Red and Kimberly right behind us. SBM friend, Tish, was also in line. We all sort of huddled together waiting.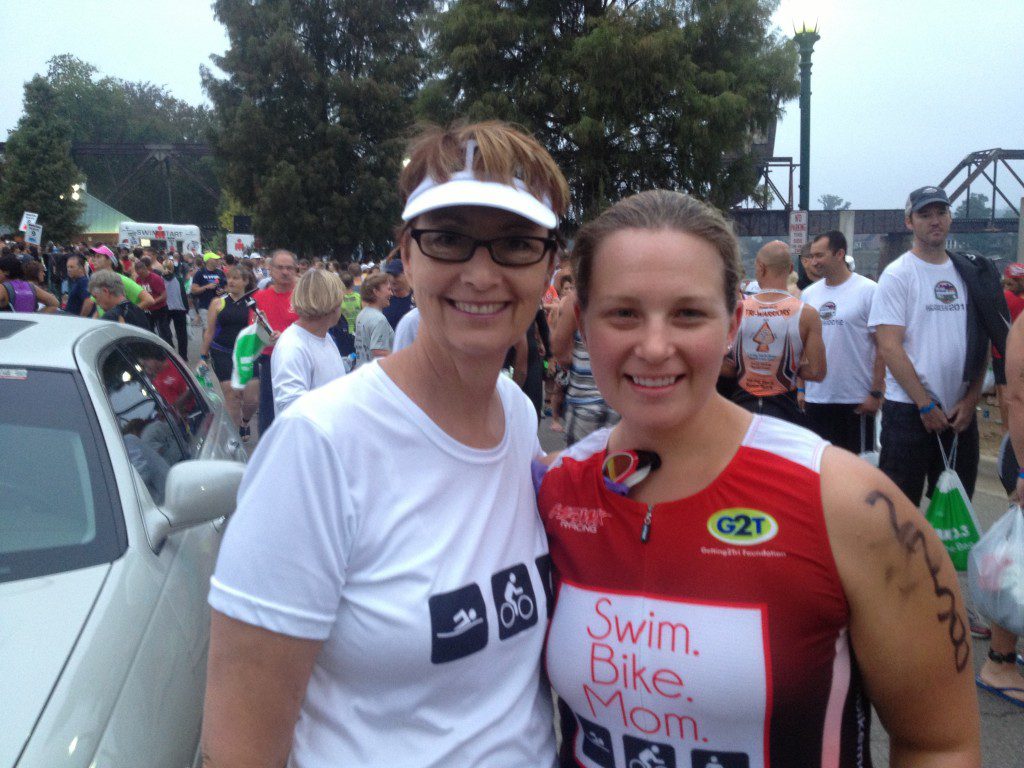 We watched as the wave ahead of us swam away.  It was seriously that time.
Our group was a large one, and by the time we all filed down the dock to jump into the water – there were only 46 seconds to the start.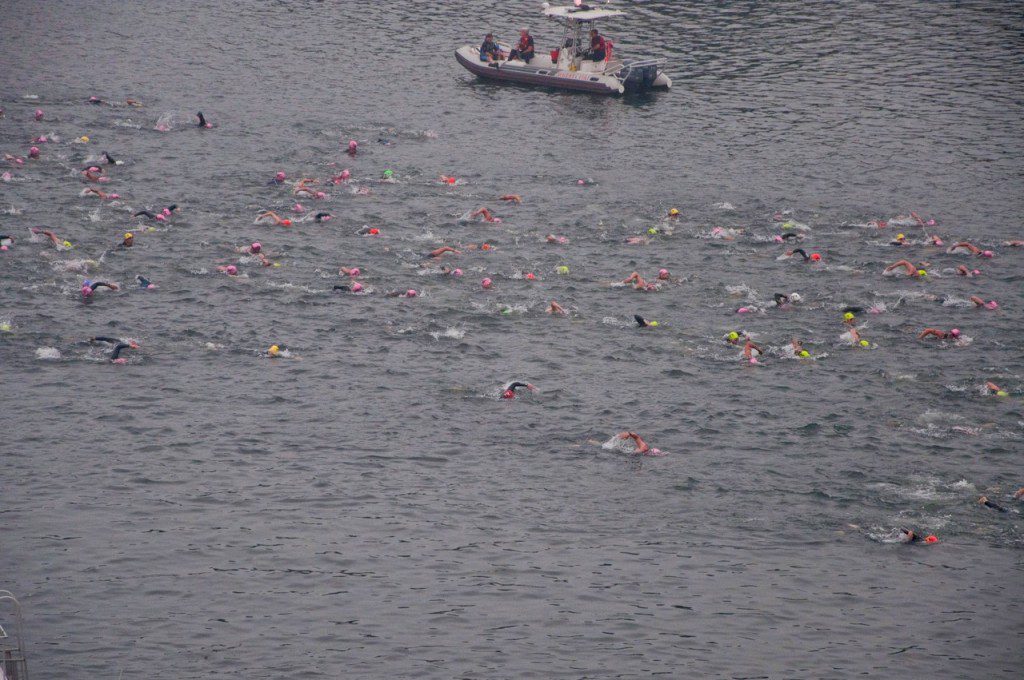 The Swim
Wha?? Only 46 seconds to get from the dock to the start buoys AND to pee? OMG. So I didn't have much time to gather myself, but it was nice – because I also didn't have any time to fret. The water was not cold, around 76 degrees, but it was cool. Somehow I made it to the buoy start line, and it was a go.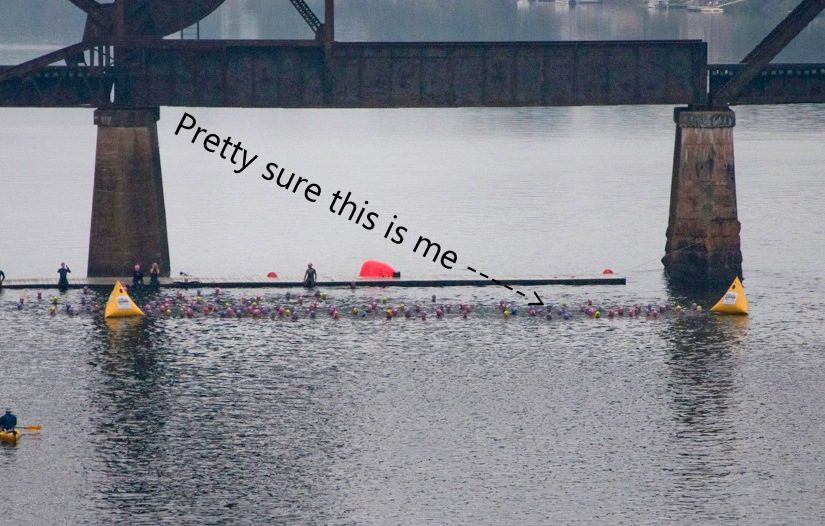 At 8:56 our buzzer went off, and the swim began. Immediately, I felt the joy of the wetsuit. I hate my wetsuit, but I learned to love the buoyancy with my recent knee issues – you really can get away with little kicking in a wetsuit.
A little way down the river, I realized I had forgotten to start my Garmin. Crap!
The river was full of vegetation. River grass (?), sticks and the like, attacked me during the race, but I had been plenty forewarned about it.  One particular piece of reed-like substance found my forehead and wrapped around my face for a while. I couldn't shake it for about 100 meters, but finally I rid myself of it.  I'm really not sure what it was.
I have never "drafted" in the swim before, but I found a stream of foot bubbles that seemed to be my pace, and I thought, well, this seems like a good idea. I stayed on those feet for a minute or so, without sighting. Then I sighted. Ruh roh. I must've been on the feet of someone who was not actually swimming in the race—because she was heading towards the shore. Completely sideways.  Argh!  I can only imagine what we looked like… Two stupid people swimming perpendicular to the shore. Lesson: Swim your own way or follow someone's bubbles who you know is going the same direction.
Other than that and one choking and strange one eye-burning incident, the swim was uneventful, over before I knew it, and I was ready to get on the bike. I saw Kimberly exit the water ahead of me.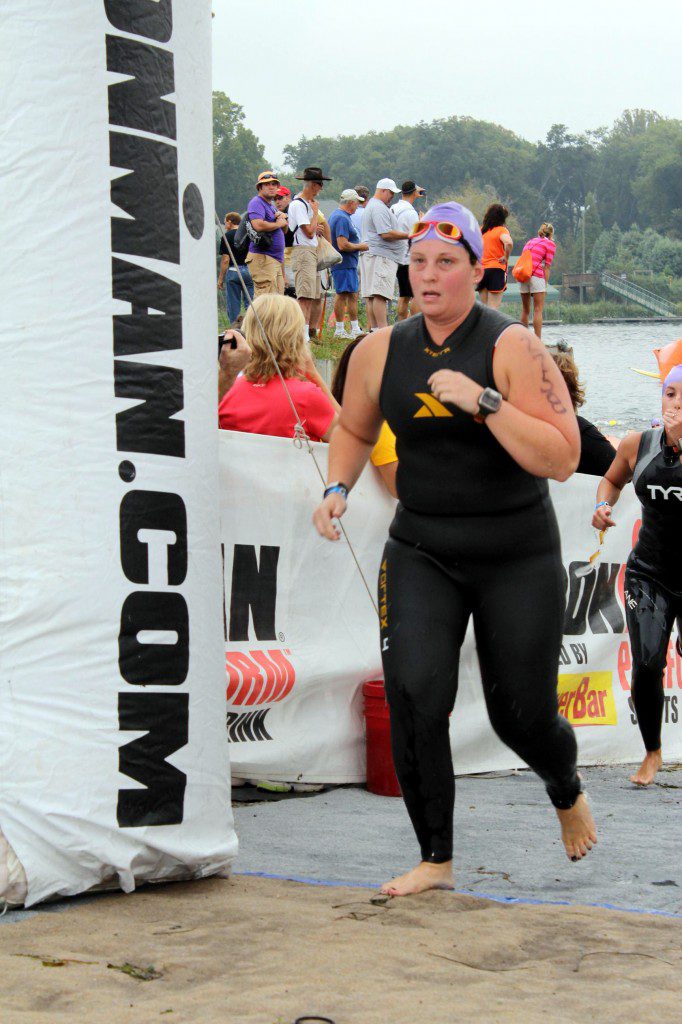 My wetsuit was too big and as I exited the water up the boat ramp, the suit filled with water.  I had elephantitis of the legs as I waddled out of the water, my wetsuit legs full of water. I thoroughly enjoyed the wetsuit strippers – I have never seen a wetsuit removed with such grace and speed.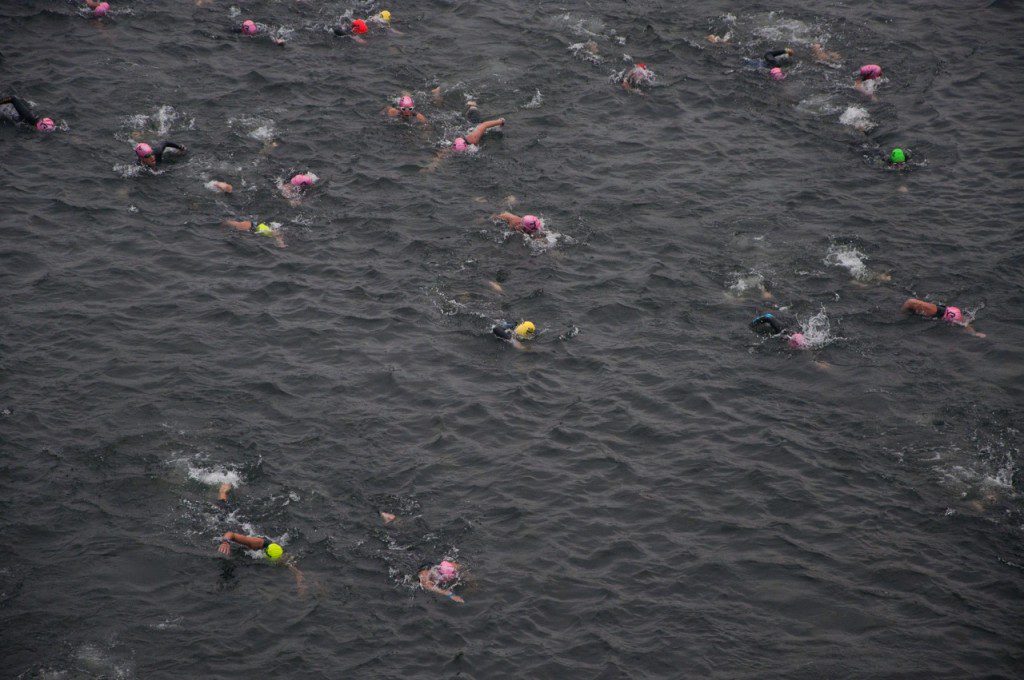 I can say thank you, Savannah River, for your current.  I will gladly accept your gift swim time of 29:15.
As I jogged into T1, I had lost track of where I parked Andy, my bike.
I went down two rows before I found him… Errrrrrr.  Triathlon 101 – "Know where your bike is in transition."  Boo me.  Shame.  Oh well.  Not nearly as shameful as me sitting down to put on my cycling shoes and doing the SBM patented "Shoe and Pee."  I am unable to pee on the move, so I frequently use T1 and T2 to go Number 1 in the grass. I apologize to my nearby transition mates.  In the future, just don't step anywhere near my stuff and you should be safe.
The Bike
After my trials and tribulations with my bicycles, I can't believe that my favorite part of triathlon is the bike. I think I can thank Coach Monster for that – he's a bike monster – and he has helped me learn to love the bike.
Even though the pavement is pretty rough on the Augusta road, I really enjoyed this course. I have embraced the climbing and the mindset of "suffering on a bike" (per Coach M), and hence, this course was a barrel of triathlon monkeys.  I had a great time.
Around Mile 11, SBM friend Kimberly came zooming past me.  She was in the swim wave behind me, and so she made up 4 minutes on me, and I never saw her again. Then SBM friend, Elizabeth, came zooming by around Mile 17. I knew I wouldn't see anyone else I knew after that.  But alas, I did!  Saw SBM friend, Jen H., and then Jillian and I had a nice chat around Mile 45, and several others zoomed by and said, "Hi Swim Bike Mom," so I felt less alone.
The Augusta bike course is not hard – if you've been training on hills.  I think that course would have destroyed me last year (in the shape I was in for Miami 70.3)…but I knew the hills were coming in this race and I trained accordingly.  Because of the taper and rest, I hardly even noticed the hills. Which was a nice change. The Expert and I had been destroying ourselves weekend after weekend with 3,000-6,000 feet of elevation. To ride "only" 1,000 feet of elevation honestly felt like a break.  The course has about three "big" hills, which are manageable, but do take a toll on the legs.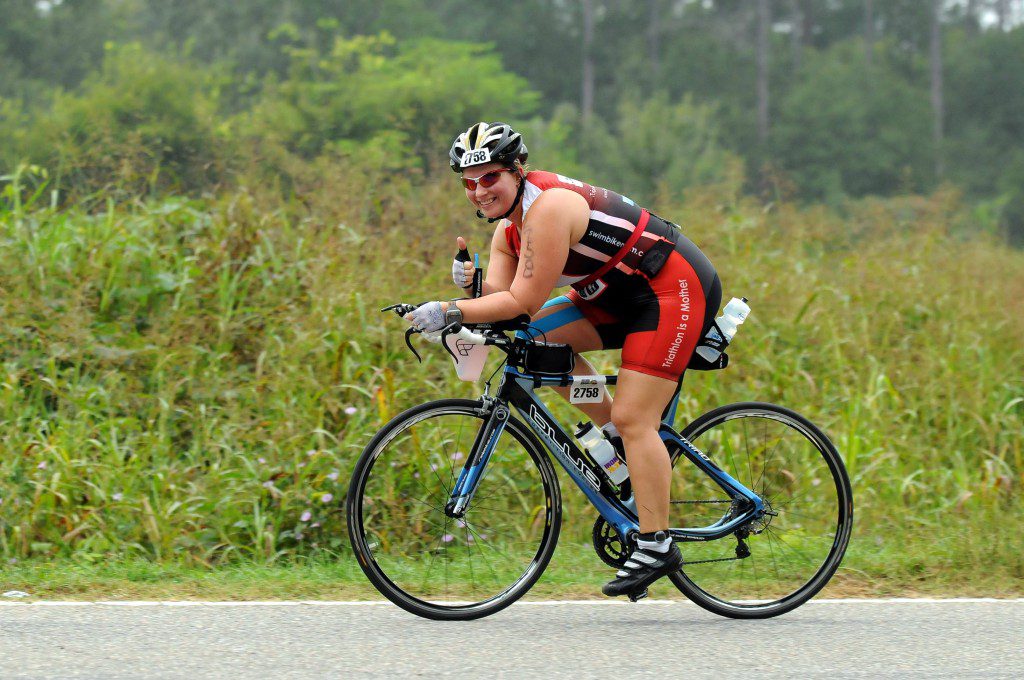 I had a great bike.  I passed many people – and oh, was I passed by many people. But this was a nice difference from Miami 70.3, where I was passed constantly and beaten up by headwinds. I never thought I would prefer a hilly course, but I think I do.  After doing a completely flat ride in Miami and experiencing this one –I'll take Augusta over Miami any day.
I cried four times – around Miles 14, 28, 35 and 46.  Not all from pain, but mostly from happiness. I felt fortunate to be on the race course.
I think the biggest key to my "good" bike this go-round was my nutrition. I was religious about my food intake this race. I drank constantly (6-7 bottles of water, 3 with Nuun tablets) and took 3 bottles during aid station handoffs, I had a PB&J, 2 packs of Shot Bloks, 1 package of peanut butter M&Ms (oh yes, it's true – the secret weapon), and 2 gels.  Yes, that sounds like a ridiculous amount of food, but the rule for a person of my size is 300 calories an hour, plus 2 Salt Stick tablets.
PB&J = 150 calories
Shot Bloks = 400 calories
Peanut Butter M&Ms = 240 calories
Gels = 200 calories
990 calories over three hours (Almost darn near perfect)
In Miami, I failed miserably in the nutrition area, and I was determined not to repeat that mistake.  If I had only a cold beer and a slice of pizza, I would have nailed my nutrition to the wall.
Riding the Augusta bike course weeks before the race was also life saver. If you race and you can ride the course in advance of race day—do it. Totally worth the effort to make it happen. I was able to know where to push and where to hold back, and I ended up with a time of 3:08:26 on the bike, averaging 17.8 MPH. I am more than pleased with that time. More than. Woot woot.
The Run
Then came the run. My triathlon nemesis.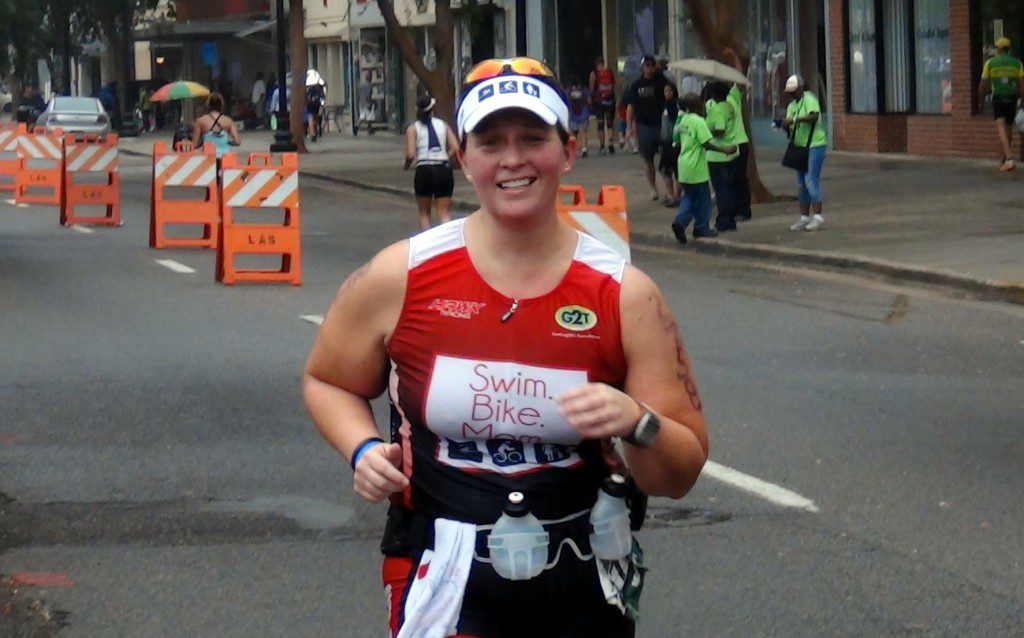 The weather was overcast, which was a blessing.  If the hot sun had been baking me, I might have died. The first two miles felt great (except for the shooting, stabbing pain in my knee).  The knee pain went away at the start of Mile 3.
My overall run pace stunk. I was moving as quickly and as efficiently as I knew how, but I couldn't seem to get any faster than 12:20 with any real consistency.  But I had to keep several things in mind: 1) the farthest I had run going into this race (since February of this year) was 10 miles;  2) I was experiencing all sorts of issues with my knee and hip; and 3) I pushed the bike leg, and my body was a tad tired. Just a "tad."
Some funny things went through my head during the run. I am, to this day, amazed at the things I tell myself during a race.
For instance, around Mile 7, I grabbed a handful of oranges from an aid station. I ate one, and I choked on the next. Well, the choking reflex engaged my LMM (my Lower Mom Muscles…er, the lack thereof), and I started peeing. Well, I've never been able to pee willingly during the run, but choking apparently assisted with that. So I gave in, and I let it go. The strange part was that, as my shoes were (for lack of a better word) filling up with pee, I was thinking, Hmmmm, this squishy sensation is kind of nice. My feet are nice and warm. This will help me for the rest of the race.
The weird things you tell yourself. And how gross.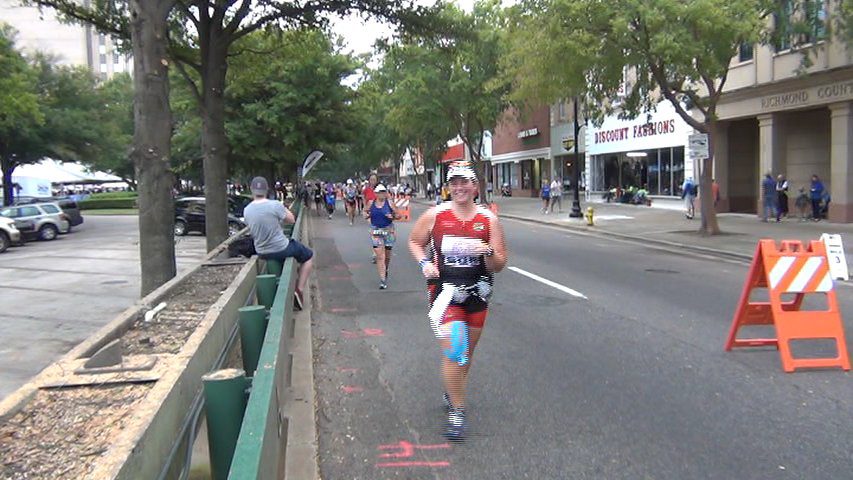 Later, on Mile 10, I could see my dad down the course, in the spectator crowd. I was hurting so badly at this point, and I remember saying to myself, with every step: Just run to Dad. Just run to Dad. Just run to Dad.
So I did. I ran to Dad, and they all cheered for me. I wanted to stop and hug all of them, like I saw so many people do… but I think I would have just sat down in Dad's red folding chair and not returned to the course.  Especially, on that part of the course. After I waved and passed my family, then I thought, Now what? Who do I run to now? Where do I gooooooo?
Stupid, I thought, Of course, I just keep running and running and figure somewhere else to goal-to.
I had 3.1 miles remaining. So in my head, I began more shenanigans. This is "just" a 5k. This is "just" a 5k.
My 5k mantra didn't work. My body called bullsh*t on that, like, okay, Mere – we'll usually let your mind control, but "just a 5k" crap is just a lie. You've been going for almost 6 hours now. This is not a 5k. Maybe this is the ELEVENTH 5k in a row… but a 5k? That is a lie, and we do not buy.  Try again. 
Crap, I yelled to my body. You must believe me! But my legs protested. And so did my insides. And I came up with something new to tell myself. And guess what? It was not "just keep moving forward."
It was "Don't Pants Your Poop."
So I ran for a mile with this going down in my head:  Don't pants your poop. Don't pants your poop. Which was not only practical advice at this point, but it also gave me a little chuckle. I was running and giggling like a madwoman. Tee hee. I'm about to poop my pants. Don't pants your poop, Mere!
I cried three times on the run.  For a total of SEVEN times during the entire race. Almost once an hour.  Bea-u-ti-ful.
Then, I heard a splat sound, and turned to see my Roctane GU on the ground behind me.  If I stop and collect that GU, I won't be able to start again. I was sad, because I needed that 2x the caffeine just in that moment. I thought it might shoot me over the finish line. But then, as I went into the aid station, I saw a glowing angel from heaven (or a race volunteer) holding a single, solitary Roctane GU.  Just for me!
As I reached for the GU, the torrential downpour fell from the heavens. Rain, rain, go away.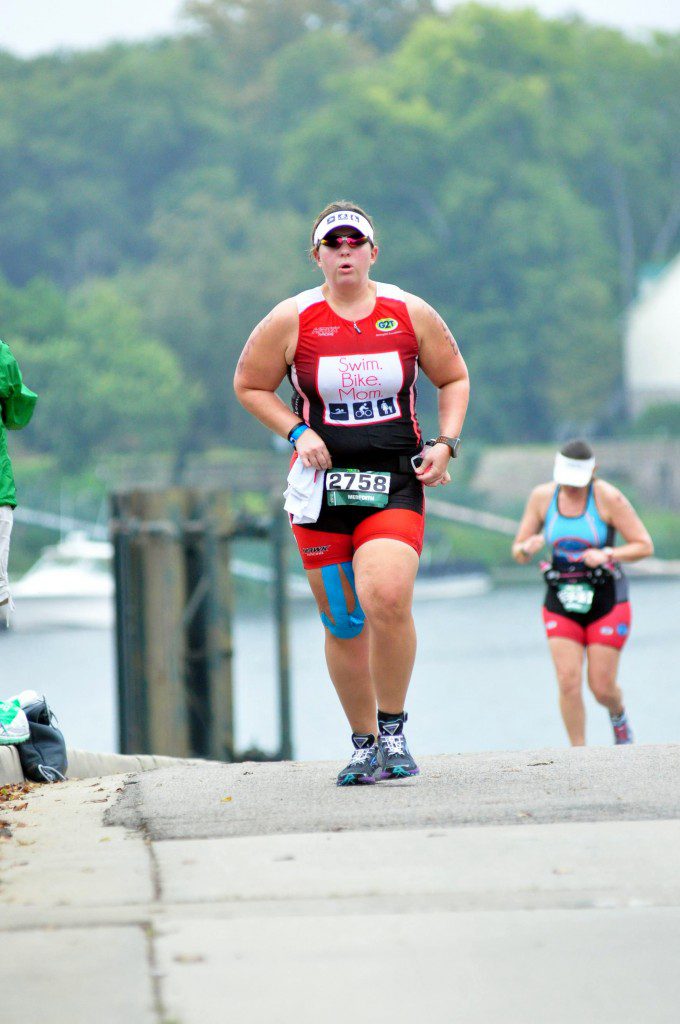 Mile 11.5.
This was where the darkness set in, and the skies continued weeping for me. The rain came down in sheets, and the sloshy-happiness from my pee-shoes had disappeared. Many spectators on the road trickled inside and away, and I felt very late for an important date.  But I just couldn't seem to go any faster.
Mile 12.
Here my real, very crazy mantra kicked in, and I went to another place. My legs were turning as fast as they could go (a slovenly 12:30 pace at this point), and my lungs were burning. Coach Monster had told me, if you can take the last 3 miles to another place, do it. I just didn't know that my "other place" would be such a damn slow place.
[I envisioned "Chariots of Fire, "…but all I got was Wheelbarrows of Whoopie Cushions.]
My final mantra started at Mile 12, and it carried me 1.1 miles to the finish. As the rain poured and my feet crushed into the pavement, I repeated the same words.
The pain stops when you stop.
But you can't stop yet.
With every step. A few words. The pain. Can't stop.
I repeated it for the entire last 1.1 miles.
With a half mile left, I rounded the second to the last corner. I saw Yoda and then Columbus. No, I wasn't hallucinating – Yoda is my friend, Karen. Columbus is my friend, Charlie. They said, "Yeah!" And I remember barely being able to eke out a smile. If I can't smile or throw out a thumbs up… it's the hurt locker.
Also, I had some weird heaving noise happening in my gut, with every breath there was a "hoi" — like a ninja-chop sound coming of my diaphragm. I knew it was ridiculous, but I couldn't make it stop. Step, step, hoi!
With 0.2 left, I rounded the corner to the finish, and as I ran down the chute, I held up my race number (which had deteriorated and leapt from my race belt), because I needed to hear my name – to make sure it was real. Not realizing that my chip probably gave them my name, not my race number.
I heard, "Yay, Swim Bike Mom!" I heard, "Wahoo, lady!" I heard, "Go Bear!!!" (That was my dad.) I saw my parents, the Expert, my friend, W, and I did not pants my poop. My dad gestured to me from the side, but I just couldn't focus. I was about in the medical tent.
For the first time in my life, I believe I left everything I had on that course, on that day.
And I was finished.  And half an Ironman once again… with a PR of almost 40 minutes over my last. I have no complaints.
| | |
| --- | --- |
| Swim: | 29:16 |
| Bike: | 3:08:26 |
| Run: | 2:49:23 |
| Overall: | 6:36:44 |
—–
Things that SAVED Me and Things I LEARNED:
BodyGlide Liquified powder.
My T2 was slow because I took a minute to slather on BodyGlide Liquified Powder with fresh socks. Because of this miracle liquid powder, I walked away from a rainstorm and the 13.1 running miles without a single blister.

My Nutrition.
For once, I nailed my nutrition. I treated it like it was my job, and it paid off. I ate the same foods I ate all summer during training, and I implemented a plan accordingly. While my body seemed to give up on the run, it was more from sheer "this sucks" than the dreaded glycogen-depleted "bonk."

Bike Aero Hydration Bottle.
If you don't have one for your bike, get one. I can't believe I have gone two years without one of these hydration systems. At the aid stations on the bike leg, I just grabbed water from the volunteers, emptied the bottle into my aero bottle, and tossed the other bottle. Amazing. Magic. Delicious, cold water.

The Galloway Method.
Ever since Yoda turned me on to Galloway, my run has been better. Maybe not time wise – but my energy and ability has improved. On a run of 13.1 miles, Galloway was a saving grace. I would run a mile, then I could tell myself, Goody! You can walk now. And then I would run, and say to myself, In one mile, you can walk again.Mentally, it was magic fairy dust. And I can't help but think it saved my body too.

The Volunteer & Spectator Support
This race was, by far, the most amazing in terms of volunteer support. Amazing. Way to go, Augusta and Ironman for this race. I was impressed. The cheers from the crowd also never seemed to stop, even though the crowd was dwindling from the rain, the spectators continued to cheer.

Racing the Same Way I Trained
Usually, despite my brain knowing better, I will try something new on race day. Something. Some new-fangled gel.  Some new-fangled piece of clothing. But not this time.  I kept consistent with my attire, my nutrition, and right down to my visor… I trained one way, and I raced that way.  My tri kit was worn out and loose, but it was the one I had worn all summer – so I wasn't changing. I even had peanut butter M&Ms at Mile 26 on the bike because (regrettably) that's what I've been doing at the turnaround point on long bike rides. Not the best idea – but it's how I've been riding.  And at Mile 26 on this bike course, I LOVED my M&Ms.  The consistency was one variable I could control on race day, and it was nice. The only exception was my bubble-following in the swim – but that was only a minute long deviation from the plan.

Lube it up!
I put Aquaphor everywhere. Which importantly, turned out best applied under my timing-chip ankle strap. The Expert has a huge gash on his ankle from his strap, as did many people after the finish. I slathered my ankle (and pretty much every square inch of my body) with lube, and I had very little chafing.
(We won't talk about the hives I apparently broke out in the day after the race, though.  And still have. Whatever that's from. Post-70.3 shingles. Maybe my body needs more peanut butter.)
The Importance of Racing for the Right Reasons.
When I reached those tough places during the race, I remembered to keep my perspective of why I do triathlon. I reminded myself why I was there and who I loved. I tried to run each mile "for" someone—and knowing that those people have never given up on me—helped me move forward. Even around the beginning of the dark place (Mile 9 – the mile ironically assigned to Coach Monster), I was able to keep moving forward because I knew I couldn't let him (or myself) down.  From 12.1 to 13.1 I ran for my grandmother. She has been battling cancer off and on for over twenty-five years. And that's when I realized the impact that triathlon has had on my perspective. In those tough moments during a race, I realize what truly matters. I'm running and training and racing to stay grounded and thankful. I'm not running from anything—I'm running towards everything that matters to me.

Celebrate the Body, but Make it Better
I need to put down the fork, and stop eating. Period. Not to lose weight to look better, but to lose weight so I can do more – so I can run farther and faster.  Because I want to run farther and faster! I had a decent swim and bike, placing 45th and 76th in my division – then on the run? 127th. Hurmph. At the end of the day, this sport comes down to a foot race, and I just can't race on feet at this weight. If I expect to do Ironman Coeur d'Alene in 9 months… well, gotta put down the fork. My run splits were insanely slow. I'm not discounting the work I did on race day, mind you.  On that day, in that body – I had

the

best race imaginable. But I can do better, and I know it.
This was my 9.8 mile and 11.9 split times. 13:50 pace. Hello? Was I walking? No. That's the crazy part. But it was the absolute best I had in that moment.
| | | | | | | | |
| --- | --- | --- | --- | --- | --- | --- | --- |
| 9.8 mi | 2.8 mi | 38:45 | 5:53:50 | 13:50/mi | | | |
| 11.9 mi | 2.1 mi | 29:08 | 6:22:58 | 13:52/mi | | | |
—
In Closing of the Longest Race Report Ever:
Biggest thanks in the world to Mom and Dad for driving to Augusta, putting up with me before the race, hustling all over creation to see me and the Expert on the course, and then standing in the rain to watch me reach a crazy goal.  I wish you guys could be at every race.  I ran Mile 7 and 8 for each of you – and those were the two miles that hurt the least. I love you.
After the race, I read on my Dad's Facebook page, this status update, which brought tears to my eyes:
"We are all proud of our children–that's a given–I had one of the most awakening days of my life this past Sunday when we went to watch Meredith and [the Expert] compete in the Augusta Half Ironman.  I played some sports in my life but what I did by comparison was pretty small to the human struggle, the pain and the plain old 'just suck it up and do this thing' when it appeared that the fuel tank was empty and no station in sight.  Somehow and from where I do not know I saw Meredith and [the Expert] reach down to where I have no idea and take one more step, then another and another refusing to give in to the exhaustion and pain until their race was won.  No they did not win the race, but the race did not defeat them.  Congrats to you both–YOU MAKE ME PROUD!"
At the end of the day, we all race for ourselves.  But there is a wonderful feeling when those who you love – are with you in spirit or in person – and it feels like they're racing it with you.  Thanks, Mom and Dad, for being there.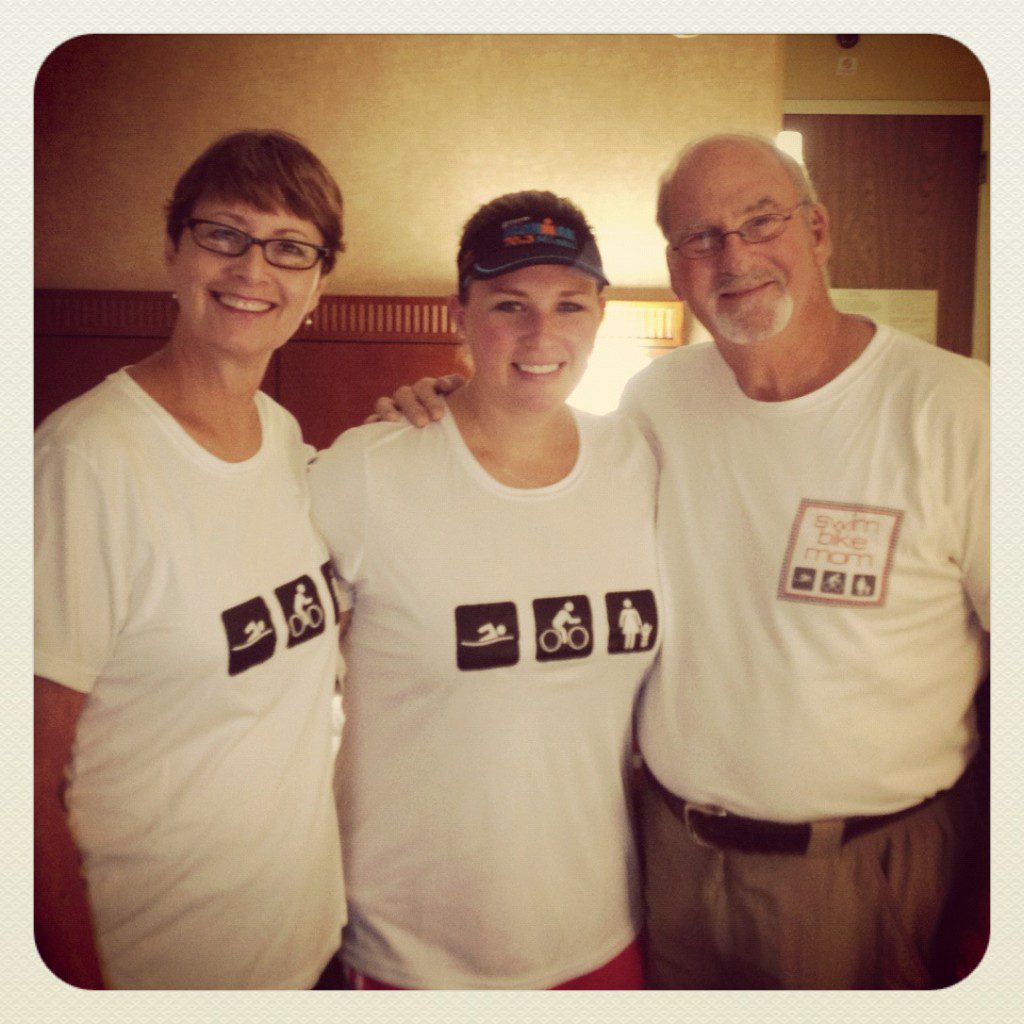 Special thanks to All3Sports.com for the wonderful Andy (my bike).  He was amazing.
Thank you, Dr. Miracle Man Hands for your pre-race taping and the post-race fixing.

And congrats to all of you who had wonderful races. Personal shout-out to the Expert, who had an amazing race–who OBLITERATED my time by over sixteen minutes–who beat his Miami time by an almost 90 (!) minutes. Such an amazing Expert.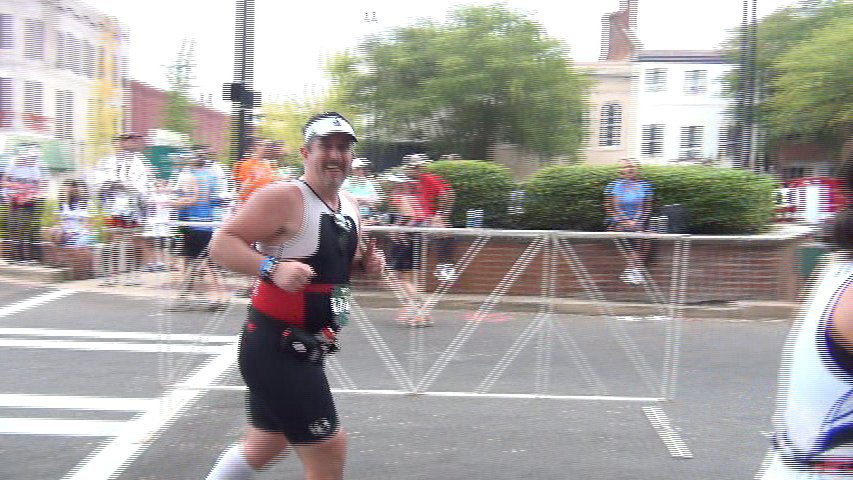 Congrats to Yoda, Sweet Red, Coach Monster, Columbus, Kimberly, Elizabeth, Leslie D., Leslie Z., Keenan, Kathy and many, many more who made an amazing showing on an amazing day. If I left you off, it's not intentional. I have post-race brain, but I am proud of all of you!
Thanks to SBM friend, Rick and his wife and daughter, Pam and Hannah, who joined us in the post-race celebration.  Great fun!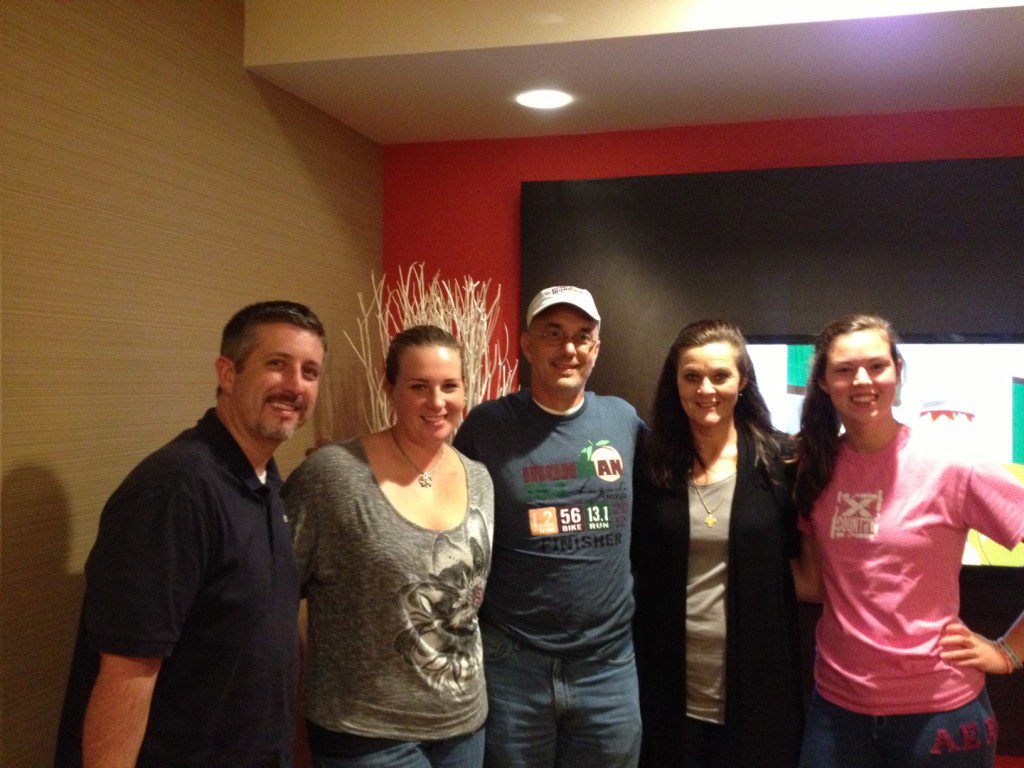 And I woke up Monday morning to this:
And thank you all for enjoying the ride with me – here's to the next tri adventure.
Wait…Holy guacamole! Another 70.3 in March?
And… wait?  Who signed me up for an Ironman in June 2013???
Oh…my….
Well, I'll worry about that later. For now?  Sleep and food and a 5k on Saturday.
===================================
The Book.
Now available on Amazon!