—–
I love eggs. I egg-specially love boiled egg whites.
But last night, I experienced a special kind of temper tantrum (that involved an egg).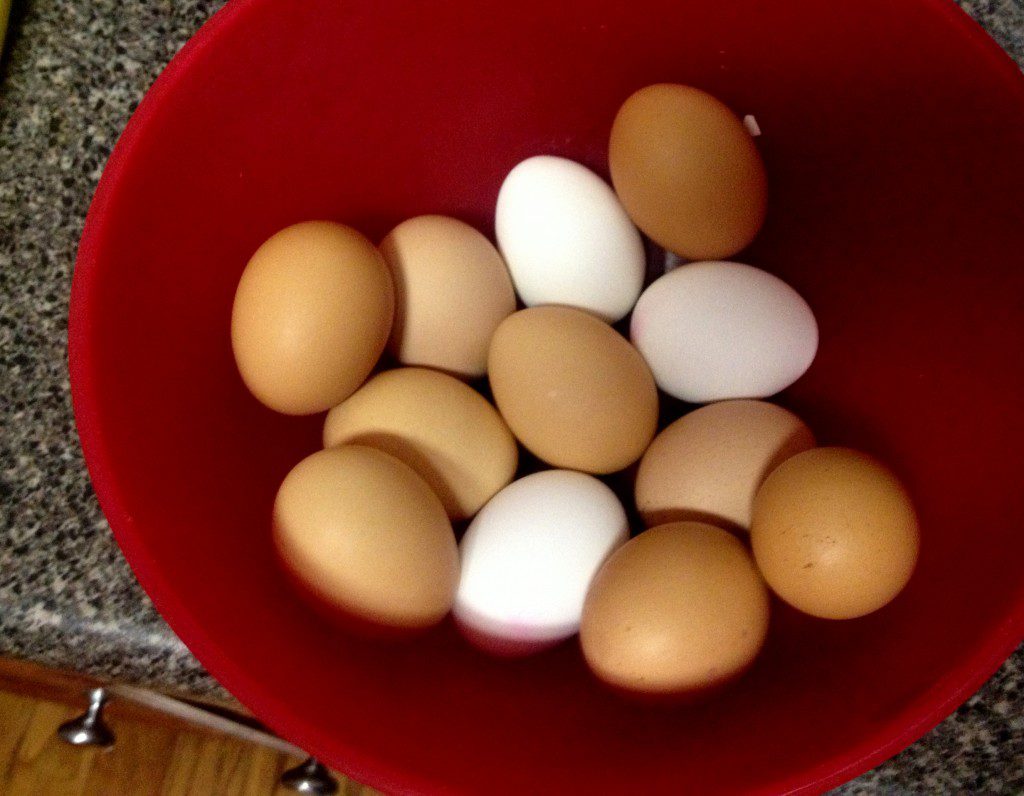 [I was egg-specially mad.]
Now, I need to provide some backstory to this tale.
First, I am one week off my second half Ironman finish, so I'm in that post-race cuckoo land.  This time, however, the weirdness is much less —I think because I have another huge goal in the future, and I know I have to get on it. I haven't been mopey or sad, because I don't have time for that.
I gave myself six days after the race to eat junk, be lazy and act like I have no triathlon experience whatsoever. And that was great. But yesterday, was time to get back on the horse.
Second, I emailed Ilana, [the super nutritionist], and I asked her to get me in line for Ironman Coeur d'Alene. I have 37 weeks, and I would like to take of 1-2 pounds per week, so I can actually run without hauling this weight (and also, LOOK AWESOME… ah-hem.. okay. How about just not look like the Jolly Red Giant?)
So she provided me (and the Expert) with a specialized meal plan, and I cannot tell you how tight it is. She warned me that it would be rough, but then we could adjust and go from there. Plus, if I am paying money for a meal plan, I'm more likely to stick with it. [If you want Ilana to work with you personally, you can contact her here.]
So, part of our jumpstart includes egg whites.  Yay. I actually love boiled egg whites.
But I've been having some issues with my eggs for some time.
I cannot get the boiled eggs to peel without complete egg destruction. No matter what I do.  I have boiled them, put them in the oven. Organic eggs, vegetarian eggs, free-range eggs, cheap eggs, regular eggs… it doesn't matter. It's eggspocolypse.
Last night, I was so hungry. I was simply trying to squeeze in a few eggs whites and veg for dinner, and I couldn't get the egg to peel.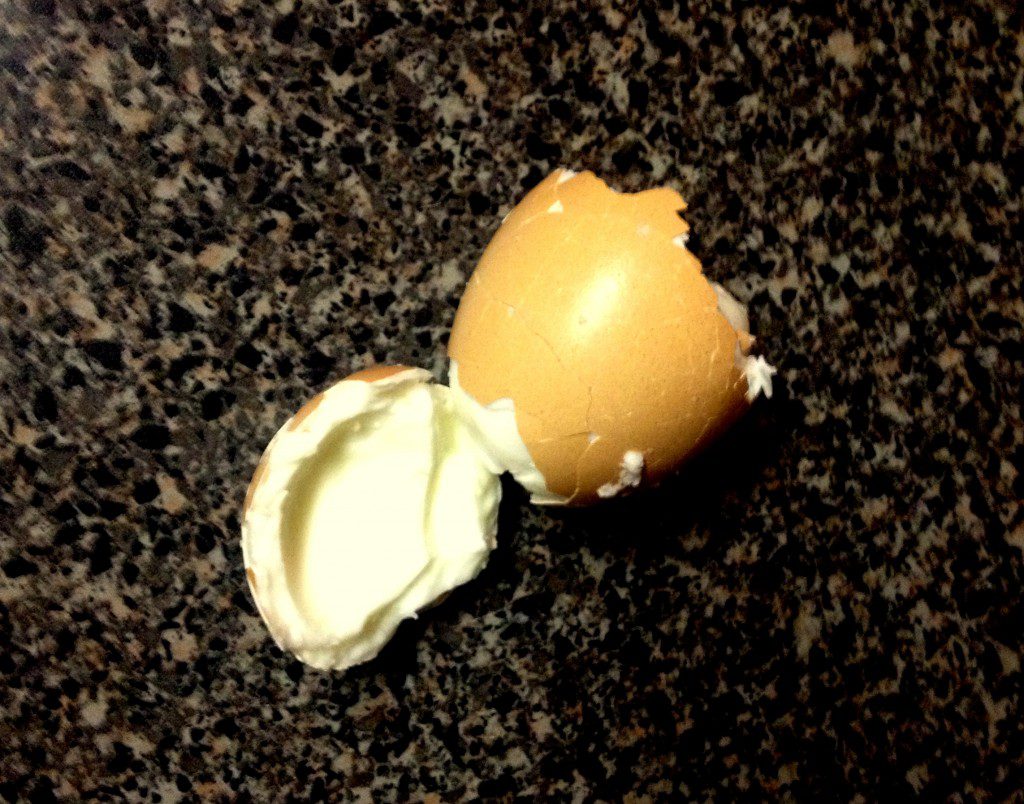 I lost it.
Egg ended up against the kitchen backsplash (oh, and what a mess).  When I am starving and I can't get an egg to peel, I can't take this. I need help (mental, perhaps… but help nonetheless).
But seriously. WHO has the secret to boiling perfect eggs? Who? I need my eggs to peel! Easily! Help.
I have tried:
1) Bringing eggs to a boil, then turning off burner and letting cool down naturally in the pan. Then refrigerator;
2) Bringing eggs to a boil, turing off heat, and letting them set in pan for 12 minutes, followed by an ice bath and fridge;
3) Bringing eggs to slow boil, turning off burnder, sitting in pan for 19 minutes, then fridge; and
4) Oven cooking them in a muffin tin for 25 minutes and 30 minutes (this was the closest, but the eggs were overcooked….sigh).
What am I missing? Each time I brought the eggs straight out of the fridge… is that the problem? Should I bring them to room temperature first?
How do you make PERFECT eggs? HOW!?!?  What kind of eggs?  Really? How long to boil? What? What?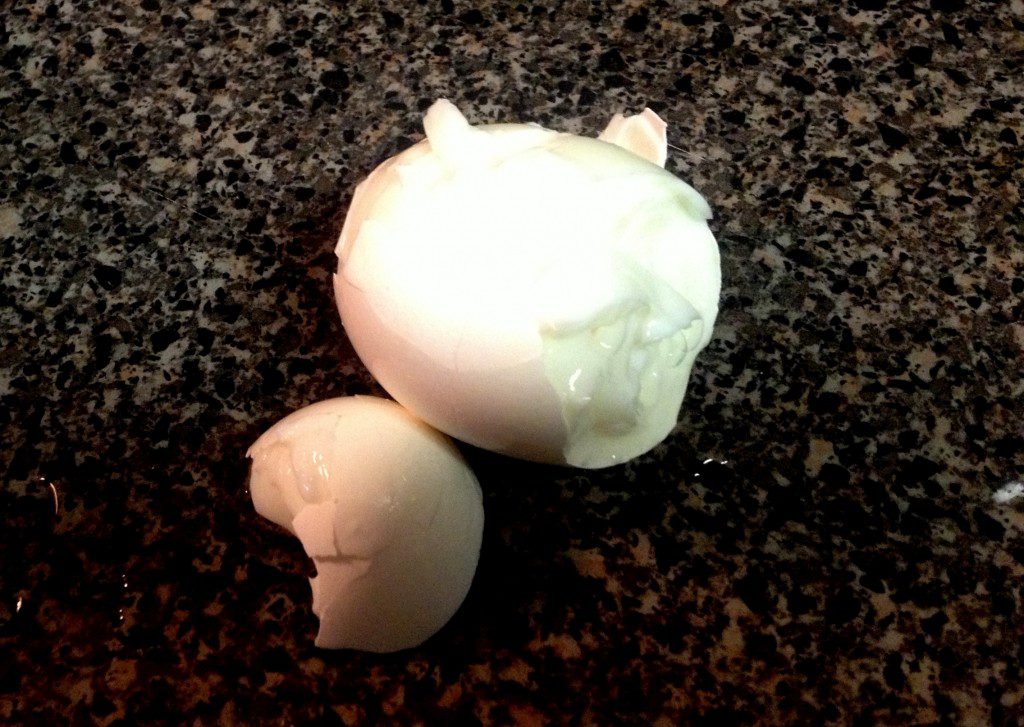 Help.
================================