—-
When I started this post, it was 8:56 in the morning… exactly 48 hours until I jump into the cold Savannah river and FLY downstream in my second half Iron at Augusta.  FLY.  Zoom.  All things I will be doing on Sunday.  Oh wait… nope, I'm thinking of another triathlete again. What is wrong with me?
Last year, I would think about my race and I would have a cold chill rush over me. Sickness. Fear.  Then I'd have to poop. No matter where I was.  Brakes squealing – pulling the car over.  Poop poop, I gotta poop. Poop Poop.  The kids were all, "Mooooommmmm, what is wrong with you?" Mom's gotta poop. Poop.  It's really nice not to have that issue this time.
I've posted that video before, but I can't help but repeat: "Don't Pants Your Poop.. Don't Pants Your Poop…"
There's alot to be said for having done one of these  distances before.  Even though I just got a mild sickness and fear in my gut just now…  [Huh. But no poop, so that's good.]
Okay, truth be told:  I am not afraid. Not because I'm overly confident (ah-hem… hello, where would you get that idea?  Please read old posts.) Rather, I think because this course is in Augusta — I have so many friends racing, my parents will be there —I should see the Expert on the run course (although I will see no Monster – that dude will be at home with his bloody mary before I start the run). So this race truly feels more like a celebration than Miami did.  For example, even our favorite waiter at our local Mexican restaurant is racing.  [Lord, help me not scream, "Nestor! Help! Margarita with saaaaaaaalt!" if I see him on the course.]
Plus, I have grown up since this time last year. Pure and simple, I can look back over the last two years in triathlon and acknowledge that things have changed. Not just because triathlon is part of my life. It's bigger than that. 
In the past year, I have been able to admit who I am… and who I am not.
And that takes a scary kind of self-reflection, because sometimes you may not like the answers.  I found out that I didn't like my answers. And I have been painfully honest with myself.  I have to work on so many things in my life.  I have made mistakes. I am working on coming out of them. I work every day, and then I work some more.
Things I Am Not:
1) A zealous lawyer
2) A fashionista
3) A movie star (so I should stop spending money like one)
4) An interior designer
5) A size 0, 2, 4, 6, 8, 10, 12
Things I Am:
1) A wife
2) A mother
3) A daughter and granddaughter
4) A writer
5) A triathlete.
And in much of the same fashion as my prior posts this week… I am choosing to spend the next forty-eight hours focusing on my second list: what I am… And I will not dwell on what I am not.
I am a triathlete.
So on Sunday, I will do a triathlon.  It's that simple.  And during that race, I will reflect on the other things on my second list. That I am a wife.  A mom to two great (insane) kids. A daughter and granddaughter to amazing parents and grandparents. I will be grateful. I will cry.  I will think about that father and son I met on the trail last year, and wonder if they reached their goals last year.
And after I have experienced the gauntlet of emotions that only a race of 70.3 miles can bring…  I will cross the finish-line, full-circle… ending with the original thought from my second list…
I am a triathlete.
Because that's why we do triathlon.  To feel alive. To be grateful. To find a place and space in our lives to appreciate what we have, and pray to continue getting better, inside and out.
Thank you ALL for your encouragement. I love you all.  And finally, good luck to all of you racing!  See you at the finish line (save me some bananas and the little ring cookies).
===================================
ONLY A LITTLE TIME LEFT TO PRE-ORDER!
By the way, so many of you have asked for SIGNED copies
of the book with your order…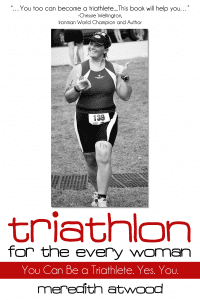 SO….
If you PRE-ORDER now,
I'll sign your copy.
If you have already pre-ordered,
I will sign yours too (don't worry).
🙂