—–
Dear God,
Yes. So Three Days.  Three days until I podium finish at Augusta 70.3…oh wait, no.  That's not me – that's one of your other kids.  You'll still watch me, though? Right?
Anyway, I am so excited about the race. The race!  The celebration of the training. That is THE best way to look at race day.  I look forward to the grateful moments – where I feel the scorching heat of a 1:30 pm run, and know that those blessed rays are a gift of love from you.
Still, my mind is all over the place.… Salt Sticks. Did I take one this—oh yes… race belt…and [answer the phone] "This is Meredith…. uh huh, huh uh huh, yes you are correct. Yes. You are welcome." [hangs up phone]  …I need more water… with ice. Ice. I love ice. I need to ice my knee. And get some tomatoes. For my bike bento water bottles, three four five tablets… so salty. Thirsty! Need water. I'm full from lunch still. I'm hungry. What's for dinner. Need carbs and fruit. And bananas. And tomatoes. Oh, but swim…leave work early, 20 minutes, ooooh, swim then ooh, frozen yogurt.  NO! No no no.  Forgetting ice. Must pack. Bike chain is loose? NO. I dreamed that. Ziploc bag for running shoes…oh lawd, I almost forgot sunscreen…. [typing email to boss:  "Do you care if I work remotely tomorrow…]…work from home, start packing during breaks. Make list. List and remember what I am forgetting—which was one thing–oh sunscreen…&#$*.  Thirsty. Get up and go get water. My feet will hurt coming out of the swim exit …always do. Water. My stomach….hurts. Immodium. So thirsty. Race plan. Mantras. Salty. Mom and Dad and chairs. Need chairs. Water…
[I need to pray for a calm mind.]
Last year, I prayed a big 70.3 Prayer.  That was a prayer of the unknown. What was 70.3 miles really going to feel like?  It was a prayer of lacking self-confidence.  Can I really finish this race? This race, my 70.3 prayer is just as fervent, but different.
Really, I am praying for the presence of mind to be grateful.  To be happy.  To live in the moment and remember why I do triathlon — because it makes me a better person. Because I can. Because my family needs me to.  I pray for a consistent spirit of enthusiasm, to channel Chrissie and *smile* …and to laugh my way across the 70.3 miles.
I pray for pain relief. I pray that I am hydrated, and most of all, I pray that everyone stays safe and has a great race.
I pray that my Great Aunt Shirley (all the way in Bunker Hill, Illinois) can hear my squeals of joy when I cross my SECOND 70.3 finish line – and hopefully record-breakingly faster than Miami.
And finally, I reiterate this prayer: Please please please, dear God, do not let me have a flat.  And if I do have a flat, please cause my feeble girl arms to become super Go-Go Gadget arms with massive tube-changing powers.  Help me keep my greasy hands away from my face. Race pictures are perilous enough.
Amen.
===================================
ONLY A LITTLE TIME LEFT TO PRE-ORDER!
By the way, so many of you have asked for SIGNED copies
of the book with your order…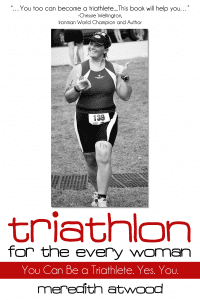 SO….
If you PRE-ORDER now,
I'll sign your copy.
If you have already pre-ordered,
I will sign yours too (don't worry).
🙂