I couldn't believe I was back on crutches today. Ridiculous.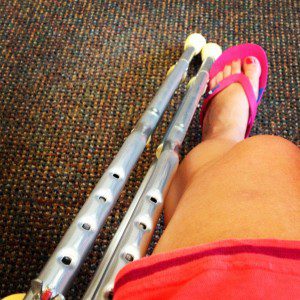 Why oh why?  Was my left foot was feeling ignored with all the attention the right foot received over Broke-Foot-a-palooza? So I decided to fall off my wedge sandal (yet again)? Only this time, using my "good" foot.
Crack! Off the shoe. The fireworks that flew out of my Fourth of July mouth… Oh my.
The Expert and I had a great evening, nice dinner, and decided to do the "healthy" thing and walk off the dinner on a one mile trek back to the hotel to watch the fireworks.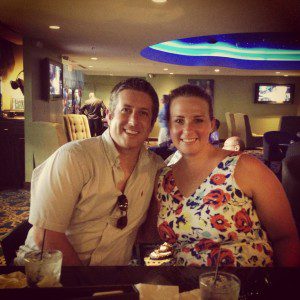 About 100 yards from the hotel, I lost my footing on an uneven manhole, slid off my wedge and felt a familiar pain.
"No no no, not again," I screamed.  [I screamed other things until I saw all the kids standing around.]
The Expert shook his head, his eyes wide.
"I can walk, I can keep moving and it will be okay," I said to him.
So we did.  We walked down to the river to watch the fireworks. As I was standing there, I had the feeling that I might not be able to walk back up unassisted.  Better move while I could.
"I need to go up to the room and ice this thing," I told the Expert, pointing to my foot.  As we headed up to the room, the fireworks began right above us on Hutchinson Island.
From the window, we watched half a fireworks show and the Expert forced my foot into a trashcan full of ice. I cried.  My other foot. Seriously?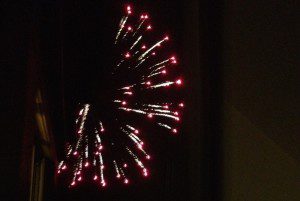 We went to bed.  I prayed that it would be okay.  Or more like, Please God, please not again. I start my new job Monday.  Our health insurance is gone… please no more Wilson.
Around 4:30 in the morning, I sat up to go to the bathroom.  I stood up on the foot and crumpled to the ground.  Crap crap crap. The pain was all too familiar.
"I need help," I said to the Expert as I was hobbling to the bathroom.
Turns out that at some point I passed out.  I woke up in a cold sweat.  The Expert got some orange juice and forced it down me.  I knew my stinking foot was broken.
A few hours later, I had located the Savannah doctor's office that had operated on my seventh grade broken foot  and had a 10:30 appointment.  The Expert tried not to wring my neck from wearing stupid shoes yet again. He wheeled me out on the hotel wheelchair and left me curbside while he retrieved our 70.3 car.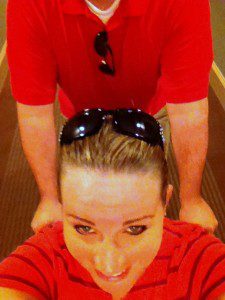 My angel grandparents had dropped off some crutches for me and my angel father brought the crutches to us at the doctor, while my angel mother watched the two children at her house.  Bless them all.  Their klutz of a daughter/granddaughter/wife/mother. For shame.
Almost two hours later, x-rays, prodding and "Does this hurt here?" and holding my breath.
No broken bones.  The doctor proceeded to tell me how lucky I was because the 5th metatarsal was a battleground for these types of shoe-induced injuries.  Really? I had no idea.
So I am dealing with a sprain.  The doc said 3-6 days might do the trick.  He also said it might be 3-6 weeks.
I am thinking positively. 3 days. 3 days. 3 days. 3 days.
I emailed Coach Monster.  "Throw away those effing shoes!" he sent via iPhone. Done and done.
So now what?  70.3 Augusta still on the books? Good gracious, I hope so.
But in the meantime, I will….