1) I started my new job this week.  Turns out… sometimes the grass really is greener.  It's good to know that I actually made the right decision (for once) with my job choice.  Even though I have no idea how to dress.  What was I thinking with this outfit today? I look like a piece of marshmallow creme.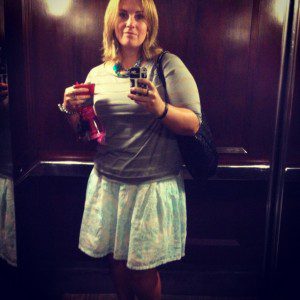 2) I am in a rut with my workouts.  Total
manic depressive
. Stoked on just Sunday for the great bike ride.  But then deflated by the fact that I really can't/couldn't run the other day when I tried. Bummed.  While Augusta time clock ticks down. Total ups and downs.  What in the world is wrong with me?  I'm a serious roller coaster.
3) My children are driving me up the wall.  They behave so badly for me.  Just for ME.  Argh.  (And not in a pirate way.)  Then I peek in on them, and they are sleeping and so delicious… I could eat them up.  It's tough being a working mom.  It's just plain tough.
4) Don't forget to vote for Jason Gunter (every day for the next 10 days!)  Click here to watch one of the most inspirational stories you'll ever see.
5) [Comment has been removed.]
6) So I stepped away from posting for a minute and came back to a reader sending me this video. I have watched it before, but it never gets old.  From watching that, then Jason Gunter… I'm officially feeling like a goof for my whining.
7) Sometimes I have to watch my own video to believe I did that race. It seems so far away sometimes…
8) I have alot to be thankful for. I am going to stop fussing now.  For instance, I went to lunch with my boss today.  I sat in the back of his car (someone else went with us) and saw this: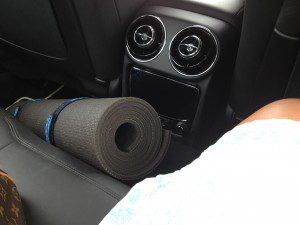 Yoga mat!  He's a health nut.  Loves hot yoga, weight training. Grilled chicken salad for lunch. Hello!  Love it. Maybe he can slap my hand when I head like a zombie to the vending machines.
9)  My foot (sprained one) is bothering me too much to run, also. Which is a downer. My other foot (ex-broke one) still hurts. So that is compounding my nervousness about Augusta.  But I am hopeful for this weekend and a good run. But I have two feet and I will be thankful for that.
10) I have let some bad habits grab hold this week (food, wine and Reese's).  As Coach Monster says, "Keep the good habits going so the bad ones can't grab on."  I'm trying to unclench this Reese's cup from my hand… I'm really trying.  Days will be down and up.  Keeping neutral in emotions is important. We can do this – we can keep moving forward and make our dreams happen.  I'm repeating my own blubbering thoughts today.
Have a great weekend, y'all.