Today's workout was stupid stupid. 
Okay, so I had a bad workout on Sunday.  I totally failed to finish half the bike ride and I had a headache and could not even keep my eyes open. I was supposed to swim as well, but I was DOA.  One of the worst bonk/heat exhaustion workouts ever.  So I felt like a failure from the bad workout, but I was determined to make up the swim.
So, I moved my Sunday swim to this morning, before spin class. 
But then I realized that I was scheduled for a run after spin.  Huh.  Swim. Bike. Run.
Swim – 1000 yards
Bike – Spin Class (15 miles)
Run – 4 miles
Holy guacamole.
I was scheduled to do a longer-than-sprint triathlon this morning. Before work. What in the…
So I swam 1000 yards. I toweled off and did T1 in the bathroom stall.  T1 consisted of me wriggling my jiggles into my spin shorts and a sports bra. If you haven't had the pleasure of putting on a dry sports bra on a wet set of boobs, you are in for a special triathlon treat.  It should be an event all its own.  Luckily in a real tri, you are already equipped.
I went to spin class with Mike McBlessings. (Yes, this is Mike wearing the SBM shorts. Don't worry those of you Expert Protectors out there… I didn't take this picture. His lovely girl, Janelle, sent it to me!)
Then I strapped on the sneaks and jogged downstairs for 4 miles on the treadmill.  The sun was shining into the gym and blinding me, and around mile 2, I felt so happy, thankful and alive.  I almost cried. ALMOST.
Then around Mile 3, I tried to figure out what in the hell was wrong with me – that I enjoy getting up at 4:15 in the morning for these shenanigans, and by Mile 3.5, I was in the pain cave.  But the four miles got finished, and I felt alive.
By 7:50am, approximately 3 hours after I left my house, I had completed a sprint triathlon.
Good grief.  Now, I'm not bragging. I'm sure Coach Monster does Ironmans before bed.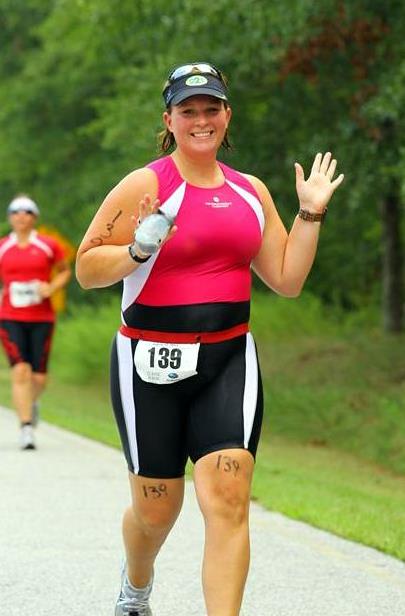 But I am using this as an example of how far steady work and dedication will go.  And not "perfect" dedication.  Just slow and steady. 
Okay, so I finished my first tri in October 2010.  It was hard and scary and slow.  Today, I did a tri before work and I am functioning (hungry!!), not overly sore and mostly just happy.  Sixteen weeks ago, I was devastated with a broken foot. Yet, I put that behind me, and I've put down 9 miles of running this week, with a scheduled 7 on Saturday. 
The forward motion works. Get the momentum and cling to it. Move. You do. You just do. You wake up, even if you are a zombie, and you put in the time and the miles and before you know it – something as absurd as doing a sprint tri before work happens …and the more absurd thing… you think it's normal.
Although your co-workers will remind you that you are a freak.
"Hey Mere!  How was your workout this morning?" my legal assistant asked when I walked into the office.
"Oh, good," I said.
"Well, what did you do today?"
"Oh, you know," I paused. "Swim. Bike. Run."
She blinked, "Which one?"
"Oh. Um," I mumbled, "All three."
"This morning?" she squealed.
"Yeah. Just a little of each," I shrugged.
"What time did you wake up for that?"
I said, "Oh, I guess about 4:15."
She paused.  "Damn girl, you are a freak."
See? 
If you forget that you are a freak, others will remind you.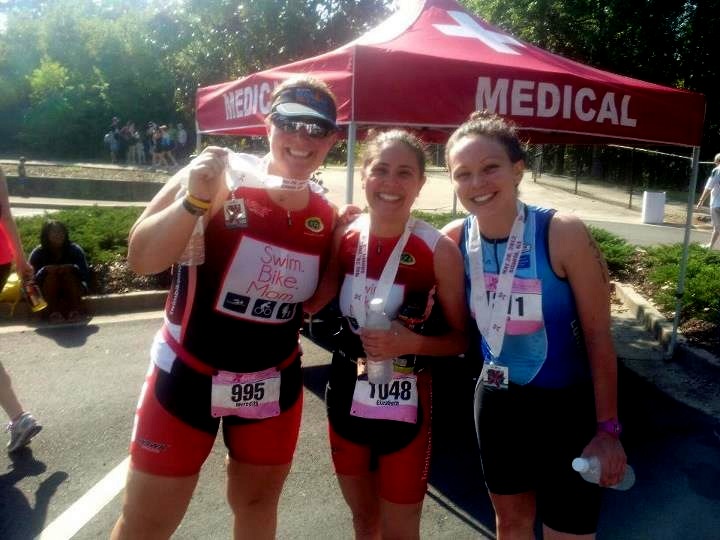 The beauty of triathlon! I love being a freak. Lawd, how I love every second.  I wouldn't trade the freakdom for all the peanut butter in the world.