Today was the Expert's second tri of the season with My Next Tri at Lake Lanier Islands.  He headed out early this morning, and I came a little later after our sitter arrived. I walked up to the swim start to find this: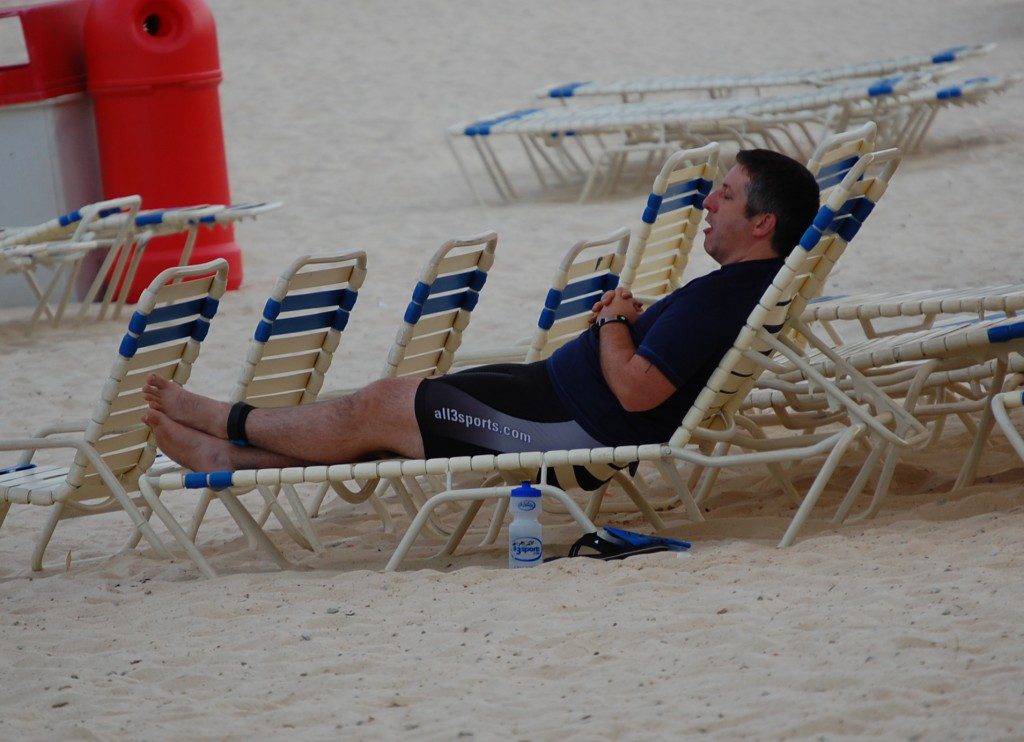 Expert lounging and yawning.  I decided that looked like a good idea, so I joined him.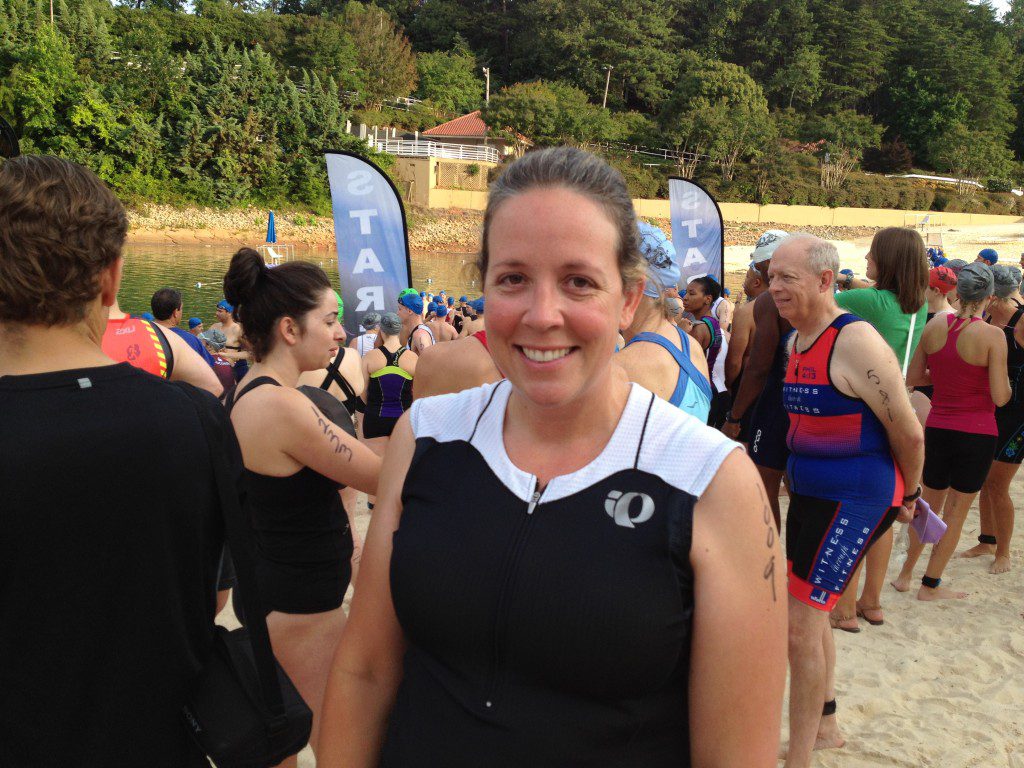 Met up with Paige – this was her first triathlon and I was so excited for her. Her husband, Charlie and daughter, Lauren are triathletes and now Paige has entered crazy land with them. Go Paige.  She finished looking strong and I am glad to welcome another TRI addict into the fold.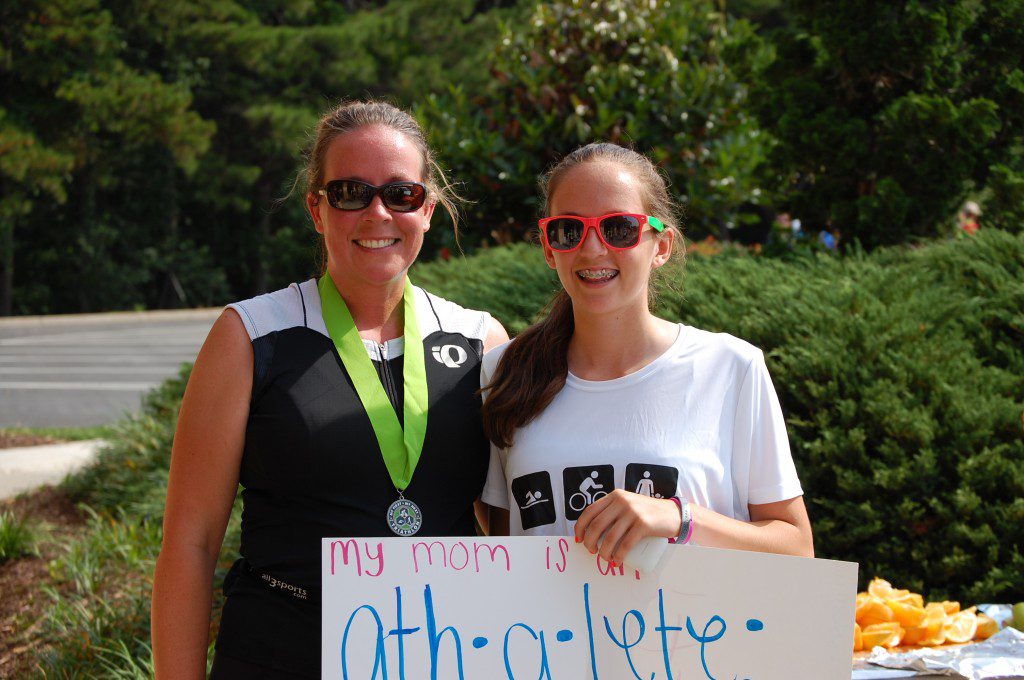 Lauren brought a sign for the Expert too.  How awesome is that?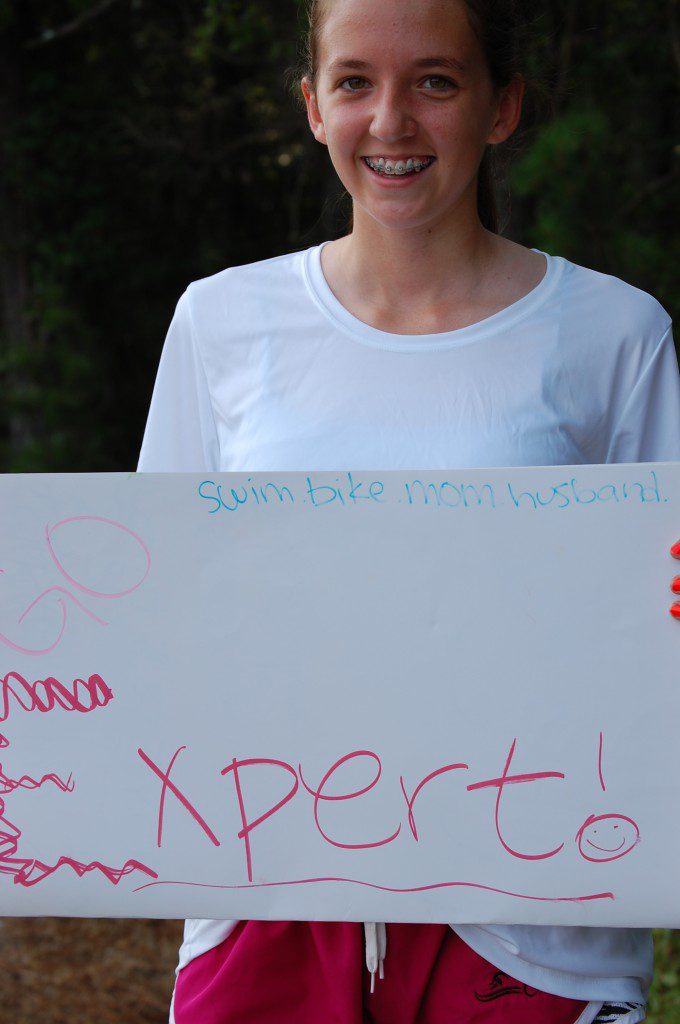 The start of the race was slow.  It was a laid back beginner and novice event, and I definitely think a good race for a beginner. The safety briefing pre-race was excellent. Kudos for that. The swim start was a crazy bottleneck, but the Expert was out of the water pretty quickly.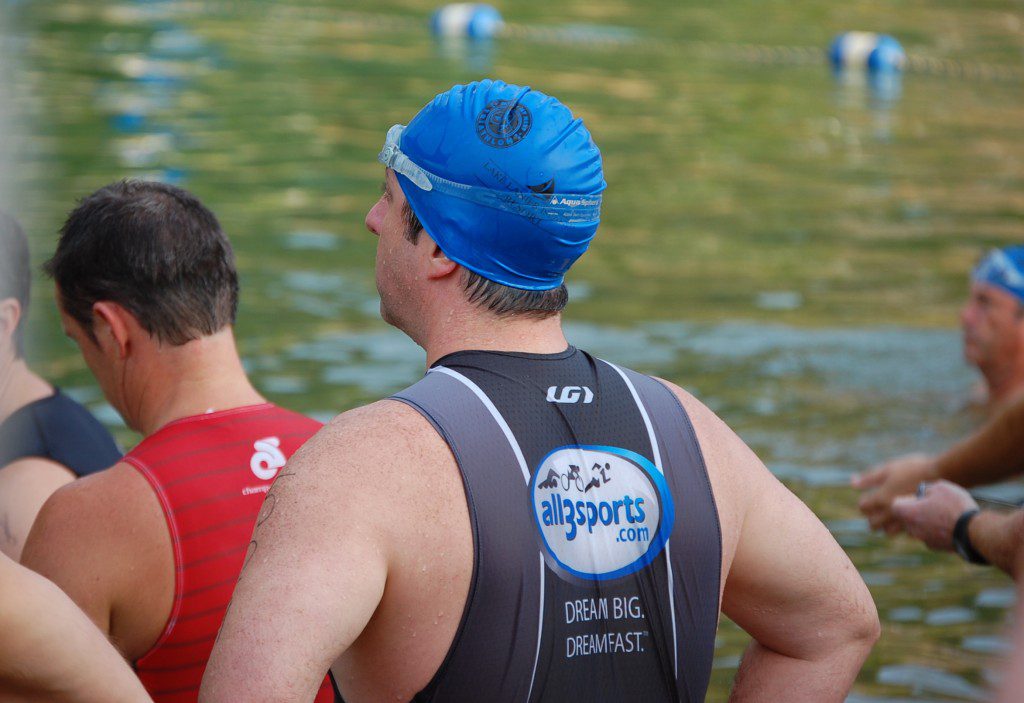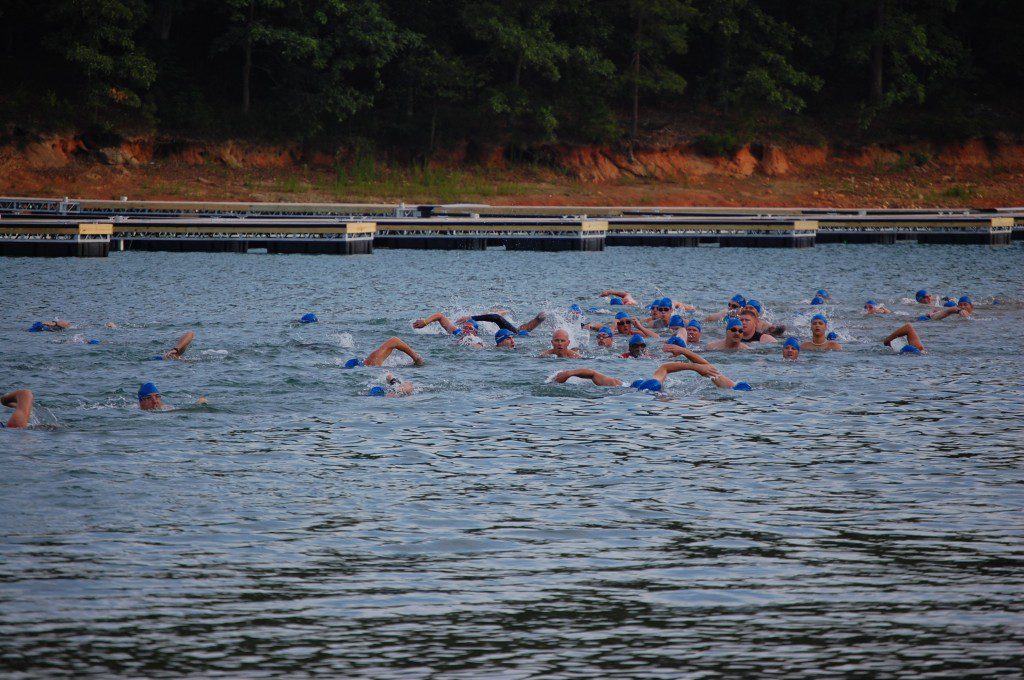 The Expert  was out of the water in around 9 minutes and was SPRINTING to transition, looking completely anaerobic.  I shouted, "You know you still have to bike and run, eh?"  And he looked at me like I was an idiot. Okay, so it was a little naggy.
I totally missed the Expert on the BIKE out.  His anaerobic butt was ZOOOOOOOM out of T1 before I could saunter up there.
HOWEVER. I was a witness to the BIKE IN.  And boy, was that a thing of beauty.  Some things about the Expert are —-well— Expert-y.  For example, I will show up with him in places and find out, that after almost fourteen years together that he can do something that I had NO idea about.  A few years ago, it was a split at a friend's wedding. We were on the dance floor, I thought he fell, but turns out that dude had dropped to the floor to do a split. I was so mad then!  "What? YOU CAN DO A SPLIT? How can we have been married for this long and I not know you can do a split?"
Well, today was like the split.
As the Expert came into T2, I witnessed his feet out of his shoes.   That is a very fancy move.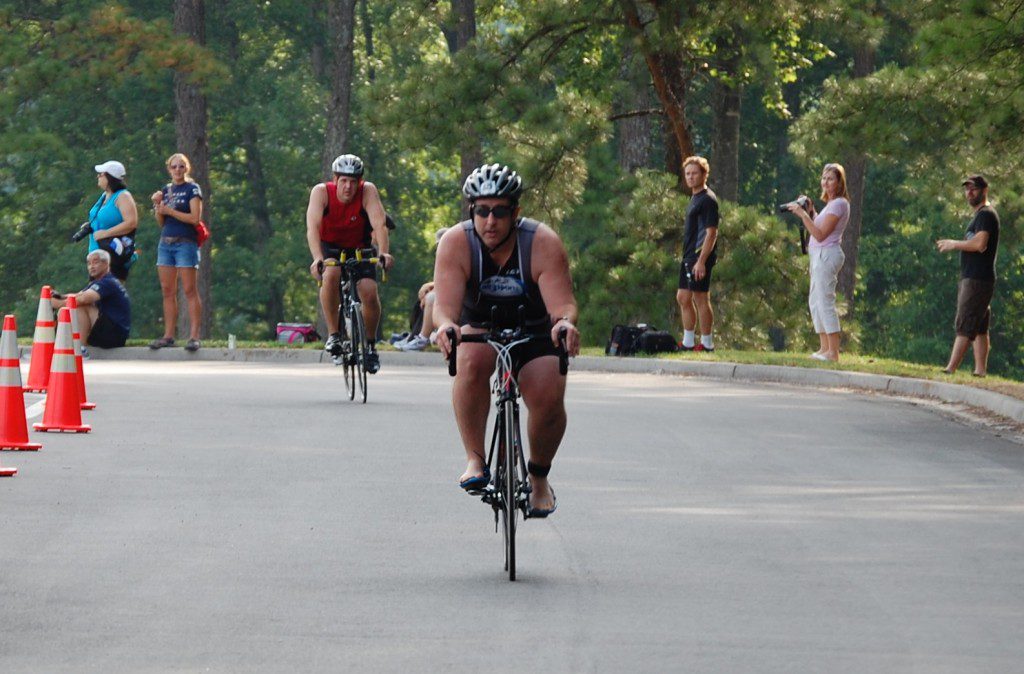 Oh, but I had not seen anything yet.  I shouted, "You have a sign!" pointing to Lauren's sign. He gave a thumbs up and then I noticed something weird. His feet were out of the shoes…. I was thinking, "No. Not the splits again."
And there it was.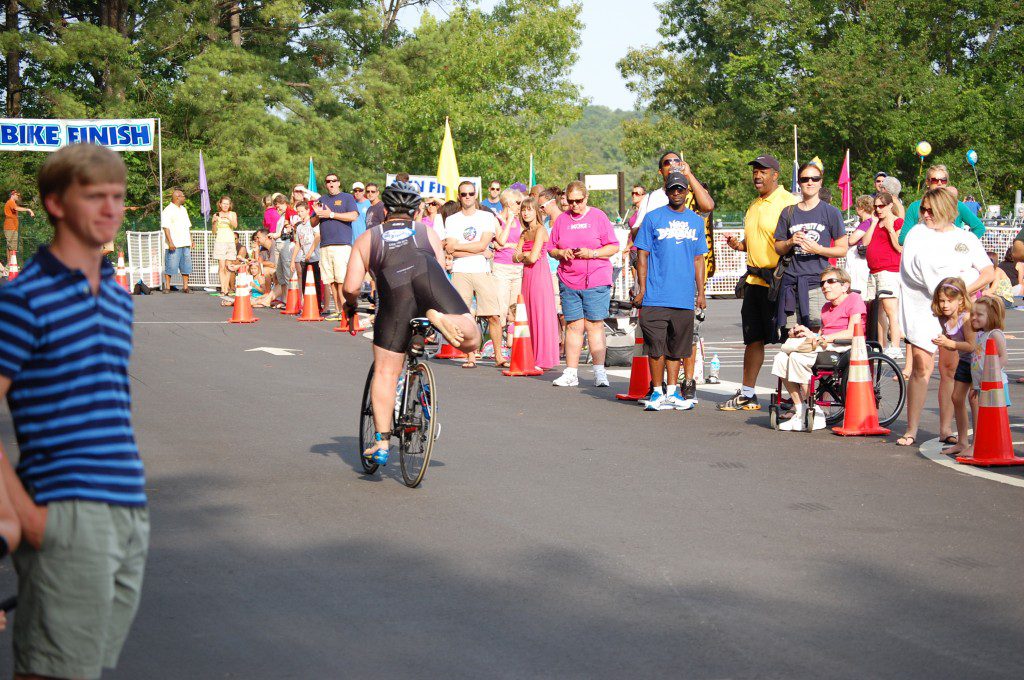 The FLYING DISMOUNT!
I was bamboozled!  What?  He can do a flying dismount?  That traitor! I was so mad!  He had hidden that little gem from me?
CRAP! Then I realized that apparently since the Expert was flying through this race, I better hoof it to the run exit. I caught him on the run out  and screamed, "You're at 55 minutes!"
He ran out, and I cheered on others coming in from the bike.  The Expert was making excellent time.  But I was fuming from the Flying Dismount.  I texted Coach Monster, "The Expert did a flying dismount. This is an act of war."
I saw all sorts of AWESOMEness on the course.  Beginners and people like the above little lady.  Amazing!
Paige was looking great out of T1!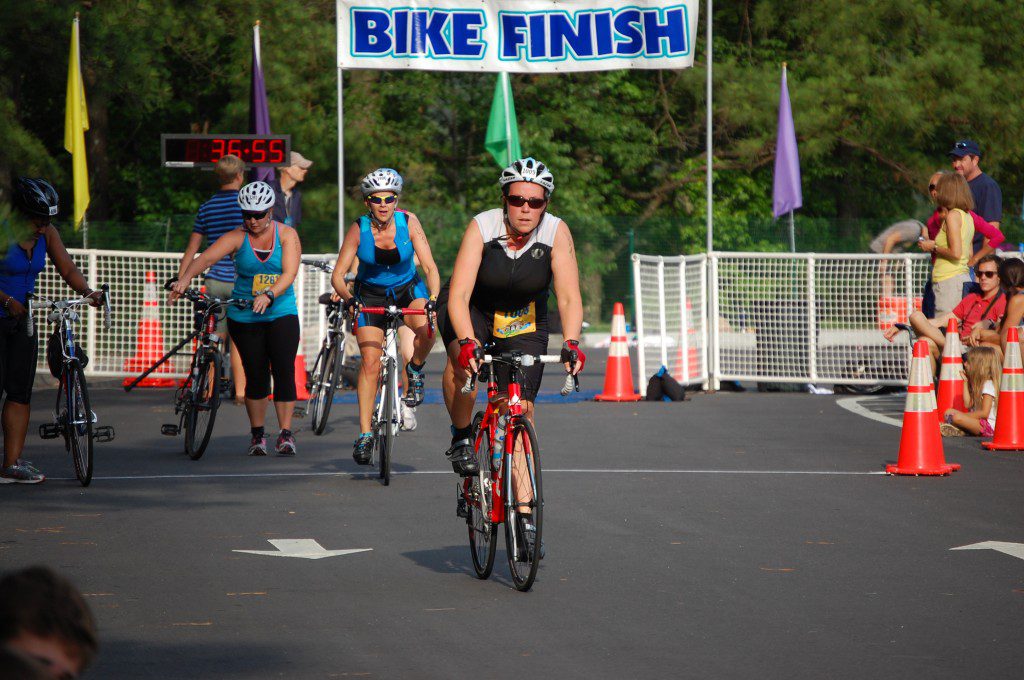 It was time for the Expert to run home. I was checking the clock.  He had set a goal for a 1:25 race.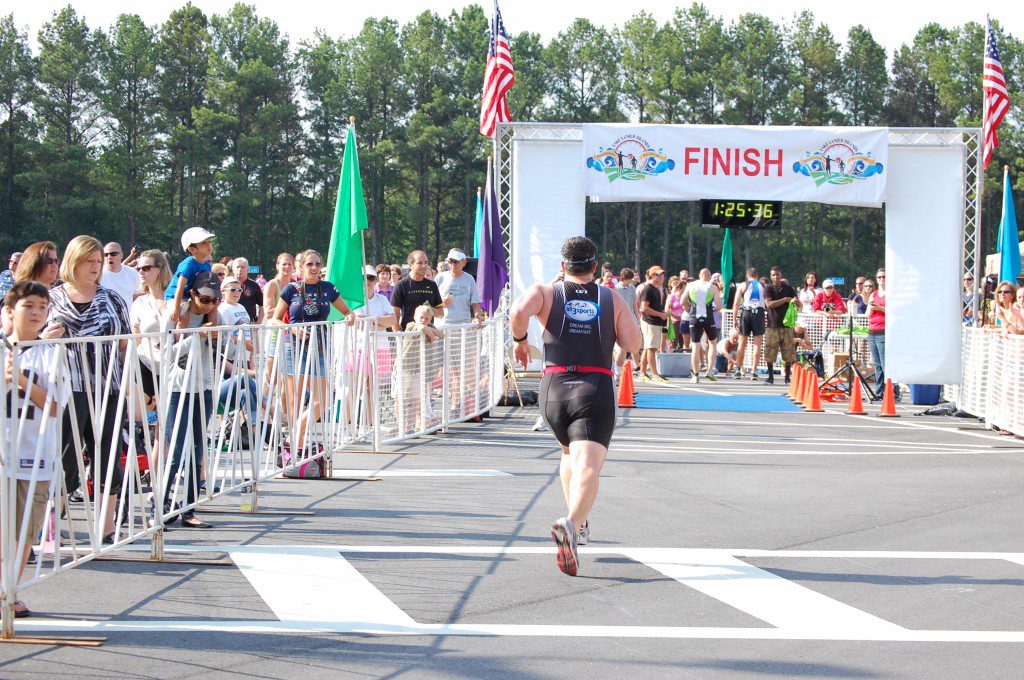 And as the clock ticked to 1:25:00, I saw him rounding the corner.  He made it right under 1:26.  Pretty impressive.  I was impressed.  (Yet, still mad from the FD.  Flying Dismount, in case you were wondering.)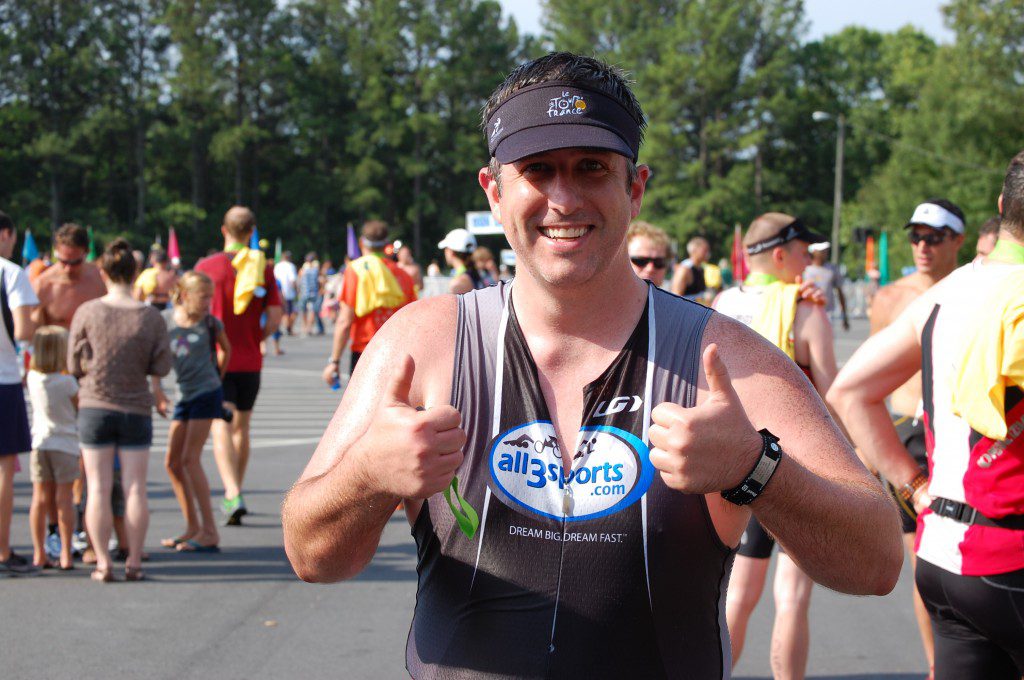 As we were cheering in the others, I was standing next to a girl and she saw my Swim Bike Mom shirt.  She said, "Oh is that the Swim Bike Mom thing?" And I said, "I am Swim Bike Mom," to which she jumped up and down and squealed, and I was completely giggly after that. SO funny!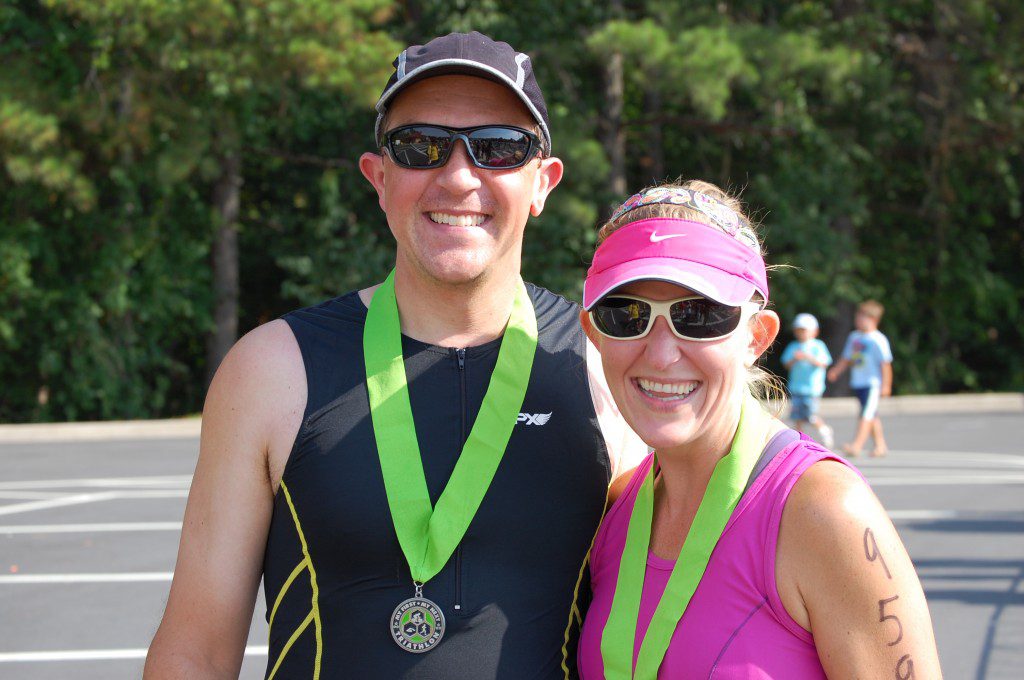 We chatted, and she PLACED SECOND OVERALL.  WOW.  She's also doing Augusta 70.3 in September.  Wonderful to meet Amy, her husband, Richard, and friend.
 Congrats to the Expert, Paige, Amy and all the others who did amazing things today.  As I watched people run in, I cried several times. I love beginner races.  I love triathlon.
And I love the looks on the finisher's faces – you can just see it… the ones who finish and know…  This is THE moment my life just changed.  Yes! L-O-V-E.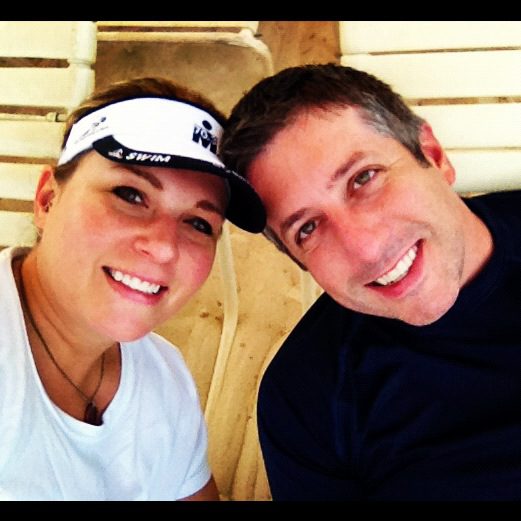 At lunch, the Expert in fact revealed that he did the Flying Dismount because he knew it would make me crazy.  What an Expert.  Instructional FD How-To Video coming soon.
When we got home, I was able to squeeze in my workout, which consisted of a 1 mile walk and a 3 mile run.  I made it, and on the hills outside.  It was the hardest run I can remember in recent history, but the foot is holding up well.
I need this to go well.   Afterall, I'm up against a Flying Dismount Expert in less than 115 days… Ironman Augusta!
My four year old son said, "Ew. Mom, you stink."  That's when you know it's a good workout.  Time to lay!  50 mile ride in the morning…. oh, and 2400 meter swim.
Help me Tom Cruise, this half-Ironman training is for the crazy people.