I do not run fast.  I do not run far (especially since I am only 14 weeks into recovery from a broken foot).
But before I broke my foot, I was running faster and farther than I had ever run in my life.  I had finished a half marathon, and I had finished a half marathon in a half Ironman.
I have not always been a runner.  In fact, my running was so bad growing up that my Dad tried to correct my form and then eventually gave up .  My Dad was a big shot runner in high school and college, so he wanted to get me straight. He never meant any malice by it, but years later in conversation, he would say, "Well, you never were a good runner." 
Now it's a joke in our house between the Expert and myself.  Because Dad can't really say that any more. I may not be a "great" runner – but I can say that even though I am slow, finishing a half Ironman certainly qualifies me for  a "good runner."  I think.
My point: I was no natural born runner.
And it had gotten bad.  I was apparently a natural born couch slug. I woke up in 2009 (after giving birth to two children, fourteen months apart) and I could not run for five minutes. 
It was 9:30 in the evening. I had fed the youngest monkey and cleaned the breastpump and went to the gym.  Quiet.  I went to the gym in my old sneakers and I ran for four minutes on the treadmill, slogging around my baby weight, jiggling all over creation.  Four minutes. I was at a 3.8 pace on the treadmill. And I was sucking wind like someone had tried to suffocate me and I finally succeeded in knocking them away.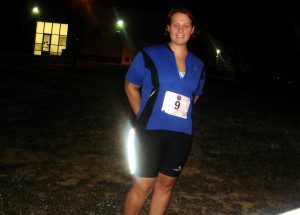 The next day, I could not move. I couldn't walk my baby up the stairs without crying because I had "stone bruises" on the bottoms of my feet. I was depressed and heartbroken.
Who can't run for four minutes??? I remember saying into the mirror with tears. Who???  The answer was: Me. This girl. This girl can't run for four minutes.
But I am not her anymore.  I am not that girl.  Over the course of the next few years, I kept plodding along. I walked. I ran. I jogged. I slogged. I quit and declared I wouldn't do it again. But I ran some more.
I started with a 5k.  I did some more. I did some triathlons.  I did some 10ks.  I did some more triathlons. Then the half Ironman, then the half marathon.  I had even signed up for a full marathon for this fall.. but then broke my foot. 
So the progress has slowed.  But I'm up to 2 miles now, and ready (begging) for the foot to feel 100%.
When I ran my first 5k, my pace was a 12:38 mile.  For 3.1 miles.
When I ran my half marathon in February, I ran an 11:08 pace. For 13.1 miles.
And in case you haven't been around long, I am not skinny.  I am not even what you could call thin. Hell, I'm not even "average."  I am a size 14 (on a good day) …and I run.
To all of you just starting out – to all of you who feel like absolutely crap about yourself – to those of you who want to cry every single morning because of the shape you are in…. choose today to run. 
Because today is National Running Day! Get on the treadmill and jog for 2 minutes.  Then next time, jog for four.  You will be astounded if you keep moving forward – because someday, you will love to run too.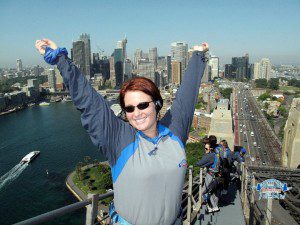 Then you will be one of those crazy people who love to run.  I can call you crazy because I am one of you. I LOVE TO RUN. My name is Meredith and I love to run.  Put that in your pipe and smoke it. Words the Expert and my Dad never thought I would say. And words they are so proud to now hear me utter.
People change. Learn to love who you are becoming.  Learn to appreciate the process, the journey. Every day will get better.  Each day YOU will get better, inside and out.
Every day will not be a victory. But some days will!  Begin to move, celebrate your victories, push aside the bad days – and always keep your head up and your feet forward. 
You can do it.  Today is the day.
Here's a great post from my girl, Christie, at Average Moms Wear Capes about how running has changed her.  She writes, "I learned how to be nice to my body and myself. And I finally started to feel like something. It's not about the weight. It's about living life. It's about toeing the line. And giving it all you got when the gun goes off."
How has running changed you? How WILL it change you?  Happy National Running Day!