So I was down 5.6 pounds on Friday since May 6, and I was feeling semi proud of myself.  Then I ate too much yesterday… not bad food, just more than necessary along with a 40 mile bike ride. Today,  am up 5.4 pounds. I swear I hate the scale. I hate it. I hate it.  Seriously. HATE it. I know I shouldn't pay attention to the scale after I had a long bike ride, drank a ton of water, and I ate a ton of food.
Actually yesterday reminded me of the last time I put away my scale: during the final ramp up for Miami 70.3 last year, I had completed a 40 mile bike ride, plus a 6 mile run.  I was in absolutely the best shape of my life – I felt strong, I felt proud, and I had a great day.  The Expert and I went out to lunch afterwards.  I ate a mass of food, but healthy stuff: salad, hummus, black bean burger with only half of the bread.
On the way home, I was elated, feeling that Miami was within reach.  But once home, as I turned on the water to get in the shower, I stripped off my salty clothes and stepped on the scale.   I was up 7 pounds from the morning.  Nevermind that I had just had the best workout of my life. Nevermind that I drank 6 bottles of water, ingested tons of electrolytes, and followed it up with a 3 pound meal.  Nevermind it all.  The scale had spoken.  And I was crushed. And it was ridiculous. My reaction was like giving birth to a beautiful, healthy baby and immediately cursing the loose skin, the weird boobs, and whatever nightmare is going on downstairs.
I was reminded of that instance this morning as I stepped off the scale.
I have to stop doing this to myself. I feel tons better this week. I wore my smaller jeans on Friday (not my skinny jeans, but not my fat jeans either). I am really trying to go by feel – to be grateful for the day that I ate well, and not be impatient. I trying to make better choices, and I am succeeeding at that.  Really.  We went out to dinner at Macaroni Grill when the Expert returned home Friday night. I had 1/4 plate of gluten free pasta with red sauce, salad, and a few bites of bread.  Big change from the large pasta, 2 loaves of bread, appetizer and salad with some creamy deliciousness splattered all over it. SO. I am going to choose to be happy about my progress and choices.  I am impatient.  So I am learning to be patient.
Even after seeing the race photos from last weekend. Eeeeeek.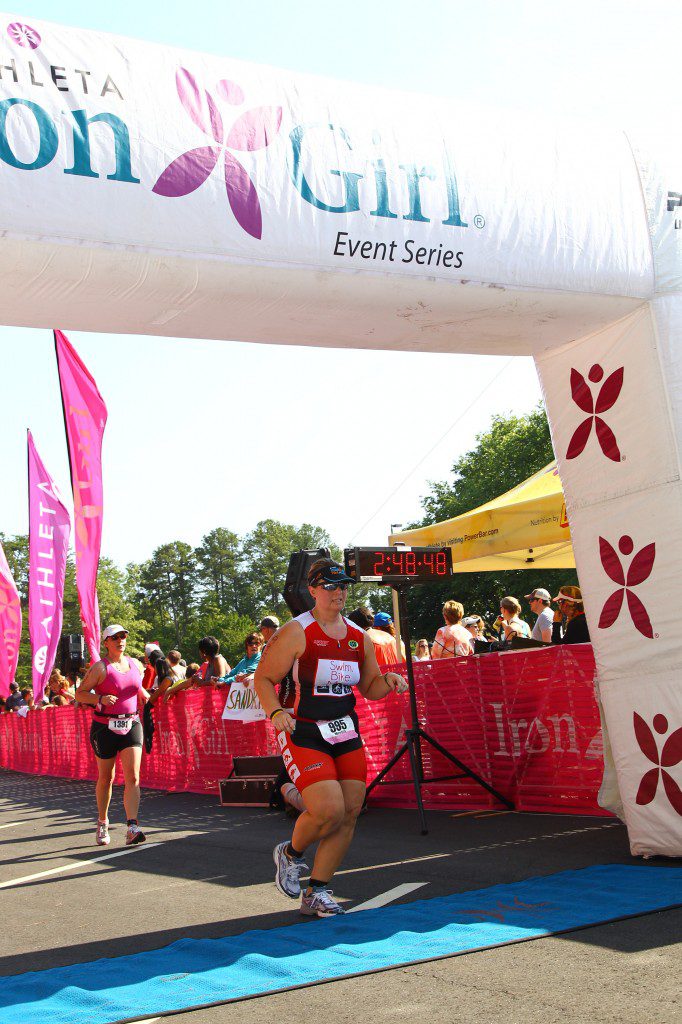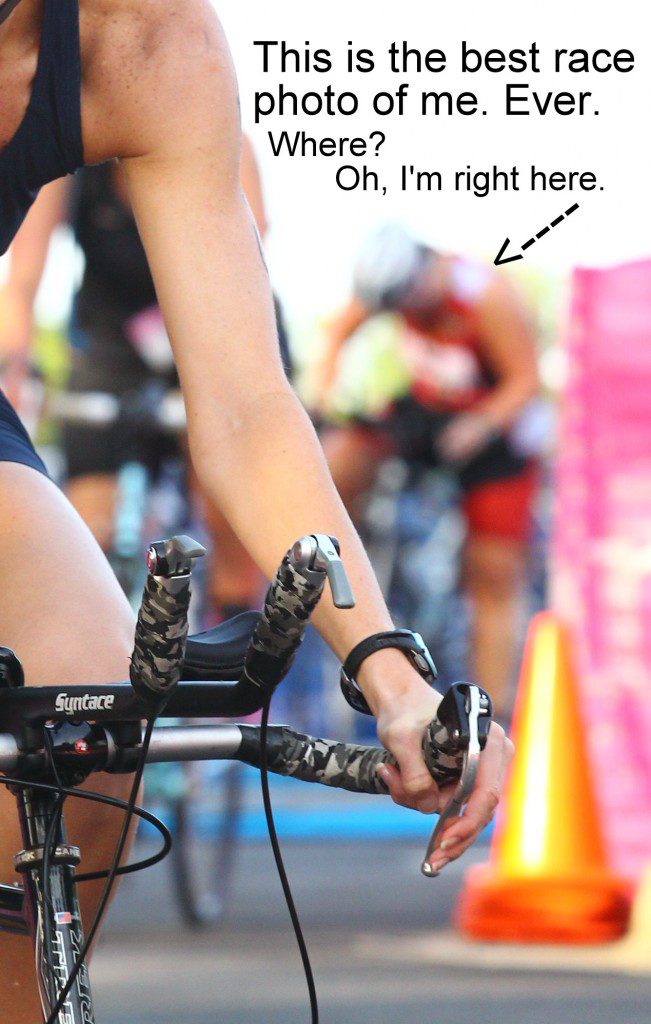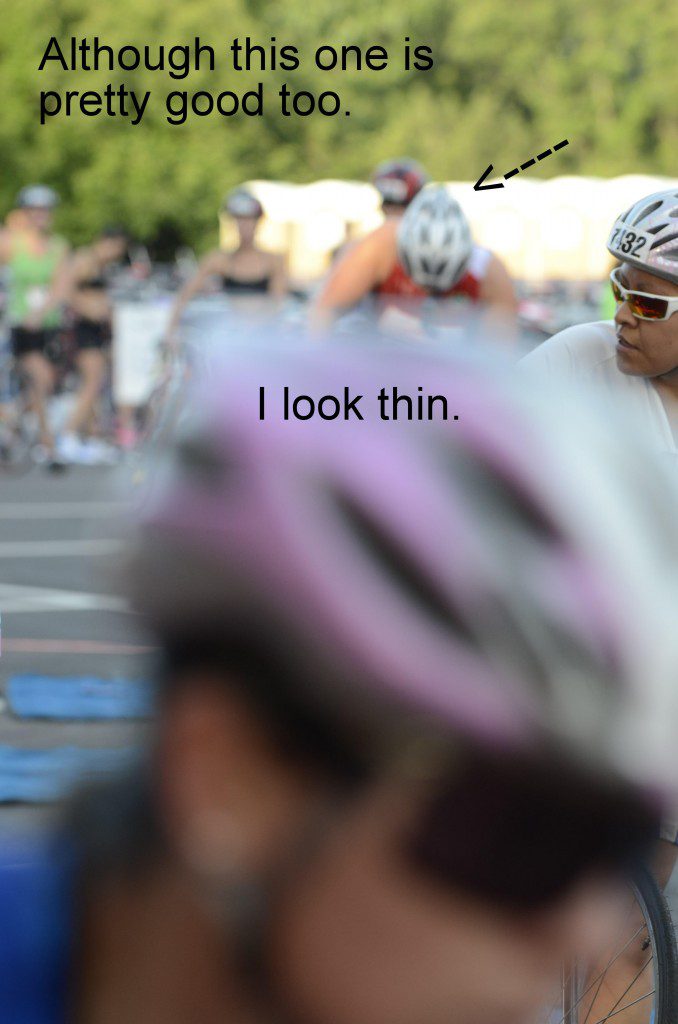 The bike ride yesterday was l-o-n-g.
I don't know what Coach Monster was thinking. On February 26th (the day before Broke Foot 2012), I rode 50 miles.  That was three months ago.  The farthest I had ridden since then was 20 miles.  So my training schedule said 40 miles.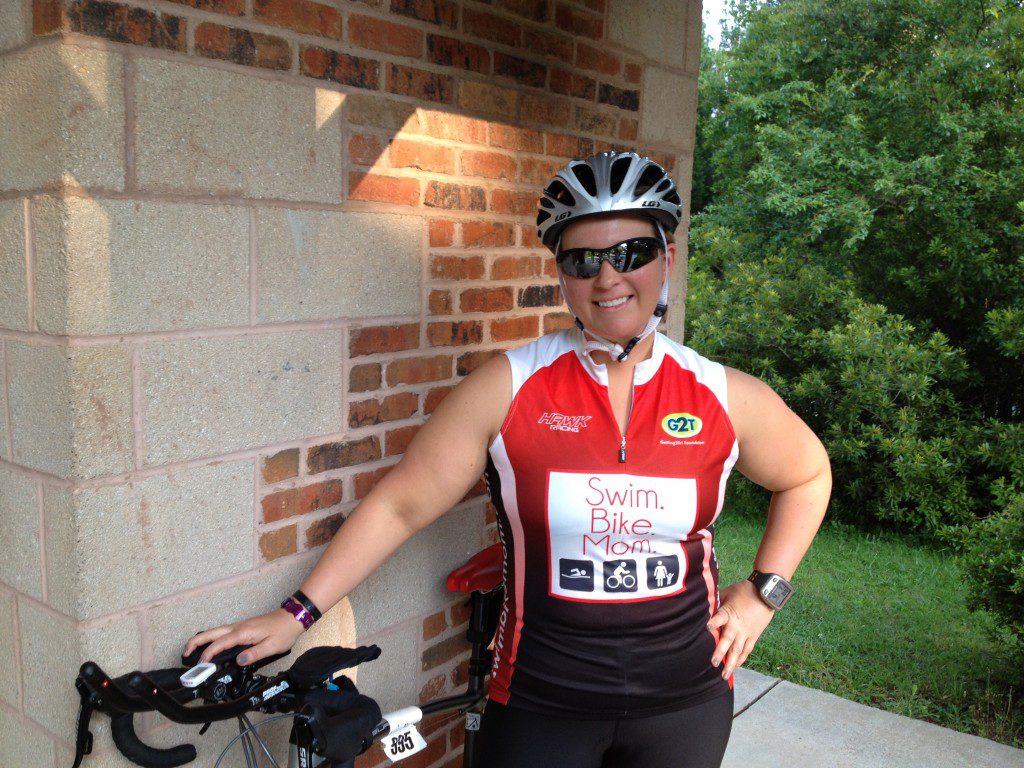 The Expert and I went out to Silver Comet Trail (flat land) and put it down. I forgot my Aquaphor.  20 miles into the ride, I was very sorry I did – and the Queen was very unhappy.  Speaking of good choices, instead of driving through and getting a giant burger and fries (one of my favorite post-long ride meals), we went to Jason's Deli and had salad bar and soup.  Still, I ate too much. But I ate too much good stuff instead of bad stuff.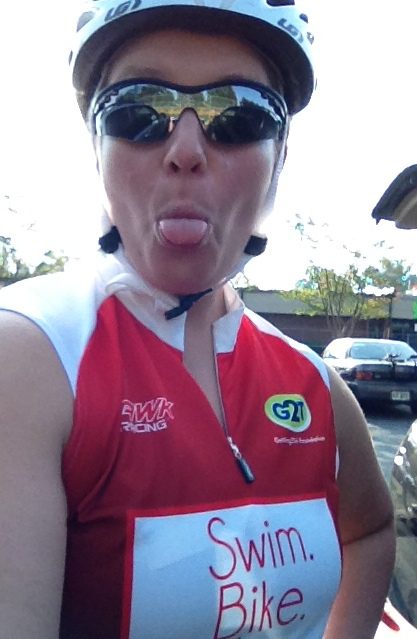 TODAY… in just a few hours… will be my first run back since the broken foot.
Yes, I ran a mile at Iron Girl (but I wasn't supposed to). This is the first official "sanctioned" training run. It's only a mile, but I am nervous.  My foot is a little sore from the long ride yesterday.  I am haunted by the x-ray memory from last month.  The doctor said, "Looks good!"  I looked at the x-ray and could still see the break. I was assured this is normal.  But running on this foot will be an exercise in mental strength as well.
Also, continuing to think of Kirsten Walker & her family.  Let's continue to keep her in our prayers, and if you can contribute to our fundraiser, please consider a small donation.