She showed up for a race, hoping to walk away an Iron Girl…. only to have a triathlete's worse nightmare come true.  Kirsten Walker crashed on her bike on a downhill – and she is now in ICU, continuing to fight for her life.  She is stable, but her future and condition is precarious. This could have been me …or you …or any of us, at any race, at any time.  This kind of injury is literally a triathlete's worst nightmare.
SBM is doing a fundraiser, and so far, we have raised over $2000, which is amazing!  BUT I really want to make that number $3000 or even $4000!  Do you think we can all skip a coffee, a latte, a meal this week and donate? I hope my triathlon friends would reach out and do the same for me –  let's prove what a generous group we are! Join me in helping one of our own.
*DONATIONS ARE NOW CLOSED. Thank you all for your donations!  We raised over $7500!!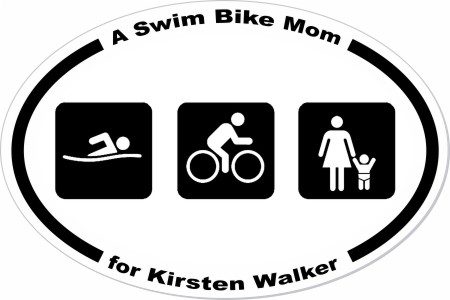 The decals are out of stock as of yesterday – I have mailed out 100 of them! Please still consider donating. The family's medical expenses are going to be through the roof and I'd love to present them with a little SBM love and help. I want to collect all donations by Friday, June 1 and deliver to the hospital that afternoon.
*UPDATE: Here's the link to the Facebook page set up for Kirsten updates.
Thanks to the following amazingly generous souls so far! You can see the list of donors here.
*DONATIONS ARE NOW CLOSED. Thank you all for your donations!  We raised over $7500!!
Love you guys! xo
FINE PRINT:
For each donation, PayPal fees are automatically withheld by PayPal.  To cover the fees and shipping so that the family receievd the full donation, $1.30 was added to each donation through the SBM store. For donations directly to PayPal, then PayPal held the fee. For example, if you donated $10, PayPal automatically held out $0.59 – so your total donation to the family is $9.41. If you would like to know the PayPal fee structure, you can refer to the chart below to see what is being held out for each donation by PayPal. Additionally, you may review your payment receipt emailed to you by PayPal for this information as to your donation, and for your taxes. NOTE: ANY and ALL amounts collected, minus the PayPal fees, will automatically be rolled into the total donation to Kirsten's family. SBM is not retaining any amounts or fees, period, end of story. All shipping and decal fees have been donated by SBM – there was confusion as to shipping costs being withheld for those who did not want a decal – therefore, the only fees held out are those automatically deducted by PayPal when the donation is made. You can see the chart below for amounts.  Once donations are closed on Friday June 1, the total donation amount will be made available and the fees as well.
Donation Amount:       PayPal Fee:
| | |
| --- | --- |
| $10 | .59 |
| 25 | 1.03 |
| 30 | 1.21 |
| 50 | 1.75 |
| 60 | 2.08 |
 Hope this helps! Please feel free to contact me with any questions.