*DONATIONS ARE NOW CLOSED. Thank you all for your donations!  We raised over $7500!!
Kirsten Walker is still in ICU and remains sedated after crashing on her bike almost two weeks ago at Iron Girl Atlanta.  A feeding tube went into her stomach yesterday.  Everyone is still waiting and praying for the swelling in her brain to go down.  Once that subsides, the doctors will lower the sedatives.  Tomorrow is the last day for the fundraiser.
We have done amazing, my friends! Thank you for your generosity!! I cannot WAIT to present Kirsten's family with a check for your outpouring of kindness!!  Continue to follow her progress here on Facebook.
Again, tomorrow is the last day Swim Bike Mom will be accepting donations for Kirsten's family. So…by tomorrow, I am hoping we can get just another $1500 for this family.  You won't believe how well we've done for them!  Please consider just skipping a coffee or a meal this week and sending on to help one of our own.
Remember: this could have been any of us who love triathlon. Pay it forward.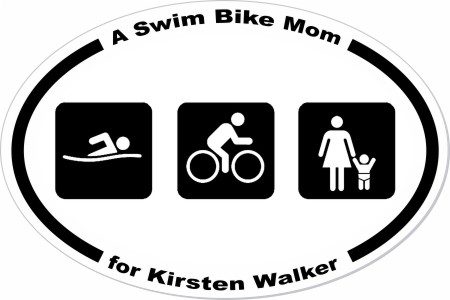 The family's medical expenses are going to be through the roof and I'd love to present them with just a little more SBM love and help. I want to collect all donations by midnight Friday, June 1 and deliver to the hospital next week.
Thanks to the following amazingly generous souls so far!
Janeth Kennedy
Laura Walls
Diane Hood
Chris Deppmeier
Sharla Serrano
Robin Garcia
Jane Ellison
Ginger Mahlbacher
Mountain Goat!
Katherine Hurn
Kathy Hull
Laura Hesse
Bryan Sheperd
Teri DiGiulian
Anne Marie Nagle
EnviroSafe Dry Carpet Cleaning
Ted Amy
Leslie Jordan
Lisa Lahouchuc
Steve Voiles
Cheryl Ransick
Kirsten at KapaBle Koaching
Kandi DeCarlo
Kristen Dixon
Jamie Celentano
Karen Hodgdon
Katherine Wall
Terry Howard
Diana Bolding
Eda Caporizo
Liz Ulmer
Julie Moscol
Kerri McWeeny
Suzy VanWagoner
Kelly DeMone
Vicky Angerthal
Tara Zimnick-Calico
Cindy Benton
Becky Galand
Brenda Smith
Paula Cherniak
Marison Beniek with GoTRIbal
Shawn Whitmer
Arpana Satyu
Laura Abbott
Anita DiMatteo
Erica Lakin
Monica Johnson-Null
Amy Miranda
Kimberly Seitz
Linda Hopson
Alexander Tibar
Cheryl Keyros
Jodi Fritz
Kelly Stedman
Joan Lee
Julie Gonye
Cindy Bryl
Caroline Parish
Amy Baker
Beth Seman
Stephanie Blades
Jessice Russell
Meghan Dunn
Robert Tomkinson
Elizabeth Broos
Terry Harter
Windy Tuttle
Sarah Cook
Mark Leaverton
Myrna Gonzalez Childress
Elizabeth Gaylor
Leah Kitzinger
Jennifer Murkinson
Paige Mason
Joanna Key
Dave Waxler
Joyce Jones
Riley Peterken
Kim Williams
Wraps and Caps
Sarah Borell
Pamela Dorsey
Erika Hauer
Lisa Hessel
Beth Connors
Kari Bartley
Heidi Hottinger
Kerri Rose
Heather Wein
Jodi Myers
Glenn Sexton
Cristy Kesling
Tracy Wilson
Neal Hendrix
Anne Chamberlain
Allen Barnett
Karen Mullikin
Abbie Davis
Tony Toson
Sheila Tedford
Deb Feldman
Roshni Desai
Alison Kane
Stacy Waggoner
Karen Dehlinger
Niki Rowland
Carla Nesbitt (Swim Bike Mom's MOM! :))
Kimberly Lamb
Stacy Brown
Wyne Moreni
Amber Beason
Mary & Michael Simmons
Erica Meyers
Kaleigh Leach
Sheri Schauwecker
Charles Burgess
Heather Pawinski
Christy Brookhart
Tracy Seymour
Bocock Technology Group, Inc.
Peggy Pierson
Leah Reed
Susan Wojciechowski
Kristen Suddarth
Lisa Langfoss
Mary Thomas
Carrie Voris
Rochelle Griessel
Julianne van Kalken
Lee Chrisman
Janet Bumbarger
Charity Karcz
Jenn Breeze Schultze
Jessica Baptie
Linda Brooks
Anonymous
Melissa Morris
Brenda Schanhofer
Arun Kumar
Amy Quinlan
Kimberly Hatcher
Michelle Cunningham
Jennifer Widener
Jennifer Carter
Annie Fraser
Kelly C.
Joel Cron
DCALS
Cynthia Smith
Donna Frassrand
Diana Walsh
Stephanie West
Terri SHelton
Linda Waggoner
Virginia Brooks
Yvone Mason
Cheryl Redmond
Connie Carmony
Karen Janos
FINE PRINT:
For each donation, PayPal fees are automatically withheld by PayPal. To read more, click on this post.