So, I did a crazy thing today. I went to spin class. Me, myself and my boot named Wilson.
(Wilson like the volleyball in the Tom Hank's movie, Castaway. Wilson because I need Wilson now, I might cry from pain when he leaves, but I'll be okay in the long run).
Oh, it felt wonderful being back on the bike. Yes, the bike to nowhere… but a bike, nonetheless. Coach Monster's class, my spin class friends, and Wilson. Everyone was so nice to Wilson, too.
Coach Monster called me Boots.
I said, One boot, singular.
I did some upper body before class. Stretched a little afterwards. But all in all, I was able to operate pretty much as efficiently as normal on the bike. I realized that I do use my upstroke on the bike… because several times, I would pull my right foot up, off the pedal, and Wilson would go wild, flying to the right.
To say that I am completely "okay" with the current state of my triathlon affairs would be a complete lie. But I can say: I am right where I am supposed to be.
Everything happens for a reason. This time has given me a chance to really reflect on my diet and not worry about fueling for a 60 mile bike ride during the New Orleans ramp up. I am sidelined, so I have had time to regroup.
So….I am on Day 5 of a vegan, sugar-free, processed-free, alcohol-free (and yes, FUN-free) diet. But I feel a-maz-ing. My allergies are at bay. I'm down four pounds out of the gate.
I am up to my elbows in the book,
Thrive: The Vegan Nutrition Guide to Optimal Performance in Sports and Life
, by Brendan Brazier (founder of Vega products). Highly recommend even for those not considering the vegan lifestyle, because of the first three chapters on stress and foods.
Maybe I was always to embarrassed to admit that the eating cycles I have been spinning through…were REAL problems. Maybe I never realized that stuffing five cupcakes in my mouth is not so much a loss of self-control or utter laziness, but more of an attempt at band-aiding my feelings, my emotions, my words. And maybe
some plain and simple rebellion
.
Today, I feel good. I appreciate the days I am able to say that. Sometimes they are too few and far…
I woke up at 4:15. I went to spin. I did not drive through Einstein Bros. after class, but I had an apple, banana and protein shake for breakfast. For lunch, I had lentils and rice (toot alert! toot alert!). And for dinner… I am not going to blow out the usual Friday celebration. It's just a Friday, afterall.
As my friend,
Holly
says:
Every step is a good step.
I'll just keep stepping forward. And spinning around in the right direction.
"Times might be tough, your head and thoughts might be spinning,
but I find it's physically impossible to do that spiral thing
when your mind is focused on giving and creating opportunity."
-Daryn Kagan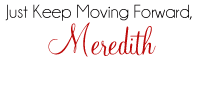 Swim Bike Mom on Facebook, Twitter,
Daily Mile, YouTube and Pinterest