(That's a Pabst Blue Ribbon Runner. And that's me, chasing him).
My first half marathon: Tybee Island, Georgia! Okay, I'm not counting the latter third of the 70.3 as a half. So… this is my first solo half marathon. As Coach Monster says: this was a PR!
Time: 2:25:57, 71 out of 98 division, 847 out of 1084 overall. (Congrats to Vicky! You win the contest… email your address to swimbikemom at gmail.com, and I'll send you the waterbottle!!)
The bad news: I never caught that beer. (Until later).
Friday: Night Before the Race:
Savannah is my (and the Expert's!) hometown. I love Savannah. I'd live there in a heartbeat if there weren't so many allergens. The crew (me, the Expert, Swim Bike Kid #1 and #2) headed down Friday and parked the kids with my very generous parents for the entire weekend (love love love love). The Expert and I met Mountain Goat and W at our rented beach house (yes, one could say 'spoiled' except the fact that it's off-season and pretty much the same price as a hotel).
The Expert and I had a nice dinner with the kiddos, hung out with Mountain Goat and W and laid out our gear for the very early morning wake-up call.
(No words needed. Little Lady.)
I had the bare essentials ready for the morning.
The Expert was tucked into his little boy room at bedtime. We were ready for the morning. Due to his nasty chest cold, the Expert decided that 13.1 was not for him, and he was heading in early for the 7am 10k race.
I was sleeping in the adjacent room. I've told y'all – race night, we are like the Cleavers. Separate beds at worst, and separate rooms at best. I had a cozy little Queen room next door.
For laughs, we put on our Twinsie race shirts and said "goodnight."
Race Morning:
6:30am came early. I woke up around 5:30 and couldn't go back to sleep. I had been battling a chest cold, and doped up like crazy on Mucinex and Benedryl, and I kinda felt loopy.
I fought myself over wearing the Nathan belt. I didn't feel like carrying water, because the race was packed with water stations every 2 miles, but at the same time, I knew I needed at least 4-5 GU gels to make it through 2+ hours of movement.
Thanks to Mountain Goat's genius, a spare race number belt and a zillion safety pins, we found the solution. [This was actually so ridiculously handy on the run, I couldn't believe it. Note: my shirt was long, so the gels hid under it. If the gels were on the outside of a shirt, they would have flopped about like crazy and driven me to madness.]
So we were dressed and ready to rock.
Mountain Goat was fed.
And we were ready.
Race Start:


The Three Best Friends that Anyone Could Have jogged down to the race start, hit the potties, and waited for the "go."
The great thing about Tybee is the terrain. Flat ffffffffflat. Looking at this map, I can't believe I actually ran this far. Okay, I'm getting ahead of myself.
At the start line, I saw a guy dressed in a BEER COSTUME. He was wearing a Pabst Blue Ribbon beer costume. I leaned over to Mountain Goat and said, "I'm pretty sure I can beat the beer."
She said, "I don't know. I got beat by a pirate one time."
"Well, I will chase that beer," I said, "It's motivation."
The buzzer sounded, and we took off. Well, Mountain Goat took off, and W and I kinda started jogging.
At "go," Mountain Goat was just a blur. I saw the Expert on the sidelines – he had completed the 10k just moments before- and we were off.
Miles 1-2
Coach Monster said to "feel my legs" for the first couple of miles. I had some good music and I was definitely feeling my legs. Tried to keep the heartrate in high Zone 2, and truck along. Still, two miles is two miles, and two miles is a long way to run. I remember seeing the first water station, the "MILE 2" sign, and thinking, "Oh. 11.1 to go. Sheesh."
Miles 2-5
This was the best part of the race for a few reasons. Mile 2 was over and done, and my legs were warmed up. We headed into the neighboorhoods at this point and received encouragement from the spectators. Plus, I am pretty much a 3-5 mile gem. Before 3 and after 5, I kinda fall apart. So this is always my favorite part. I looked down at Fickle (my Garmin… formerly known as Constance) and she was reading about 9:55 or 10:05 per mile pace. I knew I couldn't keep that up, but it felt good to run that kind of pace.
(These were my feet pre-race. Beach house = dirty floors?)
Miles 5-7
For me, the end of Mile 5 is always where my Body begins to rely on the Mind a little more. The Body starts to disagree with this choice for a Saturday morning, and the Mind must begin its games.
Body: This sucks. It's 9am on a Saturday. What's wrong with you??
Mind: This is FUN! This is living!
Body: You are STUPID!
Mind: I am the Mind. I am not stupid. What do you know?
Anyway, insert HURT here, because this is where it starts.
We looped back out of the neighboorhoods, and headed back down the looooong main drag, Butler Avenue. I saw the sign for Mile 7, and literally counted on my fingers. 7-8-9-10-11-12-13….
Yikes. 6 MORE?
Miles 7-8
I saw the Expert around Mile 7, and he took this jewel of a picture. I look a little crazy. I see a little heel strike, and some weird upward motion (which I can only think as gravity and my belly moving UP). But it was good to see him.
The rear view is not as flattering. Not that the front view is flattering, but still. Must work on posture. Horrific.
Miles 8-10
I think seeing the Expert gave me some extra energy. Plus, the super fast runners were looping back towards the finish, and I was able to watch some people zooming in on their final mile, when I was heading out with four more.
Somewhere around here, I saw a water station and grabbed a cup…. Only as I was putting the cup to my mouth did someone say, "COLD BEER!" And I took a large gulp. Beer! Oh, lawd. Mmmmmm! Weird! So I had a small beer around Mile 8. Not sure if that helped or hurt.
I saw Mountain Goat heading home around Mile 9. That girl is fast. No bones about it. We slapped hands for the second time during the race. I had seen her somewhere around Mile 4.
Mile 10
Mile 10 felt the absolute best. Weird, I know. I felt strong. I was well fueled. I was trucking along, thinking, maybe I can actually hit that 2:15 goal that Coach Monster set out for me.
Mile 11-12
Welcome to the Wall. I hit a standstill around Mile 11.1. Knowing I only had 2 miles left was comforting, but I didn't have much left in me. I was out of GU, and the aid stations seemed to have spread out farther than 2 miles. I am not sure, but it seemed that way.
I cranked up Eminem and gritted my teeth. My pace slowed significantly, no matter how fast I was attempting to turn the legs.
Mile 12-13.1
At Mile 12, I saw the Beer Guy. Oh my gosh, I thought, I am going to catch the beer!
But I was hurting. And the Beer was run-walking. I would catch the Beer, then he would run…. then I'd catch the Beer again. At one point, there were a bunch of frat boys on a balcony right as the Beer passed me again… I screamed up to the guys, "I can't believe I am getting beaten by a BEER!" They appreciated that, and hooped for me.
But the Beer kept on going. I had a mile hallucination of grabbing the Beer's hand and skipping across the finish…
Mile 13- 13.1
The Beer was going, and I was trying to catch him.
But it was futile.
Still, I finished my first solo Half Mary in 2:25:57, and I will take it. And be proud. Right over an 11:00 mile pace.
Mountain Goat finished ridiculously fast, 8th in her age group, around 1:43. Lawd have mercy.
The Expert had a great 10k, with 1:07 finish, and that's with being sick as a dog all week. He was a sport and came out to cheer me on. In return, I popped his collar.
We celebrated at Fannie's on Tybee with beer and pizza. We moaned and groaned about our aches and pains and talked way too loud for the other restaurant-goers.
We showered the nasty sweat and salt off our bodies. At the end of the day, we ended up with my folks and the kids at A-J's, a Tybee legend, and sat on the dock and grew lazy by the minute. We finished up the night on the porch of the beach house and were all tucked into bed by 10:00.
* * * *
Earlier in the Day:
After the race and after the showers, the Expert and I went to see his grandmother. The bittersweet part of the weekend…. is that the Expert's grandmother, Nannie, is in the Hospice house in Savannah.
We stopped by and knew were likely seeing her last few days. Something as "significant" as a half-marathon obviously pales in comparison to a visit to see a family member in this state.
[Pictures from earlier this year. ]
We spent an hour or so visiting with my mother-in-law, hugging on Nannie, and hoping for a peaceful departure for her.
Still, something like running a half-marathon and only hours later, slowly seeing life close to passing before your eyes… and comparing the two…. is not lost on me.
I probably can't put the analogy tactfully into words… but the emotions are hauntingly similar.
Starting the race, toughing it out, releasing the pain at the finish.
Life is not always a race, per se. But rather a series of long, slow movements forward. And in the end, sometimes the one foot forward, may simply be the precious last one.
* * * *
Dear Nannie….Your race may be nearing its end, but know that the rewards you will meet are great, full of bagels and oranges, and more peace than you've ever known. We wish you a peaceful journey onward to see your friends, your husband, and your puppies. We love you, will miss you always.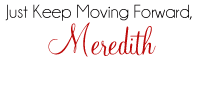 It's lonely when you're not on Facebook: