This mornings was Wednesday spin class with Mike McBlessings. Look how adorable this guy is.
For those of you who don't know McBlessings, you should. He's the founder and president of the
Getting2Tri Foundation
. He founded the organization
with the goal of integrating individuals with physical disabilities into their local communities through triathlon. G2T uses the sports' disciplines of swimming, cycling, running, racing wheelchair, and hand-cycle as the vehicles for accomplishing this mission. You can read more about G2T here and like the Facebook page here. I really love this organization, and I'm sure you guys have seen me sporting the gear.
Usually, I only make the trek down to this gym on Fridays for Coach Monster's spin class. I used to work in the same building as this gym… now I work 20 miles from it…but I still wander in once a week or so, to get my money's worth. I used to be a regular at McBlessings' class, so it was nice to visit his class again.
At the end of class, McBlessings put up a picture of
Gwyneth Paltrow
and this quote from her:
"The reason that I can be 38 and have two kids and wear a bikini is because I work my [expletive] ass off. It's not an accident. It's not luck, it's not fairy dust, it's not good genes. It's killing myself for an hour and a half five days a week, but what I get out of it is relative to what I put into it. That's what I try to do in all areas of my life."
I thought this quote was awesome. How true. But you know that I am here to make you guys laugh and roll your eyes, so I can't leave it at that. I think ole Gwyn probably should have added a little more. For example, if Gwyn was being honest, the quote would have read more like:
"The reason that I can be 38 and have two kids and wear a bikini is because

I am very rich.

Because I am very rich, I can afford personal trainers, constant nanny services, personal assistants, housekeepers, and people who make me do things for myself – like workout constantly and eat well."
That being said… I can't imagine how hard she has to work to look like that. I mean, I work hard, and I look like this. Which of course… got me thinking about what my quote should be. So I laughed alot about it, and finally, here's what I propose for my "famous" quote and picture.
"The reason that I can be 32 and have two kids and

NOT

wear a bikini is because I eat my [expletive] ass off. It's not an accident. I train

12-15 hours a week

, work full-time and have two kids, but I can't seem to wear a bikini because I eat everything that I burn. It's not because of lack of heart or discipline. It's because I can't stop feeding my

hungry, fat face

. And I finally acknowledge and accept this.

Still… I train hard

. And every victory, and every finish is not luck, it's not fairy dust, it's not good genes. It's killing myself for sometimes two or three hours a day, six days a week (not to mention the long days… 5-7 hour workouts). While I think eventually triathlon is going to get every last ounce of fat off my

body — fat and

food isn't the end game

.

Triathlon is deeper than a flat stomach and thin legs.

It's precisely about that hard work – the pride in the actual work, the process and the perserverance – not always the end results or finish time. Life really is about the journey [but hopefully the destination ends up somewhere tropical…and with an umbrella in it."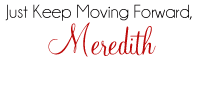 Yes. Yes, you are the only person in the world not on Facebook. Join the fun. 🙂