The Expert drove me to work this morning. He brought in my purse, my stool to rest the giant foot upon. I hobbled in to the office. I am surprised at the number of people who laugh at the sight of a boot. What is so funny about it? I need a glue gun and some fancy gemstones to bling it out, then they can really laugh.
I think most everyone is laughing more about the way I hurt it. Walking to my car. Not swimming, biking or running.
So anyway, I was doing okay, answering emails and drafting, with my little stool and my fancy boot. I was doing okay until I logged into my Training Peaks account to input the
injury date
…start the countdown for recovery.
But then I saw the weeks of training that Coach M had built out for me, pre-injury. I saw the scheduled 10 mile run for Saturday. I saw the Atlanta Women's 5k in a few weeks, where I was hoping to do a sub-30 minute run. I saw New Orleans.
All of it wrecked me this morning. I was thinking, I am so stupid. How did I let this happen? I was finally on a positive trajectory….
But then I looked up. My eyes caught a picture on the wall in my office.
Yep. Yep. Yep. So how am I going to handle the next two months? I think I will say: "very well."
I have a foot, two of them, actually. I just bought myself more time with my kids, time to write, less ability to run to the kitchen for a quick snack. In a week or so, hopefully, I can swim. As soon as I can hobble and put some pressure on the foot, I can drive, hit the gym to work my core and my flabby arms.
In a few weeks, maybe I can spin (carefully). In the meantime, I can enforce a good nutrition plan, take off some weight since I won't be worry about "fueling" so much. I can go to the Snow Patrol concert on April 2nd wearing my fashionable boot. I can go to New Orleans and volunteer, cheer my boys (Expert, Coach M and Luke) and girl (Robyn) home to the finish line. I can add a chapter to the book about injury and training, one that wasn't in the table of contents before.
"Life begins at the End of Your Comfort Zone."
I can live, breathe and be thankful. So I will do just that.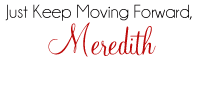 An Exercise in Patience and Thankfulness.