Had a great spinning class this morning, followed by an Oly Distance peptalk/information/orientation breakfast with Coach Monster. I had my little green notebook, in which I scribbled furious notes.
He asked me, "What is your biggest source of anxiety for this upcoming race?"
I said, "Well, I don't really have any anxiety at this point."
He stared at me like I spit at him. Then I realized how crazy that was. Of course, I have anxiety. Coach Monster laughed, snatched up my book and wrote: I don't really have any anxiety at this point.
And then he made me sign it. I followed up that moronic comment with at least two more stupid comments, to which he grabbed my notebook again, and he wrote: "Take spatial orientation training" (after I couldn't figure out his diagram about swimming and current) and "Pacing…I don't have trouble with that" (after he reminded me to pace myself properly).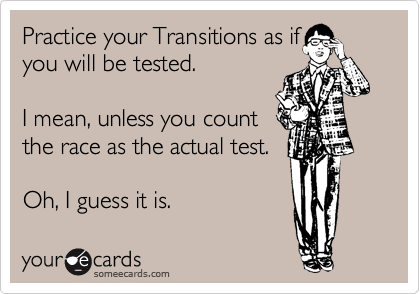 Lo and behold. I am a triathlon newbie. In case you missed the memo.
Some of the best advice he gave me was to practice T1 and T2 before the race, and have a specific order of things, memorize it like a weird mantra, and repeat it back to myself as I do the steps in T1, and then in T2.
This is especially good for such a klutz like me. Therefore, I present to you, the oh-so-official SBM transition mantras.
T1
shirt
socks
shoes
race number
helmet
sunglasses
T2
shoes
salt
visor
water
FOUR DAYS FOUR DAYS FOUR DAYYYYYYSSSSSSSSS……..