11/28/15
Meredith shares her "dos" and "don'ts" for beginners over at ScientificTriathlon.com.

7/14/15
Finding the Confidence to Reach your Goals
In this article from Meredith Atwood in Triathlete Magazine, she talks about finding the confidence to grab those goals and GET 'EM.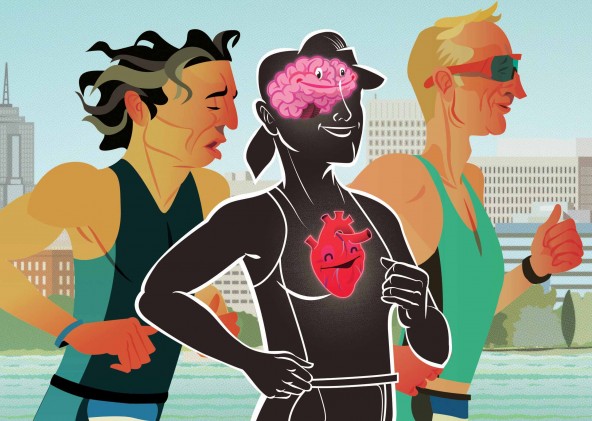 Triathlon was no different for me. At the beginning, it was all about what I couldn't do. I can't run fast. I can't climb on a bike. I can't clip out of my pedals. I had a form of triathlon-based negativity compulsion.
Then something inside of my brain clicked during training for my first Olympic-distance race. At some point, I decided that I was tough as nails and nothing could stop me. Both things are not actually true, but in my mind, I believed them, and these thoughts festered. "Hey, I am tough, because I am training for a triathlon!"
4/23/15

3/25/15
Proud to be a Member of the 2015 Klean Athlete Team
Want great products with no junk or gunk? Use this link to save 20% off Klean products.  (Discount appears at checkout).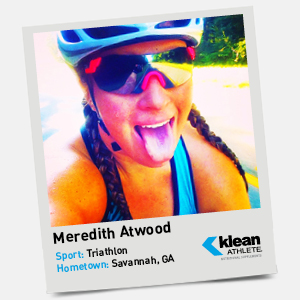 3/2/15
Tales from Another Mother Runner was just released, and I have one of the essays featured in the book.
"In "I Just Try Really Hard," Meredith Atwood writes about her inability to identify as a real runner and athlete, even after completing an ironman triathlon. Atwood describes her journey toward "learning to love the athletic me, the triathletic me, just me, right where I am." The essay speaks to the lack of esteem that seems endemic among mother runners, who downplay their efforts, unwilling to believe that they are indeed what Bowen Shea and McDowell call "bad-assed mother runners" (or BAMR for short)."  Read more…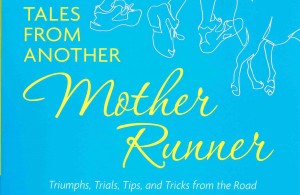 1/26/15
More than honored and ecstatic to be part of the Women for Tri Board of Directors for 2015.

1/12/15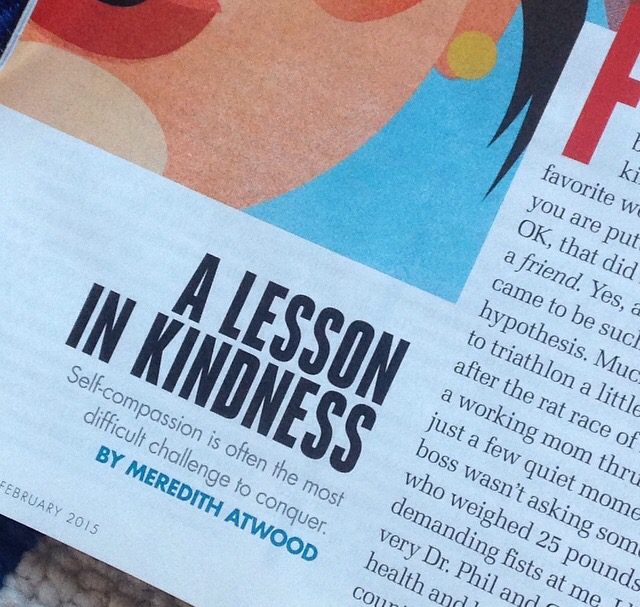 9/2/14
Guess who has a new gig at Today's Mama?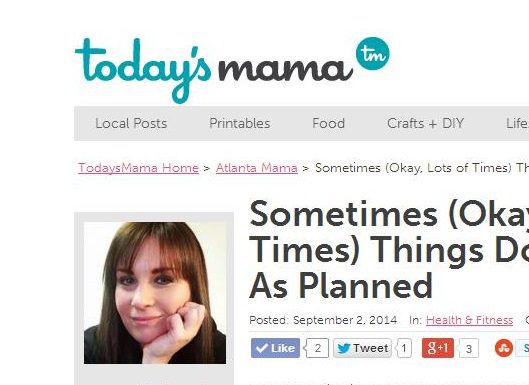 =================================================
7/2/14
Are you actually ready for that race? A little common sense goes a long way, writes @SwimBikeMom: http://t.co/N8YIWs6nHK

— Triathlete Magazine (@TriathleteMag) July 2, 2014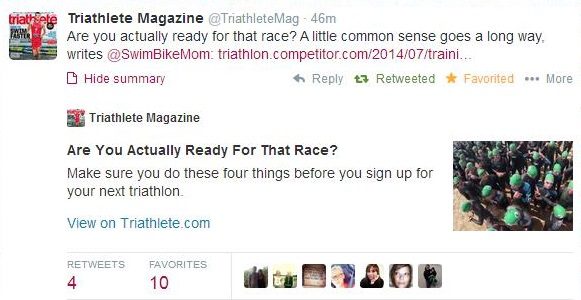 =================================================
5/2/14
New article in Triathlete Magazine, "Think Before You Jump," p. 26,  June 2014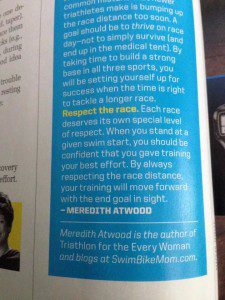 =================================================
3/20/14
Another rave review about Triathlon for the Every Woman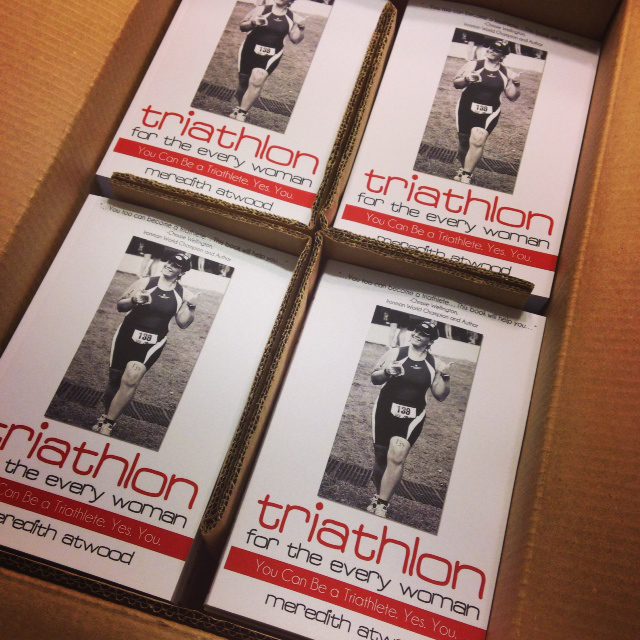 "This might be one of my favorite books when it comes to fitness and middle age. Atwood narrates a tale here that will be familiar to so many of us – whether it is that you are an Athena (fancy way of saying more than 150lbs or so) or you are someone who did not think you could do it. She really is for the every woman. Now granted her background is athletic (more than couch potato) but it's not as if she was only a year or two out of that situation. She's got a real job and a real family and real issues. There are injuries, self doubt, and family commitments that all converge to make things not as easy as you might think. It takes dedication and perseverance and that is what I think you can get out of this book.
I've seen some reviews that say maybe this one is a bit long winded. I didn't find it so. I was utterly fascinated pretty much the whole book. The amount of detail she uses as she breakdown races made me feel like I was there with her and REALLY was motivating. There is some (there is <i>always </i> some) do as I say not as I do but it doesn't really detract. Also this book did not come across as whining and obnoxious. I've read a few lately that are similar where that tone was something I didn't really enjoy. Atwood has a coach but it grows organically and it never seems to put her up on an elite status as far as "well this book is for everywoman who clears $200K per year" – like another book I have been listening too.
I found her blog/website to be also very interesting. One of my biggest fears is that I'll look stupid. This is not the same as having people look at me because of my body – truth be told I'm at about 26% Body Fat and I may be carrying a few extra lbs but overall I'm happy with my weight and that's not my issue. It's more the fear of embarrassment heavy on the looking like an "a%#" part of it. Just sayin'.
REALLY enjoyed this book. Felt it was worth every penny. I'll go back to it I'm sure again and again for inspiration. Outstanding!"
=================================================
3/8/14
Best Comeback Athlete for 2013
at the Gear & Glimmer Awards in Atlanta, Georgia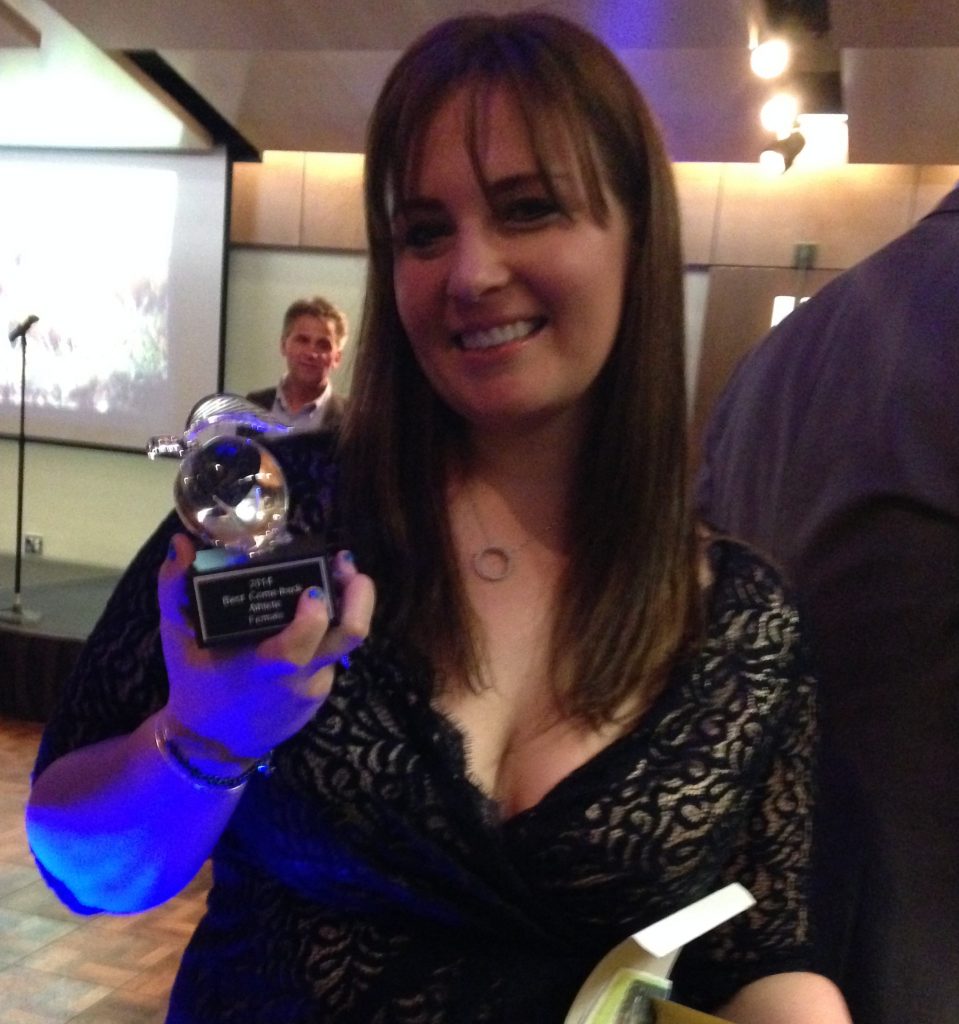 =================================================
 3/7/14
Swim Bike Mom = the Newest HEADSWEATS Ambassador!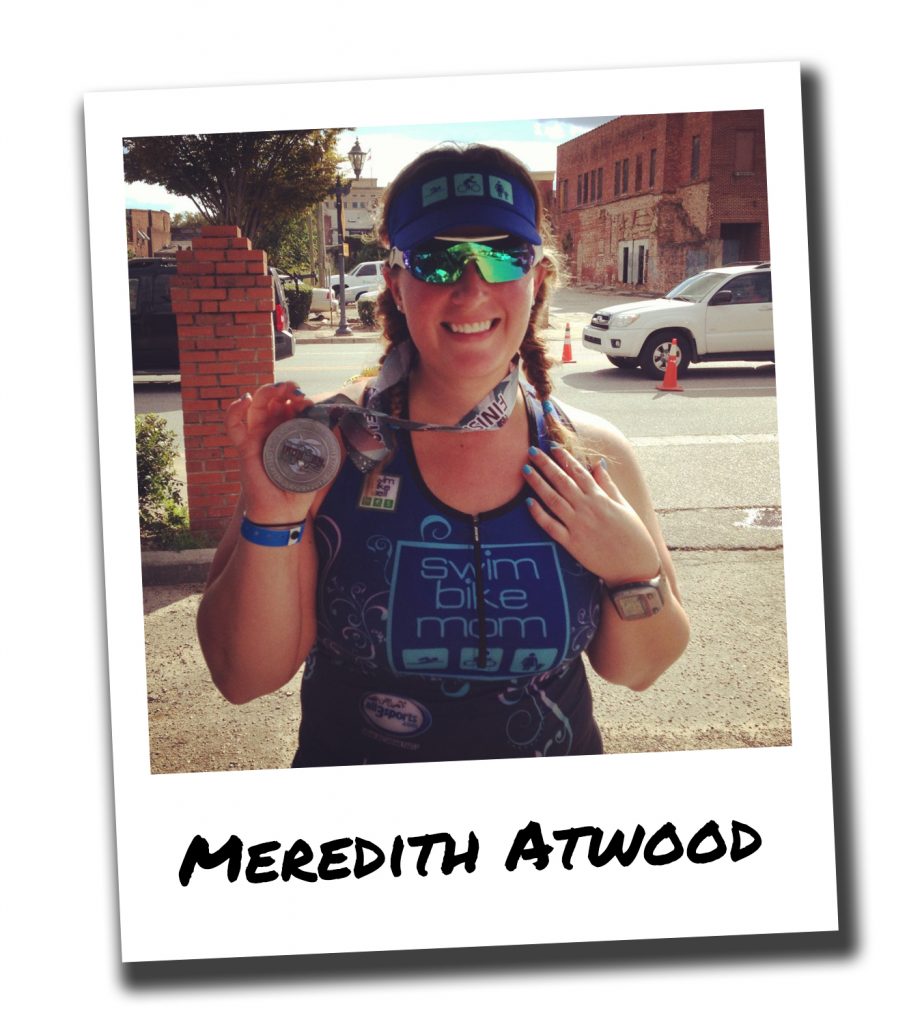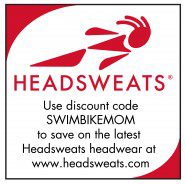 2/18/14
Rave reviews for Triathlon for the Every Woman at RunningThriver.com.
"I made it through most of Triathlon For Every Woman just on the flight out and finished the rest before we made it home.  If you are naturally un-athletic, out of shape, over weight, ever considered triathlon, or never considered triathlon this book is a MUST READ!  I found Meredith from Swim Bike Mom totally relatable and hilarious to boot.  While I may not have ever had to contend with a Fat Stranger, I have had to overcome a Hollow, Emotionally Unstable Stranger following an abusive relationship.  As she points out, her book is not exclusive.  Everyone hits a point in his or her life when they don't like or can't relate with the person looking back in the mirror.  Her story is one of reconciling who she was and who she wanted to be.  That is something anyone can relate to.  While I'm sure Meredith would love for everyone to try triathlon as a means to changing their lives, what she is really doing is encouraging the masses to go out and chase there dreams.  She does this by breaking the process down into short term and long term goals.  Start with what seems doable and build to the impossible.  I couldn't agree with her more.  She is truly a woman after my own heart.  Add to that that she has a team of experts (including her husband The Expert) to break everything down and make it accessible.  Meredith is open about the fact that she had barely finished a couple  5Ks before making the decision (or should I say Decision) to become a triathlete.  The journey changed her life forever.
Now she has built a Swim Bike Mom Empire (I mean the girl even has her own triathlete apparel! Who is up for some Running Thriver swag? jk Maybe someday) , and as I wrote to tell her, I only hope that someday I can expand The Running Thriver to be able to inspire and help the masses to the degree that she has.  There was I time when I used to think that I needed to accomplish all my craziest goals in life before my story would be worth sharing.  I believed that I should wait until after completing an Ironman to write a book. However, Swim Bike Mom has changed my perspective on that.  When she wrote her book, she had set a goal for herself to complete an Ironman, but hadn't actually done it yet.  Instead, she choose to write her story after her second half Ironman."
=================================================

1/24/14
A cover girl?! Whoa. Who knew.

Honored to be on the cover of this month's issue of Triathlon Lifestyle!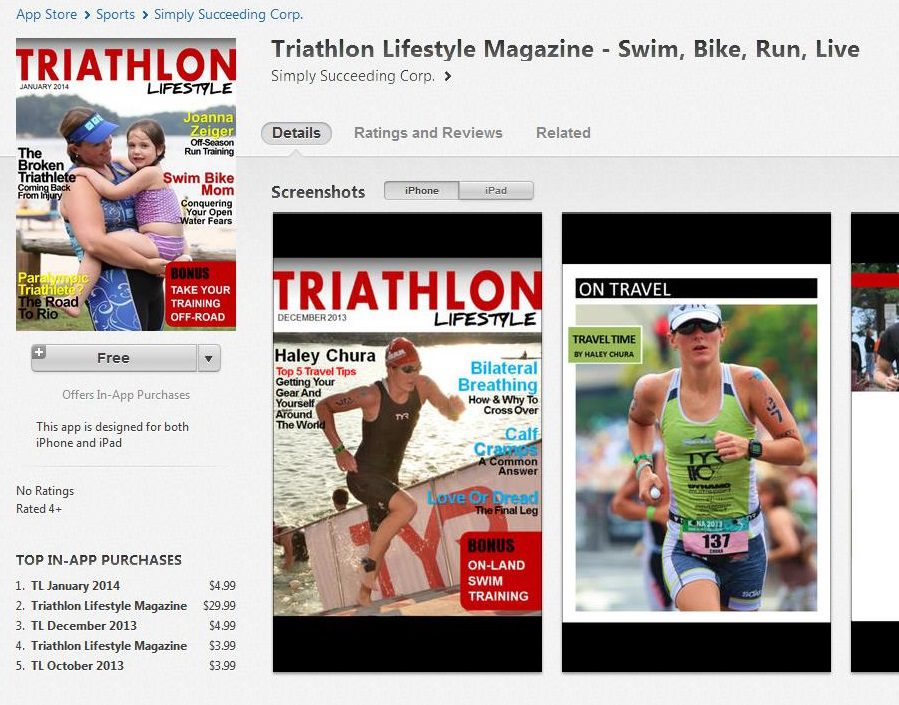 =================================================
 1/21/14
An interview with Quintana Roo Tri!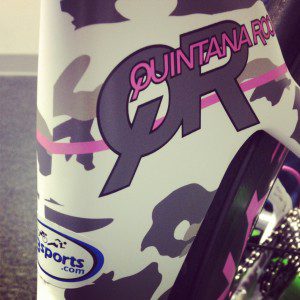 12/8/13
Article Published in January's Issue of Triathlete Magazine!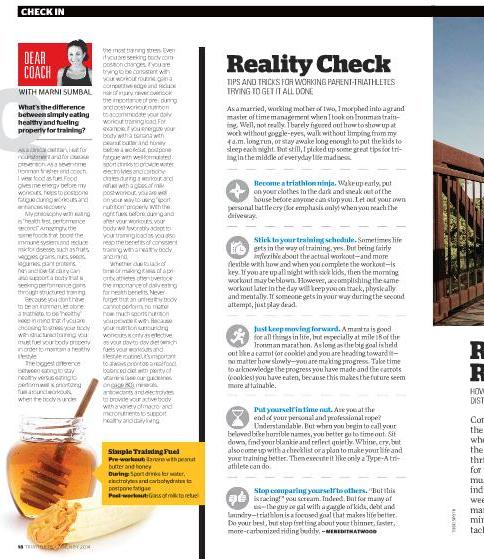 On the web here:
http://triathlon.competitor.com/2014/01/training/reality-check-balancing-the-parent-triathlete-life_92276
11/25/13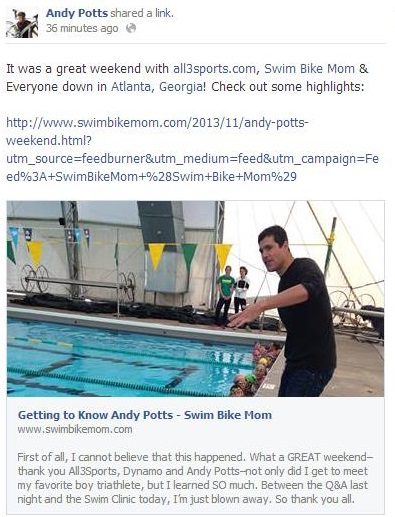 11/24/13-
Andy Potts Weekend (a/k/a BEST WEEKEND EVER!)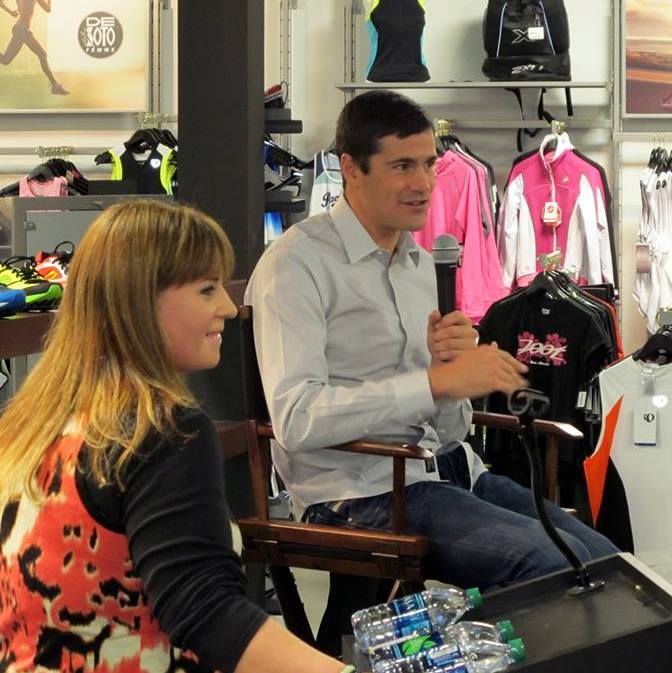 11/14/13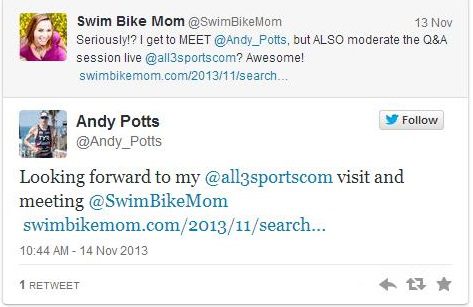 8/11/13
Guest Appearance on Radio Show: Dr. Fitness and the Fat Guy

8/9/13
Recently featured on: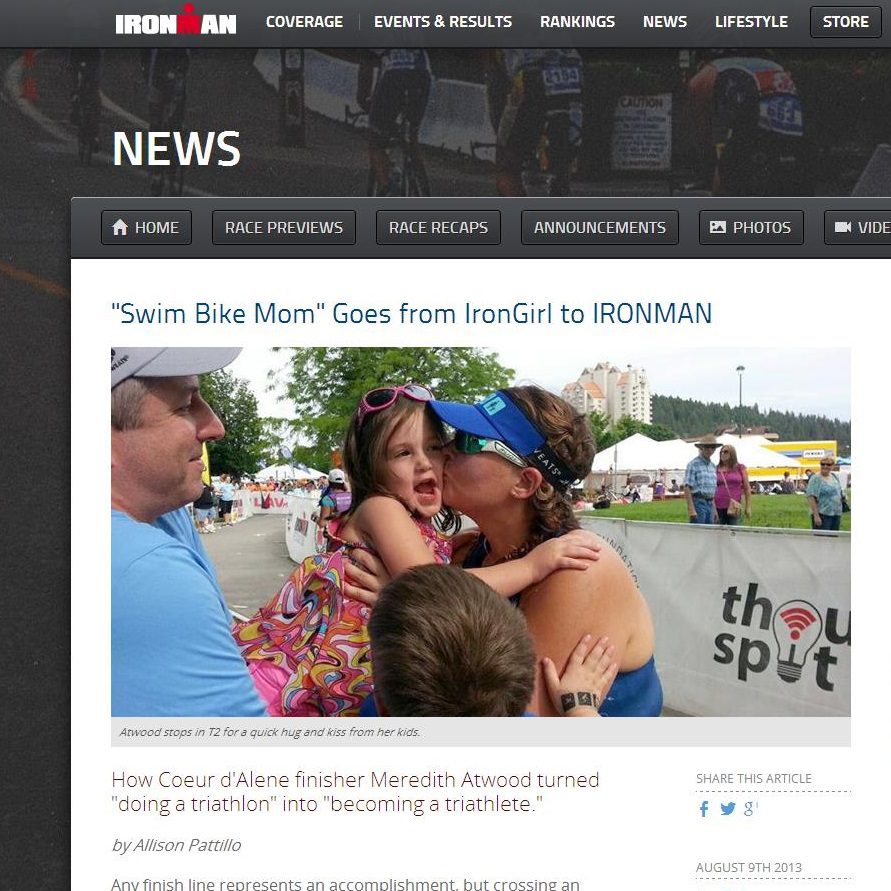 7/26/13
I was interviewed yesterday for a feature on Ironman.com!  How exciting is that?!
Here's a new feature on Miss Millennia too!
=========================================
6/23/13
It really happened.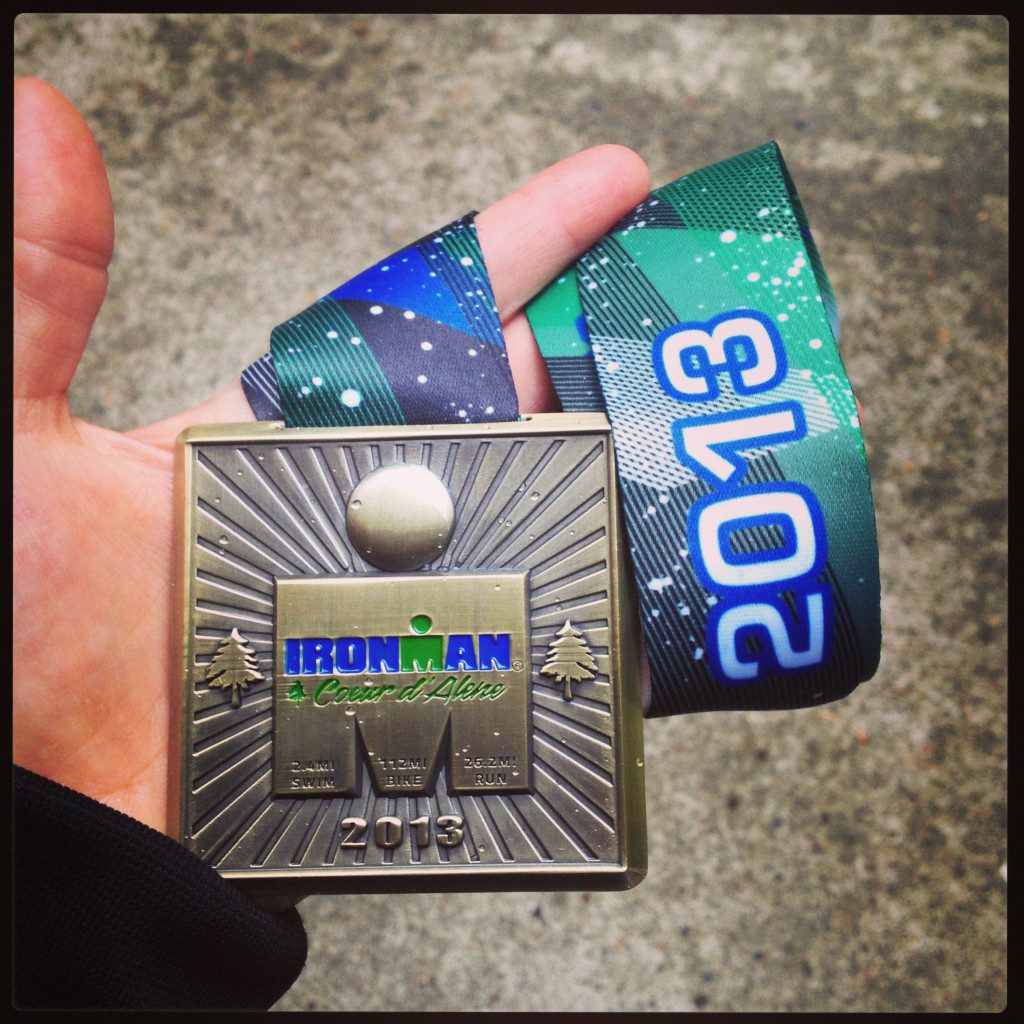 ====================================
6/3/13
A Podcast with my favorite ladies from Another Mother Runner!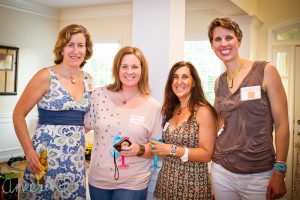 ====================================
Thanks to my FAVORITE triathlon store, All3Sports.com,
for this Mother's Day shoutout!
============================================
The Book.
Available NOW in Paperback and Kindle
on Amazon.com and Amazon Europe.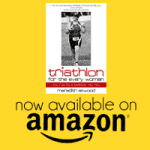 ============================================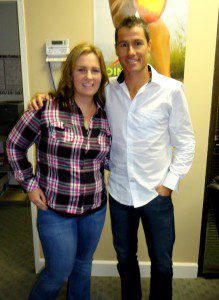 ============================================
"PRESS" ABOUT SWIM BIKE MOM:
 Download the Press Kit Here
"Why We Tri" – A Feature on Ironman.com
Meredith Atwood feature on IRONMAN.com

Guest Appearance on Radio Show: Dr. Fitness and the Fat Guy
Tips for Beginners at ScientificTriathlon.com
Rave reviews for Triathlon for the Every Woman at RunningThriver.com.
Essay Mention in the Tales from Another Mother Runner book.
"Fashlete" of the Month
Press Release at Running.Net
Book Review on Slow Runner
Mention on Running Thriver
On Triathlon Gift Ideas for Her
Mention on StrongerBetterFasterMore
Book Review on TwoTriJess
The Gift Guide for Runners
Feature on Miss Millennia Magazine
On ExperienceLife.com a story
Mention on Active.com Article
Shout out on Meals & Miles re: Ironman CDA
"Expert" Feature on AL.com
Another Mother Runner Article
Ryding 2 Health Article
Fit Momma Friday at Fit Momma V
Mention on Runs Like A Duck
Second Mention on Runs Like A Duck
Shout out on Iron Rogue
Encouragement on Tri Fatty
Smiles on Mama Gets Moving
Poopsicles at Health Kitten
Friends We Follow on Page 7, Freeplay Magazine
Healthy Page: Interview
Half Marathon Superstar on Up & Running
210 Again Interview.
Mention on One Mom in Maine.
Featured in the Augusta Chronicle pre-Augusta 70.3
Nice words on Treadmill Confessional
Shoutout on CrazyMadLiving
Mention on TwoTri.com
Mention on IronLadyKati
Another Mother Runner House Party Photo Blog
Talking about SBM on TriMadness
Rave Review about the Book on MultiSport Ninja
Book Love on

Read Run Dream Do
Mention on Strong Blonde
Shout on Race-Kred
Mention at Michele on the RUN
Mention on Abloc Nutrition Blog
Words on Running Rachel

  ===================================================
 OTHER THINGS WRITTEN BY SBM:
Triathlete Magazine:
Beginner's Luck Column (All)
Triathlete Magazine:  
Goal Setting
Triathlete Magazine: Reality Check
Triathlete Magazine: Are You Actually Ready for That Race?
Blogger at Today's Mama;  Article at Today's Mama
Triathlete Magazine: 5 Ways to Make Open Water Less Intimidating
Feature on BeginnerTriathlete.com: "Tri-Ing To Face Your Fears"
Featured in Tips from Mom Bloggers

Interview with Craig "Crowie" Alexander
Feature on Beginner Triathlete.com: "Triathlon as a Lifesaver"
A Woman's Syndrome 
"Tri It" on It Sux to Be Fat.

The Three Phases of a Triathlon Injury: Part I
Another Mother Runner Article/Interview

Why Am I a Big Fat Sissy?
What Does a Triathlete Eat Before a Race
Highlight: Angela Meyer
A Checklist for Triathletes
GoTRIbal Feature Athlete
Nutrition for Losing Weight as a Triathlete
GoTRIbal Interviews: Janelle Hansberger
Change Happens: Triathlon Injury, Part II
Seven Reasons You Can Become a Triathlete (In Seven Sentences)
Guest Post: Swim Bike Mom Figures Out What to Eat