Now to piggyback on my post from yesterday — the main goal which was to inspire and not tear anyone down, by the way, since many missed the memo on that — I want to talk about running.
Sweet, glorious, difficult, painful, and crazy running.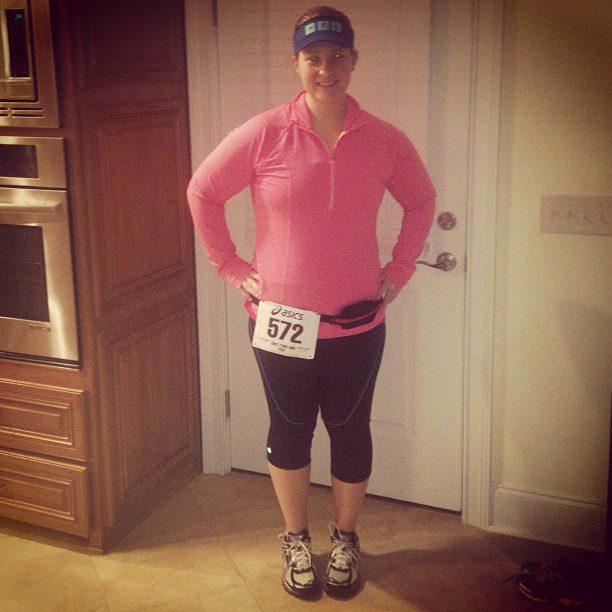 I grew up thinking I couldn't run.
I was told that my running form was hideous, atrocious.  (And it was / is).  But I later found out that I had some structural issues with my hips, which has caused my Ugly Duckling running to be ugly and difficult and often, painful.
But at the same time, I have grown to LOVE running.
I hear people say all the time, "I love triathlon, but I hate to ________"  (Insert swim, bike or run in the blank).
[Side tangent:  if you hate to SWIM or BIKE or RUN, then why do it?  Life is too short to truly hate something and continue to bang your head against the wall, eh?  Go on and do something else.  However, if you find it challenging – which it IS, and it makes you CRAZY- that's a different story. Identify the truth behind your swim/bike/run emotions.]
So anyway, I hear most often "I hate to run" or "I can't run."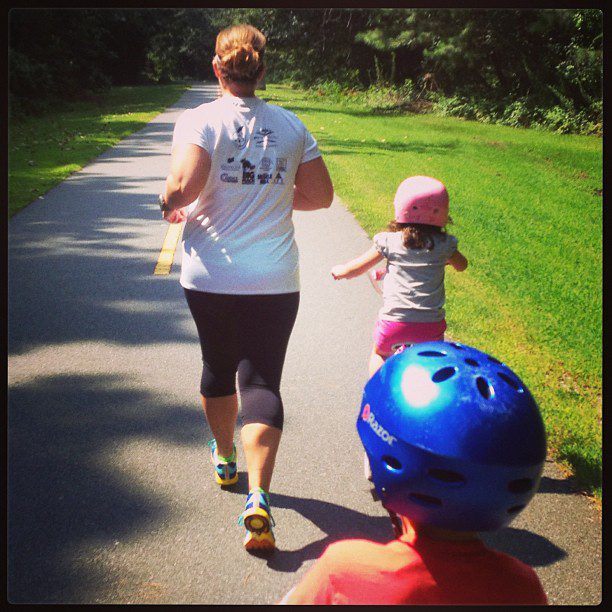 Today, I am here to tell you… you are wrong.
You do not actually hate to run.  And you can run.  It's all about how you look at running. There are a million ways to skin a cat. (Sorry, that's a terrible phrase. My Southern just came out, pardon me, and bless my heart.)
Here are few quick and sassy tips on how YOU can learn to LOVE the run:
1) Count Your Steps as Blessings.  Yes, seriously.  Every step you get to run, you are spending time with yourself.  How rare and precious is "me time"?  That stuff is GOLD! Me Time is amazeballs.  Embrace it.  As you run/jog/walk/plod/crawl along, think about just how nice it is to spend some time in your own head, with your thoughts, and your big dreams.
(Don't have big dreams yet?  Get to working on that! Find "your" Ironman! )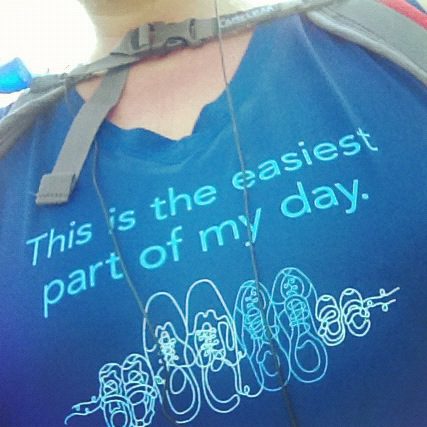 2) Find Some Music. Or Not.  Hand in hand with your "Me Time" may be a creation of a heart-thumping, jumping playlist. Some folks like to run with no music, to hear the sounds outside (safety) or to hear their own breathing and footsteps.  Whatever floats your boat – engage your sense of hearing and get into the run.
Listen and breathe and be inspired with what the body is doing–no matter how slow it may be doing it.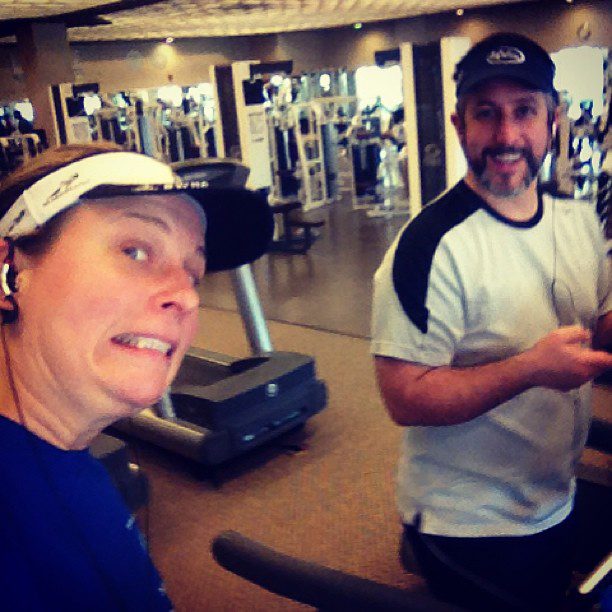 3) "I Can't Run."  Well, yes you can.  You just may need some TLC.  I tell my athletes that you have to walk before you run. And this is especially true in building an endurance (aerobic) base.  You have to go slow (at first) to later gain speed.  If you are running and are completely out of breath, and you go 1/2 mile and say, "I can't run! I can't breathe!", then do something very simple:  slow down.  Go as slow as you need to go… to finish the distance.
Want to "run" 2 miles?  Then go as slow as you need to go to accomplish 2 miles. Maybe it's a walk. Maybe it's 1 minute jog, 4 minute walk.  Doesn't matter.  Just pick a formula, and go do it.   Before you know it, you WILL be running.
4) Own It.  "But I'm not a runner," you say.  "I 'only' do 5ks."  Really, 'cuz a 5k race sounds like a running event to me!  Own your accomplishments! Be proud of your "onlys" – and then STOP saying "only!"  (Then read this post here).
So much of what we do as triathletes (or budding triathletes) is mental.  At some point, I decided that I would become a triathlete. To do that, I had to become a swimmer, a cyclist AND a runner (for fear!).
If you run, you are a runner.  Act like it!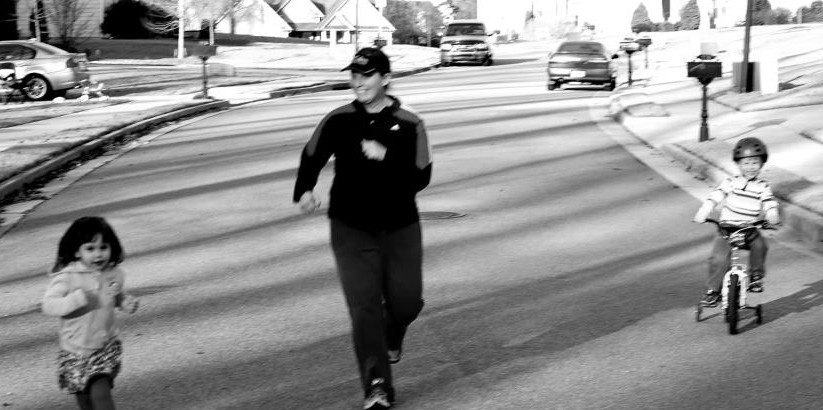 5) Get Some Help.  If your running form is treacherous and you feel lost, then get some help.  A running coach or  a one-time run stride analysis can help big time with your running form AND your confidence.   Just a few short running sessions with Coach T-Bone, and I knocked minutes off my 5k, and am running with much less pain and more efficiency.  Check out T-Bone's post here on running form. It's a short and sweet but goodie.
6) Suck It Up, Buttercup!  Do you want to be a runner?  Do you want to be a triathlete?  Go get you some! Suck it up, and push through.  Run and run and run some more. Walk or jog… whatever… Just Keep Moving Forward in a running direction, and push through. You can do it!
This is a mental game.  Tell yourself that you love to run, and be in the business of believing it.  You might be surprised just how quickly it will be true.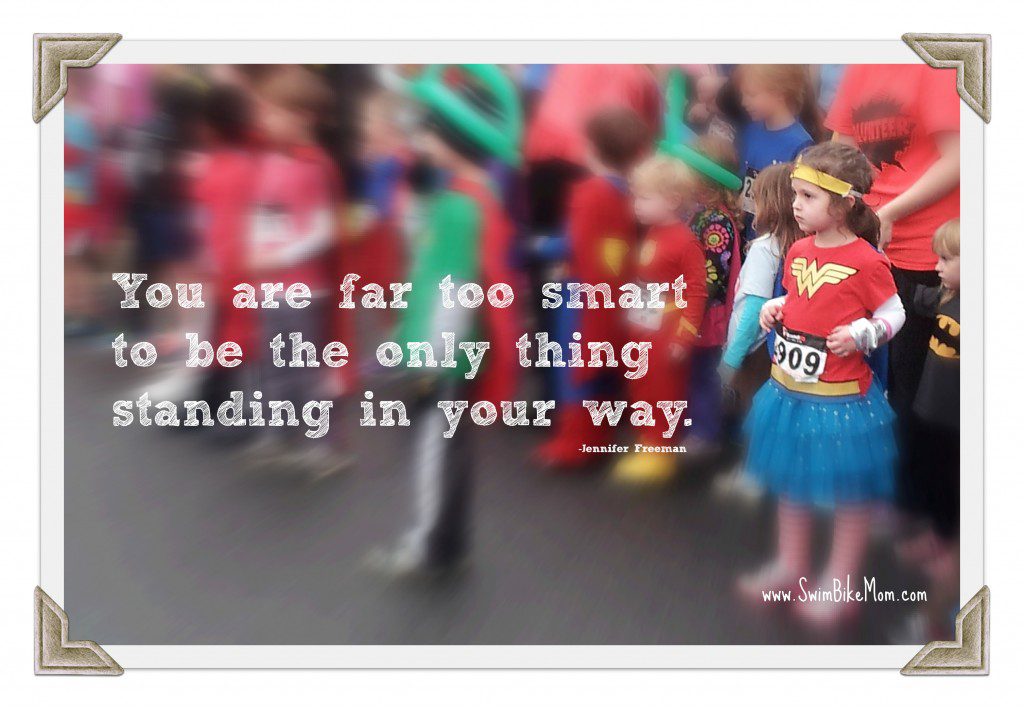 7) Finally, Remember to Be Thankful.  This is sort of like #1, but not really. Reminds me of an eleven mile run I completed before my first half Iron back in 2011. I wrote a post on it (of course).I found many things interesting about this post, when I revisited it.  First, my incredibly self-deprecating tone about myself (yikes… I actually have come a long way on that. Amen), and second, that I was running a TON more then than I am now. Get back on it, Mere!
Here's what I mean, by thankful:
"Today, I finished 11 miles. During the run, I made the 5.5 mile turnaround, and saw what I assumed to be a father and grown son running towards me. The remarkable thing about these two guys: they were both very heavy, big dudes. The dad was pushing 350, and the son, probably hovering in the high 200s. They were shuffling, just like me (heavy, big gal).
'Good morning,' I shouted as they approached.
The dad and son smiled, and as we passed each other the dad said, 'What are you training for?'
I turned and screamed, 'A Half-Iron! What about you?'
He craned his neck back towards me, and shouted, 'A marathon, with my boy here! December!'
And just like that, we had shuffled past each other, going our own ways.
Immediately, I found myself a big sissy. Crying and running.
Two things about that little exchange brought me to tears. 
The father/son pair were big people, and I am no stranger to big people. And they were out there together making it happen, shuffling along, just like I was doing. To see people vocalizing their crazy dreams is wonderful, and affirming. People who are big, and dream big. I felt a sense of belonging and togetherness, seeing them out there.
The second remarkable thing: when I shouted back to them that I was training for a half Iron. I had said that a few times out loud. But to literally scream it across a trail, to strangers, felt amazing.
"HALF-IRON!"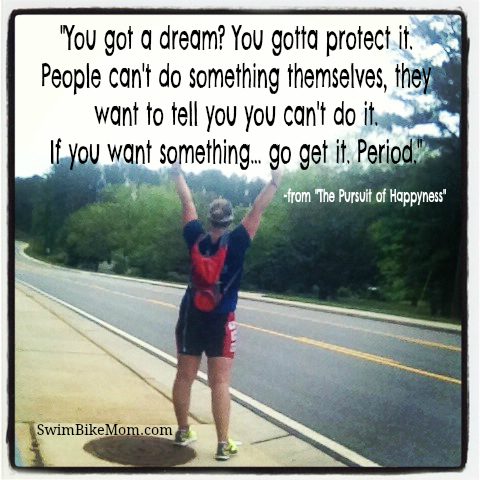 Those two things made me cry like a big fat sissy…
…And it's the truth.
I may still be fat, but I am a fat girl who can run 11 miles. And with shockingly bright shoes (I clicked my heels together, and I was in Oz). Boo yow."
What really happened with that exchange (though I failed, at that time to adequately put it into words), was I was intensely thankful to be out there running that day.  To see others like me running.  To be out and seeing what my body could do.  I was moved to tears.
When you question whether you love to run, or even if you can run, try and go to a place of gratefulness — thank your body for the good work it's gonna do, and the miles (or steps) you will go.
And be a big fat sissy—cry if you need to.  Just cry for the right reasons.
Happy Running, Friends.