Today is the start of full day 8 of Whole 30.
I feel pretty amazing, to be honest. I don't feel thin. I don't feel pretty. I just feel… well.   And I don't mean, "Well, but…"
I mean…
…I feel well. Well, at least I do.
My poor car, that's another story. I ran ole 2007 Honda into a pole/pillar in the parking garage. Wasn't talking on the phone. Wasn't eating. Wasn't chewing gum. Just drove right into it.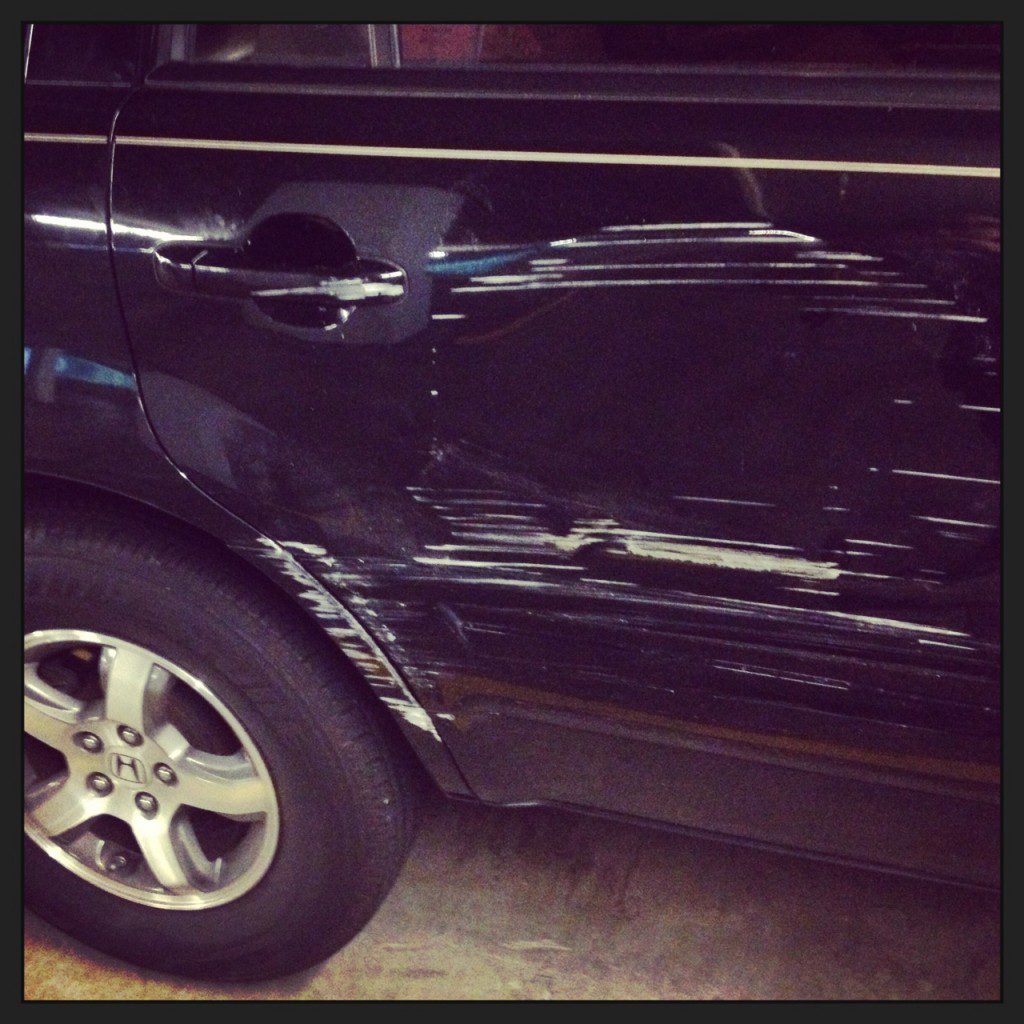 Beautiful.
But things are good. Training is picking up. I feel clear-headed and healthy and in control.  Nothing like feeling that way. Oh, and I feel rested. Which is incredibly bizarre. Haven't felt rested in a long time.
I even sat with these little beauties in my office ALL day without tasting one.  Don't ask. I love Despicable Me, and a friend at work made these for the kiddos. So cute. So little. So evil.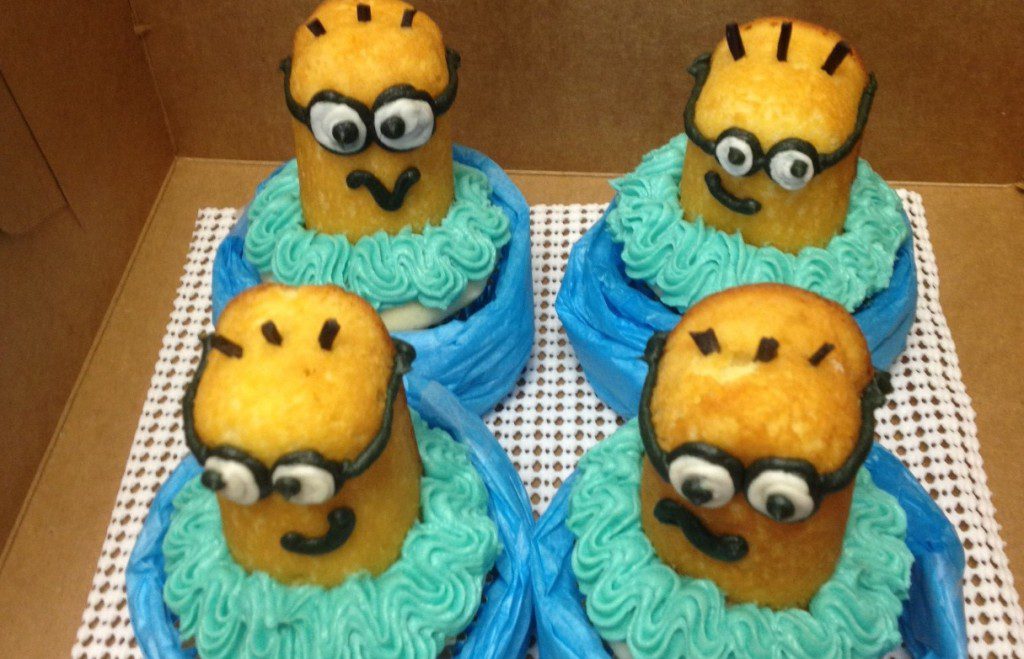 But I survived.
The biggest benefit that I can see, so far, with becoming "Fat Adapted" is that today I did not experience the mid-afternoon slump. I actually felt fine and energized. Even crazier.  Read the link – actually has great info.
Also, I ate breakfast at 8:15 and I seriously wasn't hungry until 1:15.  That's a huge shift.
LOG
Workout:  No workout, recovery day
Breakfast:  Coffee with almond milk, 3 eggs, 1 whole avocado, 4 cups of kale, salsa
Lunch: large salad (spinach, romaine, mixed greens) with banana peppers, beets, peppers, mushrooms, artichokes, almonds, sunflower seeds, 3 egg whites.
Dinner:  Came home to yet another electrician standing on a ladder in the kitchen of the Hell House, so we couldn't cook…  Went to Genghis Gril (Mongolian stir fry) yet again and had two huge helpings of lean steak, shrimp, sprouts, spinach, ginger. mushrooms, onions and peppers with a soy/gluten-free tomato garlic sauce base.
I sort of missed rice and noodles with it… but really, I just settled for a bun:
========================
What is SBM's Eight to Great?
So I started the SBM Eight to Great to give us all some motivation and incentive to be better together.  Eight weeks of full commitment. So whatever changes are you are going to make, whatever eating regime you plan to follow, let's do the healthy things together.  We already have almost 500 people on the Facebook group! You can join the Facebook group here.
The main tenets of the Eight to Great are:
1) Eat clean– no junk food, no (or very limited) processed food, low (or no) sugar, no booze or Filet-o-Fish sandwiches (written more with myself in mind here). I am following Whole 30, but there are many ways to get to healthy—-we all must find what works for us.
2) Train hard - work hard in your workouts with your big goals in mind. If you need a free beginner tri guide, go here.
3) Just Keep Moving Forward – if you fall down, you pick yourself back up and go!
Go here to sign your commitment to GREAT, and let's get ready for an amazing, life-changing 8 weeks! Go here to download an awesome goal-setting worksheet from Whole 30.